Cateogry:Roleplay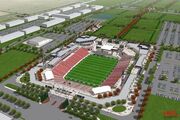 The Pirates are the national football team of Prince Edward Island. They joined CNFIFA on July second 2006. PEI is relatively new to the international football scene, but hope to make a good showing in the upcoming year.
Uniform:Home...black outfit with gold trim and gold numbers. Road kit...Gold uniforms with black trim and black numbers. Socks match the trim.
Roster: (*denotes starters) Goalkeepers: Asmir Begovic* Mike Franks
Left Back: Andre Hainault* Adam Braz
Left Center Back: Dave Simpson* Masumi Turnbull
Right Center Back: Josh Simpson* Christian Seon
Right Back: Graham Ramalho* Rory Kennedy
Left Mid: Daniel Imhof* David Guzman
Center Defensive Mid: Kevin Harmse* Rishard Hastings
Center Attacking Mid: Rhian Dodds* Hector Contreras Matt Berrigan
Right Mid: Gaspare Borsellino* Gabriel Gala
Left Attack: Will Johnson* Murphy Wiredu
Right Attack: Julian Uccello* Ali Gerba
Manager: Frank Yallop
They play a 4-4-2 strong on attack.
They play home games in the Kingdom Stadium.
This new state of the art stadium seats 135,000 fans (which is about the population of the whole country). Home games with international opponents have been deemed nation wide holidays by the King, may the light shine on him.
Ad blocker interference detected!
Wikia is a free-to-use site that makes money from advertising. We have a modified experience for viewers using ad blockers

Wikia is not accessible if you've made further modifications. Remove the custom ad blocker rule(s) and the page will load as expected.