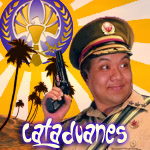 A member of the ruling Commissariat of Cataduanes. He was born in Oltaloro city of German, Cantonese, Basque and Mahabeño heritage and was a member of the anarcho-syndicalist CNT as a trade union activist before joining the armed forces.
He thrived in the armed forces and sought and gained entry tothe elite 'Tropas Katipunista' division. He rapidly rose through the ranks and attained the rank of 'Tenyente Koronel' (Lieut. Colonel) and control of the powerful Soldiers committee, which functioned as the Military's political front. The growing power of the army was reflected by the creation of the position of 'sitting' Commissar, a position that was unelected and was reserved for the head of the soldiers committee.
At present Commissar Sendoa had held the position for some years prompting critics to claim that the army was attempting to create a Junta dictatorship. And this indeed came to pass, amid the chaos of war and with fictionalized clashes becoming commonplace forcing Sendoa to lead a military coup and suspend the powers of the Civil authorities. In effect Sendoa became a dictator with complete control ofver all functions of the State.
Ad blocker interference detected!
Wikia is a free-to-use site that makes money from advertising. We have a modified experience for viewers using ad blockers

Wikia is not accessible if you've made further modifications. Remove the custom ad blocker rule(s) and the page will load as expected.