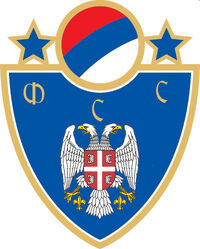 Football Association of Srbija (Serbian: Фудбалски савез Србије (ФСС)) is official football organization is Srbija.
Srbija gained its independence after 88 years on 19th April 2006. FAS existed from 1919 as part of Football Assocation of Yugoslavia. It started working on 30th May 2006. It's President is Zvezdan Terzić. Srbija founded CN FIFA. On 3rd June played its first match against Ghostovia. Result was 3-3.
1st CNFIFA World Cup, Columbia
Edit
Srbija applied to be the host of 1st CNFIFA World Cup. Unfortunately, Srbija lost and Columbia became the host nation. Srbija started World Cup very poorly.
In first match, Srbija lost 1-0 to LawtonPrk. Then 3-0 from Germany, a semi-fonalist and played 1-1 with Zoggoth in the end. Coach Ilija Petković was angry and changed many players in the squad.
2nd CNFIFA World Cup, Srbija
Edit
Srbija became the host of 2nd CNFIFA World Cup. Ilija Petković's new team plays great and their goal is to enter Quarter-Final.
In first match they tied Marxismo 1-1. The goal was scored by Danko Lazović and Srbija dominated the match In second match Danko Lazović's 2 goals and Panteli's goal were enough for easy victory against Colombia 3-0. People of Srbija rejoyce. In last match Srbija lost to new Deutschland 3-1 but because of scoring more goals, Srbija advanced. In knockout stage, Srbija defeated Dark Wolves 1-0 aand is playing in Quarter-Final.
The following players have all been called up to the Serbia squad for 2nd CNFIFA World Cup.
Goalkeepers
Player
No.
Pos.
Date of Birth
Caps
Goals
Club
Vladimir Stojković
1
GK
28 July 1983
6
0
Nantes
Vlada Avramov
12
GK
5 April 1979
2
0
Fiorentina
Defenders
Player
No.
Pos.
Date of Birth
Caps
Goals
Club
Mladen Krstajić
20
LB
4 March 1974
52
2
Schalke 04
Marjan Marković
21
RB
28 September 1981
3
0
Dinamo Kiev
Nemanja Vidić
23
CD
21 October 1981
24
1
Manchester United
Milan Stepanov
5
CD
2 April 1983
7
0
Trabzonspor
Milan Biševac
6
CD
31 August 1983
1
0
Crvena Zvezda
Aleksandar Luković
3
LB
21 October 1982
5
0
Ascoli
Branislav Ivanović
13
RB
22 February 1984
3
0
Lokomotiv Moscow
Midfielders
Player
No.
Pos.
Date of Birth
Caps
Goals
Club
Dejan Stanković
10
AM
11 September 1978
66
11
Inter
Saša Ilić
22
CM
30 December 1977
38
6
Galatasaray
Ognjen Koroman
7
AM
19 September 1978
32
2
Partizan
Igor Duljaj
4
DM
29 October 1979
42
2
Shaktar Donetsk
Ivan Ergić
2
CM
21 January 1981
4
0
Basel
Nenad Kovačević
16
CM
11 November 1980
2
0
Lens
Aleksandar Trišović
14
DM
25 November 1983
4
1
Crvena Zvezda
Strikers
Player
No.
Pos.
Date of Birth
Caps
Goals
Club
Nikola Žigić
19
ST
25 September 1980
15
5
Racing Santander
Marko Pantelić
9
ST
15 September 1978
7
2
Hertha Berlin
Danko Lazović
8
ST
17 May 1983
6
5
Vitesse
Danijel Ljuboja
11
CF
4 September 1978
20
1
Hamburger SV
Most appearances: Savo Milošević (101) Most goals: Stjepan Bobek (39)
Home kits
Edit
Srbija's home kits are in colour of Serbian flag (Red, Blue and White) with golden numbers and FSS logo on it.
Away kits
Edit

Srbija's away kits are White, Blue and Red, opposite of home kits, also with golden numbers and FSS logo.
Superliga
Edit
First League of Srbija is called Superliga. It consists of 20 teams:
Partizan
Crvena Zvezda
OFK Beograd
Mladost Apatin
Banat Zrenjanin
Bežanija
Borac Čačak
Hajduk Rodić MB
Radnički Niš
Smederevo
Vojvodina
Voždovac
Zemun
ČSK Pivara
Osijek
Varteks
Sarajevo
Borac Banja Luka
Leotar
Ferencvaros
Ad blocker interference detected!
Wikia is a free-to-use site that makes money from advertising. We have a modified experience for viewers using ad blockers

Wikia is not accessible if you've made further modifications. Remove the custom ad blocker rule(s) and the page will load as expected.