The title of this article contains the character ß.
Where it is unavailable or not desired, the name may be represented as Grossgermanian Declaration of War on the Slovak Republic.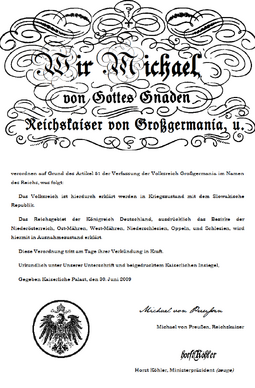 On 30 June 2009, Großgermania declared war on the Slovak Republic, thereby starting the July War. The declaration was made by Emperor Michael von Preußen and approved by the Reichstag on the date of signing, and announced the following day.
Text of the Declaration
Edit
We, Michael
by the Grace of God
Emperor of Greater Germania, etc.
decree on the Ground of Article 51 of the Constitution of the People's Empire of Greater Germania in the Name of the Empire, what follows:
The People's Empire is hereby declared to be in a State of War with the Slovak Republic.
The Constituent Country of the Kingdom of Germany, specifically the Provinces of Lower Austria, East Moravia, West Moravia, Lower Silesia, Opole, and Silesia, are hereby in a time of Proclaimed Emergency declared.
This Decree shall enter into force on the Day it is decreed in force.
Documented under Our Signature and beige-printed Imperial Seal,
Given at the Imperial Palace, the 30 of June 2009
[Seal]
[Signed] Michael von Preußen, Emperor
[Signed] Horst Köhler, Prime Minister (witness)
Ad blocker interference detected!
Wikia is a free-to-use site that makes money from advertising. We have a modified experience for viewers using ad blockers

Wikia is not accessible if you've made further modifications. Remove the custom ad blocker rule(s) and the page will load as expected.