General Information
Edit
Hayden is the capital city of the Yellowstone Valley. It was named after the Old Earth 19th Century explorer, Ferdinan Hayden whose scientific report to the United States led to the creation of Yellowstone as the first national park.
Hayden sits upon the Old Earth location known as Columbus, Montana where the Stillwater River flows into the Yellowstone River. This location was picked by the Yvians for several reasons:
Its location is central to the entire length of the Yellowstone River from Old Earth Livingston to the mouth.
The land here and down-river is perhaps the most fertile portion of the Yellowstone River.
This location is the furthest up-river that many of larger watercraft can navigate year around.
Several surrounding hills, buttes, and bluffs have a clear view of the lower portions of the Valley, making them good defensive or reconnaissance positions.
Key infrastructure, such as the Old Earth highway, several bridges, the airport, and long sections of railroad track were not as badly damaged here.
Maps of Hayden
Edit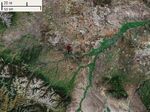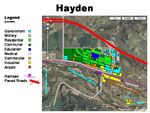 Ad blocker interference detected!
Wikia is a free-to-use site that makes money from advertising. We have a modified experience for viewers using ad blockers

Wikia is not accessible if you've made further modifications. Remove the custom ad blocker rule(s) and the page will load as expected.