This page is a history of Transvaal from November 2007 to September 2008.
Prime Minister Hertzog
Edit
NOVEMBER 3, 2007
TRANSVALER DAAGLIKSE NUUS: Transvaal Prime Minister resigns; Cruywagen to hand over power to Deputy Prime Minister Hertzog on November 12
Field Marshal Paul Cruywagen announced this evening that he shall step down as Prime Minister of Transvaal on Monday, November 12. Newly-appointed deputy prime minister J.M. Hertzog will be sworn in as Transvaal's fifth prime minister the same day.
"As most Transvalers know, I have never wanted the post of prime minister - it is an unfortunate duty which has been forced upon me by events and situations which have now passed." stated Marshal Cruywagen during his press conference. "I wanted to resign by November and felt the twelfth day of the month was appropriate, as it was on the twelfth of March when I resigned from my previous term during the conflict with South Africa and Boer Staat."
Cruywagen, at that time a brigadier-general, was leader of the military junta which deposed Boerstaat-imposed appointee Albrecht Sharpsville on February 9, 2007. During the violence which followed, Sharpsville was killed in the rioting and Staatspresident Botha fled the country the same day due to the unsafe situation. Before his departure, Botha appointed junta leader Brigadier-General Cruywagen the temporary prime minister until he could return to resume power as Staatspresident.
Cruywagen resigned and disbanded the military junta government on March 12 when Botha returned home from temporary exile in South Africa. He later took power again in another military coup, this time deposing Ms. Annetjie van Matteus. He then won re-election in the August 27 elections.
The Field Marshal will retain his posting as supreme commander of the Transvaal Krygsmagte, but also plans to enjoy an overseas trip visiting many of Transvaal's close allies and friends. Rumoured destinations are believed to include Klingen, Slavorussia, Procinctia, Northumbria, Republic of Umar, Shilla, to name a few.
NOVEMBER 5, 2007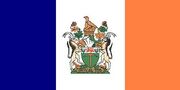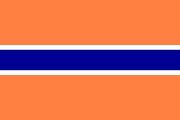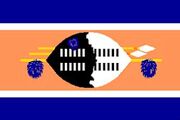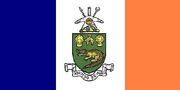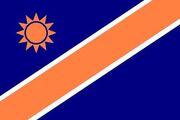 The Government of Transvaal this morning unfurled 5 new flags for usage in territories occupied or within its economic sphere of influence.
Both Riaan van der Byl (Governor of the Rhodesian Protectorate) and Govan Lethu Mauntang (Minister of African Affairs and Governor for African territories) were both on hand at the presentation ceremony by Staatspresident Botha at Government House in Pretoria.
All of the new flags incorporate local motifs or symbolism with the national colours of Transvaal (blue and orange). As Staatspresident Botha stated, "These flags symbolise the well-being which Transvaal has brought to these regions during our ecomonic and political expansion."
As Mister G.L. Mauntang - the only black African member of the Transvaal government - later explained, these flags "now give identity to all the non-Transvaler residents of the Republic yet by their uniform colours unify them with the Anglo-Afrikaner people of Transvaal".
NOVEMBER 8, 2007
TRANSVALER DAAGLIKSE NUUS: Deputy Prime Minister Jakob M. Hertzog announced today:
- Former Prime Minister Annetjie van Matteus, conviced and sentenced to life in prison for her authorisation of death squads and executions of numerous FAN, SWF, and LSF prisoners during Operation Overlord last June, will be released from prison on November 15. She will be granted a partial pardon in which she must reside within either the South West African (Namibia) protectorate or the Rhodeisan Protectorate. She is prohibited from entering Republic territory for three months.
- Passage of the Secret Society Act (effective November 12) which bans any organisation which pledges allegence to a power above the that of the Government of Transvaal. Along with previously outlawed communist organisations, freemasons, Boerstaters, and the Roman Catholic church will now also be targeted.
- Departure of occupation forces from Soviet Britian. The Transvaal Krygsmagte will depart from its occupation of Soviet Britian on November 10. Occupied on behalf of Norden Verein as a result of Soviet Britian's surrender during the LSF War, the occupation is now viewed as being redundant in light of Transvaal's subsequent withdrawl from Norden Verein. During the one-month long occupation, Krygsmagte troops carried out a quiet yet extensive campaign of de-socialisation throughout Soviet Britian. Collaborators with the occupation regime will likely be evacuated to Transvaal as troops begin to pull out, as the de-socialisation campaign was often marked by brutality and torture on the part of Kygsmagte and local collaborators eager to exact some revenge on the former socialist government there.
NOVEMBER 10, 2007
Minister of Foreign Affairs Pieter Stellenbosch and Minister of Interior & State Security Colonal Johann Roussouw were on hand today in London to formalise and sign the agreements of withdrawl of the Transvaal military occupation of Soviet Britian.
The war with Soviet Britian devestated the island nation, as 171 units of infrastructure were destroyed during the pacification campaign; 12 units of technology were liberated and later relocated in Transvaal. The ground combat during the one-week long war cost both sides approximently 2600 to 2800 soldiers each. In 13 ground battles, 11 of them resulted in Transvaler victories.
Once Soviet Britian's surrender had finally been accepted on October 9, a one-month long occupation set in which Transvaal Kygsmagte and state security forces carried out - in conjunction with local sympathisers - a purge of "socialist elements" within the population.
After the last orange, white, and blue Transvaal flag had been taken down at Heathrow Airport, Stellenbosch and Roussouw briskly saluted and shook hands with the new administration, then quickly boarded the waiting Tupolev Tu-160 bomber and made quick haste out of the country.
NOVEMBER 11, 2007
Transvaal citizens are being asked to vote on a new national anthem. The results of the national referendum will take effect on December 26, 2007, Transvaal's one-year anniversary of independence.
Sarie Marais has been the official national anthem since adopted on February 18, however many now wish to replace it with Die Stem van Suid-Afrika (The Call of South Africa) to better reflection the national situation as Transvaal expands outside its traditional provincial borders into the rest of South Africa.
NOVEMBER 13, 2007
ARCHBISHOP CORNELIUS HOOF OF PRETORIA: "The intent of the law as it applies to religious observance is that it specifically targets any recognition of allegiance to a [foreign-based] Pope - which also corresponds with the Church of Transvaal's own Articles of Religion (Article 57) that states that "The Bishop of Rome hath no jurisdiction in this Realm of Transvaal"
Since July 31, the three major Christian religions in Transvaal (Dutch Reformed, Anglican, and Roman Catholic) have been amalgamated by government degree under the state-sanctioned Church of Transvaal."
NOVEMBER 15, 2007
J.M. Hertzog's speech to the Government of Transvaal (excerpts – translated from the Afrikaans)'
In response to the letter of protest issued by from the Tahoe Republic: after recent discussion between Piet Malan (Transvaal ambassador to Tahoe Republic), Tahoe Republic's ambassador in Pretoria Séamus Ó Grianna, and myself, it has been decided that the Secret Society Act will be amended to exclude officially-sanctioned Christian religious groups.
I have spoken as well with Archbishop Cornelius Hoof regarding the status of the Roman Catholic Church within Transvaal, and we both agree that Roman Catholic parishes will be separated from the state-sanctioned Church of Transvaal at some point before the end of the year with the establishment of a Roman Catholic diocese.
At a few minutes after midnight this morning, former prime minister Annetjie van Matteus was granted a conditional pardon and released from prison. As part of her parole, she will take up residence in the South West African protectorate and refrain from any and all political activity until February 15.
As we lead up to the one-year anniversary of our declaration of independence, it is the economic plan of the this government to achieve the follow goals before the end of this year:
1) invest in our infrastructure and complete the rebuilding of our infrastructure damaged during the GOONS War
2) ensure our civilian population exceeds 20,000
3) build a second church improvement and second stadium improvement
Once these three benchmarks have been reached, Transvaal will then initiate the process to move to the Green team due to its commitments with the Sons of Muspel.
NOVEMBER 24, 2007
Staatspresident Botha issued a brief announcement on Saturday morning that Transvaal had resigned its membership in the Sons of Muspel.
Minister of Finance & Trade Marthinus Hofmeyr also notified Transvaal's five trading partners its intention to depart from the Maroon trading sphere and move to the Orange trading sphere effective December 1, although current maroon trades will be maintained for one month to give our former maroon partners the opportunity to find new resource sources.
"With our move towards Orange, one of the historic colours associated with the Afrikaner people, we are turning a page and moving towards a fresh start and new horizons for our nation."- Staatspresident Botha
NOVEMBER 25, 2007
Ons onderbreek die gereelde radioprogram vir hierdie belangrike aankondiging van ons Staatspresident Botha. We interrupt regular broadcasting for this important announcement from our Staatspresident Botha:
My broers en susters! Om 8:07 vanmôre, ons bemind Republiek van Transvaal het in 'n nuwe rigting ingeskeep toe deur die Onafhanklike Repubiek van Oranje Nasies is ons soos 'n lid aangeneem.
My brothers and sisters! At 8:07am this morning, our beloved Republic of Transvaal embarked in a new direction when we were accepted as a member of the Independent Republic of Orange Nations.
As we approach the one-year anniversary of Transvaal's Unilateral Declaration of Independence on Desember 26, we will now be progressing through a most-difficult month of economic transition for our great republic as we begin the month-long transition towards Orange as planned by our Government.
I ask each and every one of you in Transvaal: black or white or coloured, Afrikaner, Afrikaanse, Anglo, or African, resident of the Republic or the African protectorates or the occupied territories, hold firm during this difficult time. In the long run this short-term hurdle will bring long-term peace and stability to both the Transvaal Republic and the rest of Southern Africa.
To our longtime trading partners in Maroon: DeadlyPercision, kamuimagami, RpR Francheezi, Rostam, and Osiris87, I thank each and everyone of you personally on behalf of the Transvaler people for your loyalty to our nation. We apologise for any economic inconvenience the upcoming Oranje Oorgangstydperk (transitional period) and our departure from Maroon will cause to your own economies.
NOVEMBER 26, 2007
The Government of Transvaal this afternoon recalled all its ambassadors back to Pretoria for immediate consultation.
Neither foreign minister Peter Stellenbosch nor officials at the Staatsregeringministrie van Buitlandse Sake (Department of Foreign Affairs) would comment on the reason.
NOVEMBER 28, 2007
STAATSPRESIDENT BOTHA PROCLAIMS FEDERAL REPUBLIC
My broers en susters van Transvaal!
Since the defeat of the LSF threat in neighbouring Rhodesia some two months ago and the subsequent eradication of the communist menace from Southern Africa, there is no longer the dire threat towards our Afrikaner homeland from socialistic infiltration and rebellion amongst our African and kleurling population.
Since independence we have resisted the internal and external pressures to re-impose our apartheid legacy; the Referendum Crisis with South Africa and Boer Staat last February comes foremost to mind. South Africa and Boer Staat are today both no more with us in the cyberverse, but against all odds our beloved Transvaal has persevered.
Therefore the time has now come to remove one of the remaining barriers between white, black, and bruin people in our nation... I am here today to proclaim to you the declaration of establishment of the Federal Republic of Transvaal effective December 1, 2007.
Let me quote some words the great Field Marshal Cruywagen once said, when asked about the 'African Question' in Transvaal:
"I feel that Transvaal needs to become a federalized republic to give the Africans more autonomy over the affairs which primarily concern them on a daily level. We have tried hard and reasonably done well to improve their standard of living, but some avenue of involvement in the management of the country is required if for no other reason than a safety valve. The ultranationalists don't realize this country would become a tinderbox if they had their way - a tinderbox which would explode and bring everyone down."
"There are Africans who do want to see our nation succeed under the current social-political climate because they realize the economic stability and the benefits that that stability brings also benefits them, in comparison to the rest of the continent. Those Africans should not be excluded." - Prime Minister Paul Cruywagen (during election debate, August 2007)
Henceforth, the establishment of the Federal Republic of Transvaal will give expanded and direct local rule to Africans residing in the Protectorates, permitting them to elect their own local representatives as well as directly elect the Minister of African Affairs to represent themselves in the Federal Government.
This accord will now permit all citizens regardless of race and colour who reside within Republic territory to vote in Transvaal's national elections for Prime Minister – although only Afrikaner candidates will be permitted to run, this so as to preserve the distinct nature and protect the minority-rights of the Afrikaner people residing in Southern Africa and enshrined within our own homeland.
Federal elections will take place on May 1 and December 1 of each year; Prime Minister Hertzog's term as prime minister now being extended by presidential decree to end on May 1, 2007.
While our beloved Transvaal continues to remain first and foremost an Afrikaner homeland, the external threats have passed into the pages of our history so there is no reason now to continue to deny those loyal citizens - regardless of their race or their colour - who do wish to sincerely partake in all the trials and tribulations, as well as the fruits and benefits, which have been part of our Transvaal's historical legacy these past eleven months since independence.
DECEMBER 3, 2007
AANKONDIGINGS - ANNOUNCEMENTS: The Government of the Federal Republic of Transvaal and the Transvaal Gesondheidsorg (Transvaal Department of Health Care) are pleased to anounce the completion of the nation's second medical clinic - located in Johannesburg. Citizens can now enjoy access to quality, modern health care in either Pretoria or Johannesburg.
In other news, Prime Minister J.M. Hertzog approved the appointment of Bishop Markus van Bruggen of the new Roman Catholic diocese based in Johannesburg.
DECEMBER 17, 2007
"In support of our ally and Orange trading partner Procinctia, Transvaal has passed economic sanctions on Republic of War and thus immediately curtaining all our exports of pilchards, rugby equipment, and Afrikaans phrase books to the Republic of War."
[signed] Marthinus Hofmeyr, Transvaal Minister of Finance & Trade
DECEMBER 20, 2007
DIPLOMATIC NOTE TO SMALLFROG: According to the Transvaal-Ghanaian Naval Accords signed between Transvaal, Ghana, and other nations on July 27, 2007 after the South Atlantic naval crisis, Transvaal claims and maintains its option to a naval exclusion zone south of 17'S latitude (approx Angola-Namibia border) and parallel east of St. Helena.
We acknowledge that map may be a little inaccurate in the southmost portions. We also promise to clear any mines which may stray outside of the exclusion zone.
DIPLOMATIC NOTE TO SMALLFROG: The exclusion zone is there to protect Transvaal from provocation by those nations which opt to RP navies.
We acknowledge that due to misinformation and/or poor cartography, our airforce may have lain mines in areas outside of the NEZ (naval exclusion zone) - and we shall promptly remove those mines, as well as any which have drifted outside the NEZ.
The Government of the Federal Republic of Transvaal also acknowledges smallfrog's concerns about how the NEZ potentially restricts their own naval operations - therefore we propose that our military commanders (for example, smallfrog's admiral of the fleet and our own commander-in-chief Marshal Paul Cruywagen) meet to discuss the application of the Transvaal NEZ. We would even agree to adjustments to the zone; i.e. southern limits to the NEZ which would permit smallfrog ships traverse between the South Atlantic and Indian Oceans. We would even be willing to meet on smallfrog's own territory.
However, until that meeting take places and an agreement is made - any mines cleared by outside forces within the NEZ shall be replaced by the Transvaal Lugmag (air force).
DECEMBER 21, 2007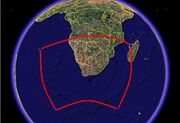 Revisions to Transvaal Naval Exclusion Zone Accord (July 25, 2007) formerly known as the Ghanaian-Transvaal Naval Accord:
SIGNATORIES - signed near Bouvet Island: Marshal Paul Cruywagen on behalf of the Government of the Federal Republic of Transvaal; Prime Minister Hunter on behalf of the Government of smallfrog; Emperor Kim Kee Hyuk on behalf of Shilla; John McEnroe on behalf of Tae'unas; representitives on behalf of Tahoe Republic
PURPOSE: The exclusion zone is there to protect Transvaal from provocation by those nations which opt to RP navies.
DEFINITION OF EXCLUSION ZONE: south of 17'S latitude; north of 50'S latitude; east of St. Helena longitude (5'W 46' longitude); west of 45' E longitude
DECEMBER 22, 2007
DIPLOMATIC NOTE TO TAHOE REPUBLIC: The Government of Transvaal applaudes this wise decision by Tahoe Republic to ban the socialist rabble. If you require assistance, we have some Krygsmagte commandos experienced in anti-communist round-ups and interogation which might be of help.
EVENTS IN TAHOE REPUBLIC
As his limousine slowly pulled up to the curb in front of the Tahoe government buildings, the Transvaal ambassador was quietly mutting the word "taoiseach" to himself over and over.
"What was that excellency?" questioned his chauffeur leaning back.
"Sorry" replied Ambassador Piet Malan, "I'm just trying to remember how to pronounce the Tahoe prime minister's title. Taoiseach. I think it means 'chief' but comes across as more impressive in Gaelic."
"Oh, is that so?" the ambassador's chauffeur commented, himself not quite sure what to make of all this.
"Anyways, it's been awhile since I had to attempt to speak in Gaelic" continued the ambassador. "I'm a pretty rusty. Hopefully herr Taoiseach understands my English because it is impossible to find Gaelic-Afrikaans interpretors."
The black Mercedes limousine sporting a small Transvaal flag stopped. Piet Malan gingerly stepped out of the automobile into the light rain, briskly brushed down his suit and then went up the two-dozen odd steps into the building.
As Malan went in through the archway, he nodded at the two gardaí posted outside and bid them a heavily-accented "Dia dhuit ar maidin". He couldn't judge from their non-reaction if they had understood him or not. Malan shrugged, and as he now approached the door to the Taoiseach's office chambers, he thought to himself 'well, finally something interesting to deal with. This posting has so far been rather quiet...'
"An Taoiseach, Ambasadóir Piet Malan is here to see you."
"Very well, send him in." The Taoiseach leaned back in his chair. He liked his office. The green rug with the large golden harp inlaid on the floor over a marble floor. The windows overlooking the river and to the east, the mountains and to the west the green farmland that was Tahoe. On his right was the green flag with the golden harp, the national flag, and to his left was the green white and orange triclor with the celtic cross in the center, the flag of the Taoiseach. The door opened and the ambassador from Transvaal walked in.
"Failte isteach, Ambassador Malan. Welcome. It is a shame we must meet face to face for the first time in a crisis such as this, which is why I am speaking to you directly."
"Thank you for the welcome Taoiseach."
"Ahh, it is more of a tee-shuck instead of a tow-ish-ock, but that is fine. Gaeilge is a bloody hard language to speak. Now, onto buisiness. As no doubt noticed driving here, the socialists are causing quite a commotion, as they tend to do everywhere. We have intelligence that indicates that some elements in their camp are planning an armed rebellion against this government. Two socialist states have already acted, one recognizing a Democratic Republic of Tahoe, and the other one explicitly condemning us. In case of such a rebellion, I'd prefer to use commando forces to take it down quickly as opposed to using conventional military forces. My Fiannoglach...Rangers...are over extended right now, trying to find the rebels before they strike, as well as operating on foreign soil right now. If your government is willing, I'd like to request Transvaal military assistance, just a few dozen commandos perhaps, to reinforces ours."
"Herr Taoiseach - before leaving for our meeting, I spoke with Staatspresident Botha on the encoded telephone regarding this crisis which has struck your great nation. First off, he expressed our government's full support against these socialist terrorists and sends his best regards to you in this time of trouble."
Ambassador Malan then began to slowly pace around the office, admiring the impressive green rug but making great care not to step on the harp emblem out of respect to his hosts.
"As you may know," began the ambassador. "Transvaal had fought quite a long and bloody conflict in Rhodesia and Mozambique ridding us of those particular source of communistic irritation to our own security before successfully eradicating al socialistic influences within our territory in that region at the end of October. We also completed a recent de-socialization campaign after the LSF war when our troops occupied Soviet Britian, which had surrendered to us. So as you can see, the Transvaal Krygsmagte has the resources and the capabilities to defeat this problem which troubles your nation."
"Staatspresident Botha has confided with me that Transvaal will send as many or as little troops as you deem necessary. You have our full support diplomatically and militarily in this matter. In fact, as a sign of our strong friendship – I give you this video cassette of footage we have recently filmed of the Soviet Sindorian embassy in Pretoria. Their embassy is conveniently located across the street from our very own Interior Ministry. Hopefully from this footage you will be able to identify any real or potential agitators from your own nation which may be using this embassy as a source of support."
Malan places the video cassette on a coffee table in front of the Taosieach, before sitting down in an exquisite oak chair next to the Taoiseach. Malan then pauses, sips from his glass of water, before slowly leaning towards the Taoiseach.
"But first, Herr Taoiseach… I must ask you this question…" said Malan in an almost conspiratorial manner. "
"Exactly what kind of support do you request from us? Strictly military – or do you seek something… err, how shall I put this… 'politically pro-active' as well? You know, we do have some people who are quite experts in the field of 'intensive interrogation' against this sort of rabble.
Malan then sits back up, pours a little more water into his glass… and waits for the Taoiseach's reply.
"I will be honest. My nation has never had the types of experiences yours has had. So I am inclined to say both. Militarily, your commandos will be an important reserve force, as well as assisting us hunt down the socialist scum. The 'politically-pro active'" the Taoiseach grinned at this, "people will also be important in dealing with them. We can interrogate criminals and prisoners of war, but difficult interrogations we are completely hopeless at. As for the numbers, I'll have somebody from the Defense Ministry contact you shortly. I appreciate the help, and please give your President my regards. The Republics of Tahoe and Transvaal, two nations of Europeans exiled to new worlds struggling together against evil. How fitting. Now, if you'll excuse me, I have to meet with my military commanders."
Piet Malan stood up. "Then herr Taoiseach, I shall contact my Government so we can make the necessary pre-preparations. I shall also pass along to the Staatspresident, with whom I shall be speaking with again shortly, your message of friendship between our peoples."
With that, Ambassador Malan gave a slight nod of respect and departed from the Taoiseach's office. As he walked back outside the building, the rain had begun to pick up and Malan tried as best as he could to keep dry he scanned for his waiting limousine. Spotting the Mercedes, he dashed towards it.
"Sir, I have brought you your favourite drink" encouraged his chauffeur "A baileys and coffee, right…? thought you might appreciate it as this weather seems to have become a tad chilly"
"Dankie. Now put me through to Pretoria on the secure line as soon as possible." The Transvaal limousine sped along the Lake Tahoe Parkway back towards the embassy compound.
"Staatspresident? Yes, this is Malan. I spoke with the Tahoe Taoiseach…" began the ambassador as he began to relay the course of the conversation he had with the Tahoe leader to Botha on the other end of the phone line.
The chauffeur deftly cocked an ear to overhear as the conversation with Botha continued…
"His defense military will contact ours to indicate the composition of the commando squad"
"Who do I think should lead this operation? I'm not sure right now my Staatspresident. Of course the perfect man for this kind of task, we'd need to secure Slavorussian permission first. I do not know what their position is in this conflict."
While listening to the Staatspresident lecturing him from the other end of the line, Malan glances out the window and notices the limousine slowing down for some sort of a road-block.
"Herr Staatspresident, I believe we'd be better to go with someone whose services we can secure as soon as possible and is discrete enough to deal with all the unsavoury aspects."
The ambassador notices the automobile has now stopped.
"Really? Do you think it would be possible to have her…"
[whooom]
Malan is unable to finish his sentence before his limousine explodes into flames, strucked by the anti-tank rocket launcher aimed from the impromptu rebel road-block.
When his body his found minutes later by the Garda appearing on the scene, it is lifeless - not from the explosion, but from what appears to have been close-range gunfire.
"Malan is dead. Butchered in cold blood no doubt by communist rebels which now seem to have gained a foothold inside Tahoe" gravely began the Staatspresident, seated with the rest of his military leadership massed around the long table located in the drawing room of Botha's private villa.
The sun shone brightly into the room as Pretoria basked in the afternoon warmth of the high summer. Botha squinted from the brightness - and thought to himself for a moment, how right now it was winter in Tahoe and the commando squads would need to he equipped appropriately for the weather.
"We have been requested to provide both conventional and…" – clearing his throat, "with dedicated social pacification forces."
Colonel Johann Roussouw, the minister of interior, seated off to Botha right, smirked to himself when he heard the phrase 'social pacification'.
Botha continued. "Before he was killed, Ambassador Malan suggested that we ask Slavroussia for permission to temporarily release Uys de Ruijtiers from prison. I am not sure how Emperor Justinian will respond to that request – and frankly if the Emperor says 'no' then I shall respect that decision, as he has proven to be a loyal friend of our nation. But if De Ruijtiers can be utilized for this mission, we all know of his ability dealing with these kinds of rebels."
"But what if De Ruijtiers isn't released, then what?" questioned Flight Commander Leonard Wise, commander of the Transvaal airforce - his accent distinctly giving away the only Anglo-Transvaler in the government. "This kind of mission admittedly isn't something in mine nor Marshal Cruywagen's line of work"
The marshal nodded curtly towards Botha in agreement, but kept silent otherwise.
Colonel Roussouw interjected: "It is the opinion of the Interior department that we bring the ice queen herself out of cold storage." Cruywagen raised an eyebrow, as the attention of the table zeroed in on the interior minister.
"I myself cannot go to Tahoe in person" explained Roussouw, "because if Malan was deemed a valid target by these rebels, then no doubt their communist backers would love to take a shot at me after all what I did to their comrades during the Soviet Britian occupation."
"However, Annetjie is someone who would relish getting her hands dirty – figuratively and literally. Also, getting her out of the country would keep her out of Prime Minister Hertzog's way as well as weaken her lingering Boerstater followers. Ever since Hertzog pardoned her, she has been incessantly pestering both him and the Staatspresident here for some sort of government post."
Roussouw stopped to gauge the reaction so far to his words. He looked around the room and judged that he had just opened a can of worms by bringing up Annetjie van Matteus' feared name into official business.
"The other benefit to stationing her to the Tahoe Republic as Malan's replacement is, unlike the rest of us, she can easily be deemed…" Roussouw paused to wax for effect "…expendable, if need be."
Cruywagen sat back in his chair and frowned. As much as he loathed the woman - who months ago when she was in power probably would have bumped him off if given the chance - it still wasn't within his scruples to simply set someone up for what would likely result in their probable assassination. He then barked at Roussouw, "What are we here, gentlemen, the mafia?"
"No" protested Roussouw. "We are not – but don't you see that we know that Annetjie isn't squeamish like some sitting here (glancing at Flight Commander Wise) and if unforeseen problems with her methods do come back to bite us, then those problems will be a heck of a lot easier to cast off and deflect if we just lay the blame with her. Plus we have an election coming up in the spring, and what better way to tarnish her image with the electorate, if she does attempt to run against Hertzog, than by bring up her activities in Tahoe? Stuff like that will make her unelectable and unacceptable overseas."
Roussouw then sat back, allowing what he had just said take stock with his listeners.
Botha then stood up, as a signal that the meeting was now over. "Gentlemen, I will contact Emperor Justinian regarding Uys de Ruijtiers – and failing his release, then we shall go with Annetjie. That is all!"
As the military men collected their papers and briefcases to exit the room, Botha grabbed Roussouw's arm to hold him back until it was just the two of them remaining.
Botha then sternly spoke to his interior minister as if he was a father reprimanding one of his sons: "You know Johann, if this does backfire in anyway, it will be your head on the platter and not Annetjie's – is that understood?"
DECEMBER 24, 2007
Transvaal Kygsmagte troops arrived in Tahoe Republic early this morning as the African nation commited 1,000 troops in assistance to the Tahoe nationalist government's efforts to supress the socialist insurection now plaguing that nation.
SOMEWHERE IN SOVIET SINDORIN...
Ambassador Judith Matambanadzo protested loudly to the Soviet Foreign Minister. "I would like to inform the Soviet Foreign Ministry that my Government has every right to involvement in the Tahoe Republic!"
Despite the irony of the two bitter ideologically opposed nations recently agreeing to exchange diplomats, the Soviet Foreign Minister wasn't sure what to make of the newly-appointed Transvaler ambassador to Soviet Sindorin.
For starters, she was a black woman – somewhat overweight, in 50's or 60's probably, likely a Zulu or Xhosa – when he was all prepared and expecting to meet some dry Afrikaner type who'd drone on and drone about how the white man was the pioneer of Southern Africa and thus within his 'national rights' or 'racial rights' or some other preposterous claim to dictate this or that to the African population in Transvaal.
Ms. Matambanadzo either broke all his impressions, false or otherwise, about Transvaal – or she was the result of some cruel racist joke originating from the Transvaal foreign ministry. 'Let's post a black woman to the coldest diplomatic posting we have', the Soviet foreign minister could this very minute imagine the supposed dialogue in his mind's ear.
"Mister Comrade Foreign Minister! Are you listening to me?" bellowed the ambassador at him. "My Government was invited by the loyalist Tahoe Government to assist them with an internal matter. You have no right to protest our involvement in a friendly, allied nation. You do understand me?"
AT BEALE A.F.B.
"Sir, you must excuse me… I am just the senior-ranking officer currently here" apologized the Krygsmagte major.
"The Ambassador's plane will be arriving separately in a few minutes."
Major Deleeuw offered a cigarette to his opposite Major Lenihan as the two officers waited outside the terminal. Lenihan glanced at his Transvaler counterpart and noticed that the major was shivering slightly from the crisp Tahoe air.
Deleeuw perked up a few minutes later when he saw the Tu-155 Blackjack appear south-east on the horizon. "That must be her, the ambassador you know" remarked the major. Then hesitantly, he added "She... will be... leading the expeditionary force."
As the Tupelov bomber sped past in front of them and touched down on the runway, Major Lenihan wondered to himself just how Transvaal acquired spare parts for all their aircraft, which appeared from the makes of their aircraft to have been supplied from communist nations.
The Tupelov taxied to a spot around 200 metres from the terminal. A hatch opened in the bottom of the aircraft and a ladder was dropped out.
After a wait of about a minute, expecting to see some bemedaled Transvaler general emerge, Major Lenihan suddenly noticed a pair of boots –riding boots of some sort– were dropped down to the ground, soon to be followed by what appeared to be a woman in skirt. The passenger quickly put her boots back on and emerged from the shadows of the bomber as she walked over to where the two majors were standing. Major Deleeuw shot a glance at Major Lenihan and quickly but discretely extinguished what little remained of his cigarette.
Major Lenihan did the same, and when he looked back up he could clearly see the woman now, a striking blonde in her very-late 30s or early 40s, it was hard to tell. She wore a sand-brown skirt, knee boots, along with the sand-brown tunic of a Transvaal colonel. Lenihan notice that when Deleeuw saw the uniform, he gulped as if he was afraid of something.
Deleeuw snapped to attention as she approached Lenihan with an outstretched hand.
"Goot mornink yentlemen," greeted Annetjie van Matteus. Major Lenihan immediately noticed that her accent was distinctly different that the rest he had heard spoken by the Transvalers. It was either German or Swedish – he couldn't pin it, but definitely not Afrikaans nor Anglo-Transvaler.
So this was the infamous Butcher of Pretoria which his superiors had told him about.
Closed Session of Soviet Sindorian Parliament
Comrade Grigori Kutsenov then spoke up: "Excuse me Comarde Premier for interupting here, but from my own experience in previous guerilla operations in Africa against the Transvalers, any civilian they deem as "hostile" and arrest during their operations they tend to consider as a combatant regardless of their innocence or involvement."
"So if any of those numbers the Tahoe government quoted were in fact provided by that fascist whore Van Matteus and her murderous gang of thugs, I would expect at least a third of those claimed as killed or POW are actually civilians completely uninvolved in the fighting but just in the wrongplace at the wrong time."
"I can remember when I was posted as an undercover agent during their Rhodesian campaign a few months ago, how after some Transvaal soldiers showed in one town, they walked into the local police lock-up and shot dead three young men who had been locked up for drunk driving a few nights before - and then claimed they were LSF guerillas or something absurd."
DECEMBER 28, 2007
DIPLOMATIC NOTE TO HIGH KING OF DUN CARRIG: The Government of Transvaal offers asylum in case the King and his family needs to flee the country for their own safety.
The Government of Transvaal offers to the High King full use of this hotel at our Sun City resort at no expense to him. This fine establishment has played host numerous time to famous monarchs - such as Kaiser Martens of Deutschland and Emperor Justinian of Slavorussia.
And, once our troops are finished with their current anti-communist operations in Tahoe Republic and no longer required there, we offer their services to the High King in assisting to restore government order in Dun Carrig.
"The Governent of Transvaal recognises the Loyalist Government of the High King as the one and true government in Dun Carrig - and I urge all our nationalist friends and allies to do the same." - Staatspresident Botha while greeting the exiled High King at Johannesburg's airport
DECEMBER 29, 2007
The Transvaal expeditionary force in the Tahoe Republic will be departing from there and making their way to Dun Carrig. We anticipate Colonel Van Matteus and the Transvaler Oorsese Korps (Transvaal Overseas Corps) will disembark and be ready for action in 36–48 hours.
ATTENTION General Shikazu: This is our immediate deployment plans - we are going to land our transports in some suitable fields and deploy ten companies of 100 men each to secure the area around the villages of Balbriggan, Skerries, Rush, and Lusk.
Once we have located Staatspresident Botha's Irish relatives and ensured their safety, we will then assign five companies to break off and converge on Swords before asking around for directions to Garryowen.
Colonel Annetjie van Matteus lead a detachment of Oorsese Korps soldiers into the centre of Skerries where she set up her main headquarters in one of the local inns. After paying off the innkeeper and winning over his loyalty to the Loyalist cause with a deal he simply could not refuse, she walks outside into the street with a soapbox. Placing the box down, she climbs up and proclaims to all who can hear her:
"Now here this! This village is now under the occupation of the Transvaal Overseas Korps."
"We come in peace to assist your High King. Those of you who support the High King, are our Loyalist friends. We mean you no harm nor interference in your daily lives. But those of you up in arms against the High King, are communist rebels and shall be treated as such with no mercy from me. We encourage all citizens loyal to your High King to report to me any suspicious individuals."
"Effective immediately there is a dusk to dawn curfew - all violaters without passed issued from my headquarers will be shot."
"That is all for now."
Colonel van Matteus looks around at the crowd who has gathered around her to listen to her words, before stepping down off the soapbox. She picks up the box and promptly returns inside the inn, half-amazed that no one put up any opposition. 'Hmm, this may be easier than I originally thought' she thinks as she enters the deserted pub located in the ground floor of the inn.
"Bartender! A dram of Bushmills Black and a pint of Guinness to chase it down" she barks as she slaps down a 100 punt Dun Carrig banknote on the counter.
"Keep the change"
DECEMBER 30, 2007
ATTENTION General Shikazu! I suggest that we coordinate our movements according to the map attached. Neo Japan troops advancing north along the N11 to Bray, at which point Transvaler and Tahoe forces will commence their advance southwards through Swords. Then from those two towns, our forces shall simulatiously advance into the capital to rendez-vous along Ó Connell Street in front of the General Post Office. Victory shall be ours! [signed] Col. A. van Matteus, TOK
Acknowledged, hold where you are and we'll begin our preparations to advance on Swords later this evening, hopefully drawing away some of the enemy forces fighting against you. So far we've faced little to no opposition. We've also been successful in raising about 200 additonal troops from local loyalist volunteers who we are using to police the villages, thus free Oorsese Korps troops for operations.
DECEMBER 31, 2007
ATTENTION General Shikazu! The Transvaal Oorsese Korps entered Swords but instead of holding the town, are instead moving on towards to the international airport located a few kilometres southwest. We should have it secured in a couple of hours - and if those 200 soldiers can secure the airport long enough through until dawn, that should be enough time for larger quantities of foreign reinforcements to be flown in on short notice.
We need to get reinforcements before any further advance into the capital otherwise our two contigents are spread much too thin if local disturbances begin in our own occupation zones.
That said but there has been minimal opposition so far in our zone of operations, mostly youths throwing beer bottles at the Irish Loyalists. That minor disturbance soon extinguished after we took some hostages in retaliation. In all we have had maybe 3 to 5 casualties from minor skirmishing and we believe around a dozen "rebels" have been killed.
Right now, I have 1000 TOK troops and 200 Irish Loyalist Volunteers under my command. The Irish Loyalists are currently holding the positions west of Balbriggan and in Lusk previosuly held by TOK companies - thereby freeing up those two TOK companies which then made the advanced through Swords to the airport. Hopefully we will be able to raise additional Loyalist Volunteers to keep control of Swords.
I am requesting an additional 1000 troops to be flown in for deployment at the airport. 200 of those troops will be diverted to occupying Malahide and Portmarnock, 100 sent to Swords, and the remaining 700 will be used for the main advance into the capital.
General, could you please advise with your troops count and breakdown?
Victory shall be ours![signed] Col. A. van Matteus, TOK
JANUARY 1, 2008
ATTENTION LOYALIST COMMANDERS!
I have just received word from our Prime Minister that if Transvaal's economic plight doesn't improve in the next 24-hours or so, then the Oorsese Korps will be evacuated from Dun Carrig and repatriated home.
Unfortunately the government has fallen into a cash shortage and is unable to pay any of its bills. It is feared that if this situation continues, there might be a rise in public opposition to what some in our press have been quoted as calling "mismanaged and reckless foreign adventurism to distract from the problems closer to home".
At present I am unable to carry out any further offense or support operations - we are simply holding our ground until further orders from Pretoria.
[signed] Col. A. van Matteus, TOK
JANUARY 3, 2007
TRANSVAAL FREE PRESS: ECONOMIC UNREST IN TRANSVAAL
Prime Minister Hertzog declared a state-of-emergency last night as Transvaal reels from the second day of public violence due to opposition to Hertzog's economic policies.
2,268 people died in December 2007 alone due to economic hardship which has gripped the nation since the transition to Orange on November 28 and the inability of the government to secure new reliable trading partners during that time.
On December 28, 754 citizens were killed in clashes with Transvaal security forces, news of which was previously supressed - and yesterday another 1,607 died in the unrest after the Herztog Government declared a clamp-down on all forms of opposition to his government due to its inability to cover its bills.
Most of the opposition so far has stemmed from the affluent White Afrikaner sector and so far is disunited and pose little, real threat to Hertzog or his regime. Many are calling Hertzog misguided and all observers agree that Hertzog's window dressing acts such as changing the national anthem and motto, as well as claims of rampant adverturism and interference in other nations' affairs, have done nothing at all to alleviate the real problem at hand back home.
JANUARY 3, 2007
Field Marshal Paul Cruywagen has thrown his support behind the government of Prime Minister Jakob Martin Hertzog. The respected Commander-in-Chief of the Transvaler armed forces went on state television a few hours ago in an appeal for calm and an end of the civil unrest which has plagued the nation for almost one week now.
Pretoria was brought to a standstill this morning as government workers walked off the job and protesters took to the streets. According to the English-language independent newspaper Transvaal Free Press, there were no deaths reported during the demonstrations as protesters carried placards calling for a military coup by Cruywagen as well as Hertzog's resignation.
The latest round of protests today came in the wake of Prime Minister Hertzog disclosing that recent government bills were paid today after accepting $1,000,000 rand in foreign aid from the communist nation of Mega Land. Hertzog explained the payment was made in exchange for a recent trade agreement signed – but many white supporters of the National Party are simply viewing this as simply an ideological cave-in and fear further communist infiltration as the crisis deepens.
In other news, the Transvaal Oorsese Korps returned home to their base in Walvisbaai after departing Dun Carrig. The expeditionary force had been posted overseas assisting the governments of Tahoe Republic and Dun Carrig with sorting out their own domestic troubles – but now with the economic crisis which has now erupted at home, the Korps were repatriated as a security measure.
The recent tour-of-duty for the newly-created Overseas Corps has further enhanced the political rehabilitation of its commander, Colonel Annetjie van Matteus. Many observers feel that she will use the Korps to springboard herself back into national politics in time for the May national election. Her opponents fear that she will try to use the Oosese Korps as a private army to influence the government – although Colonel van Matteus is still under a government banning order which prohibits her from entering Republic territory until next month. She currently is residing the Namibian protectorate.
Unification
Edit
JANUARY 4, 2008
HERTZOG SIGNS CRITICAL TRADE DEAL FOR ALUMINUM AND COAL
Prime Minister Hertzog made improtant steps tonight to deflect recent public criticism of his regime by signing another key trade agreement tonight - one which now gives Transvaal a source of aluminum and coal.
One of the fallouts from this latest trade agreement is considerable territorial expansion for Transvaal in the Southern Africa.
The city of Lusaka in Northern Rhodesia (Zambia) came under government control a few hours ago and as well there is now a direct land route to the Walvis Bay enclave where Transvaal maintains its Atlantic deep water port and drydocks. All of Rhodesia (Zimbabwe) and now small parts of Angola and Malawi now come under Transvaal protectorate rule.
Territorial expansion southwards within South Africa brings the boundary of the Federal Republic now within 20 miles of Kaapstad (Cape Town). The town of Paarl, home of the Afrikaans Language Monument, now falls just within Transvaal territory.
While speaking to the nation on state televsion, after being hounded for the past week by the public, the press, and even by factions within his government, a tired-looking Jakob Hertzog appeared somewhat more relaxed now as he announced the liberation of the Language Monument.
The Prime Minister has stated that emergency rule will still remain in force until January 5 - however many protesters has started to pack up and head back home as they heard his speech broadcasted.
JANUARY 6, 2008
At 5:28am this morning, Transvaal government officials and military forces arrived in Kaapstad (Cape Town) as that city was peacefully annexed and incorporated into the Federal Republic of Transvaal.
The town of Simonstown and a one-kilometre square enclave near Pringle Bay are the last remaining parts of South Africa which remain outside direct Transvaal or Natal governmental control.
In other domestic news, Prime Minister Hertzog continued to maintain the state of national emergency as the government signed the last of its international trade agreements – one which secured iron and wheat for our nation. Along with the state brewery company re-opening after its closure two weeks ago, Transvaal for the first time in history is now able to produce its own steel and automobiles.
It is anticipated that Hertzog will officially declare the end of the Oranje Oorgangstydperk (economic transitional period to Orange) in the next couple of days - although some believe he may delay the announcement to co-oncide with the annexation of Simonstown and the completed Afrikaner nationalist liberation of South Africa.
JANUARY 7, 2008
AFRIKANER VRYHEIDSDAG! AFRIKANER FREEDOM DAY!
My broers en susters! My brothers and sisters!
Today is a momentous day for our nation, one we have dreamt and hoped about ever since our Unilateral Declaration of Independence on December 26, 2007.
It has been a long and diffiuclt struggle to acheive, but at four minutes after midnight this morning, Simonstown was peacefully annexed into the Federal Republic of Transvaal resulting in the unification of South Africa under direct Transvaal government rule - save for the nation of Natal which is recognsied by Transvaal to be a fully separate and independent state.
January 7 will forever be known in Transvaal as Afrikaner Vryheidsdag in commemoration of our homeland reclaiming what is rightfully ours.
TRANSVAAL VOORWARTS EWIG!
JANUARY 15, 2008
The Government of the Federal Republic of Transvaal under the wise and benevolent leadership of our Staatspresident Botha does hereby proclaim on this day January 15, 2008 the full extent of our nation's current territorial claims and intended expansion on the African continent.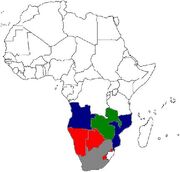 As our sphere of territorial influence expand in-game into the Congo, Madagascar, etc. those territories will not be recognised by this Government as to be under our direct or indirect control. This map signifies the limit which this Federal Republic is willing to expand.
The Federal Republic of Transvaal hereby reconfirms its recognition of complete and full Natal independence as long as that nation remains under the leadership of Seydlitz.
Until a suitable Portuguese nation steps forward to take Angola off our hands, we shall continue to administer that Angolan territory which falls under our sphere of influence.
The Federal Republic of Transvaal also recognises any German-backed imperial claims to Tanganyika, Togoland, and the Cameroons.
All nations which hold diplomatic relations with Transvaal will be expected to recognise our territorial integrity as presented in this map.
[signed]
Botha - Staatspresident of the Federal Republic of Transvaal
J.M. Hertzog - Prime Minister of the Federal Republic of Transvaal
P. Stellenbosch - Foreign Minister of the Federal Republic of Transvaal
JANUARY 16, 2008
DIPLOMATIC NOTE FROM PRINCE PAUL KARADORDEVIC: The Kingdom of Yugoslavia wishes to remind Transvaal that the German Confederation still holds the Germanic Colonies of Namibia, Cameroon, Tanganyika, and Togoland.
REPLY TO PRINCE PAUL KARADORDEVIC: The Government of Transvaal does not recognise any German claims to South West Africa (Namibia).
We base our claim on two points - one in-game and one historical: 1) due to our in-game direct sphere of influence within Namibia/South West Africa; 2) due to South African (our forebearer) administration and control over South West Africa for 75 years - which overthrew by conquest the German colonial regime. [signed] P. Stellenbosch, Foreign Minister
DIPLOMATIC NOTE FROM BELGIUM: The Kingdom of Belgium would like to announce the end of Belgian colonial rule over the port of Cape Town and the handover of the souvereignty that will take place on Februari 1. From that day on will the Cape Town area be a part of the Republic of Transvaal.
REPLY TO BELGIUM: Kaapstad (Cape Town) was declared annexed by Transvaal when our troops occupied the city on January 6 - and is now integral territory of our Republic. We have never recognised Belgian rule anywhere in Africa outside of the Belgian Congo. The port facilities are open to all nations friendly to Transvaal.
DIPLOMATIC NOTE FROM PRINCE PAUL KARADORDEVIC: The Kingdom of Yugoslavia requests to know if Transvaal recognizes the other German claims in Africa? We just wish to know if the remainder (Tanganyika, Togo, and Cameroon) are recognized by the Transvaal Government.
REPLY TO PRINCE PAUL KARADORDEVIC: Yes - our proclamation above clearly states that. The Government of Transvaal recognises any and all German nations' rule over the colonies of Togoland, Tanganyika (including Ruanda-Burundi), and the Cameroons. [signed] P. Stellenbosch - Foregn Minister
DIPLOMATIC NOTE FROM ARENELLIA: The Arenellian Naval Squadron currently operating out of the port city of Lobito will depart on the next rising tide. Arenellia wishes Transvaal all success in securing this vile and pernicious nest of pirates and theives.
DIPLOMATIC NOTE FROM BELGIUM: The Kingdom of Belgium would like to announce the end of Belgian colonial rule over the port of Tianjin in China and a willingness to offer it as a concession port to the Republic of Transvaal.
REPLY TO BELGIUM: While we appreciate the offer, the Federal Republic of Transvaal must turn down the offer of the Port of Tianjin. The port and its geographical location in relation to Transvaal would serve us little use - Besides, currently all our Far Eastern trade is being handled sufficently through friendly nations such as Shilla and Neo Japan. However as a sign of goodwill toward the Kingdom of Belgium, we shall be returning all Belgian flags which we took down when Kaapstad was liberated from Belgian rule.
REPLY TO ARENELLIA: At present, our control over Angolan territory is minimal and confined to that small portion adjacent to the Caprivi Strip. We are only staking a claim in Angola to bring law and stability in lieu of other claims being exerted.
We were unaware of the presence of the Arenellian fleet at Lobito, but the Government of Transvaal has no problem with Arenellian fleet continuing their operations off the coast of Benguela. Your fleet is also welcome to use our harbour and drydock facilities at Walvisbaai for refueling and replenishment needs.
DIPLOMATIC NOTE FROM IMPERIAL WELLINGTON: With the new found stability brought on by this Imperial Wellington wonders if economic ties are in order?
DIPLOMATIC NOTE FROM ARKANODIA: Staatspresident Botha: The nation of Arkanodia cares little about Transvaal imperial claims, and does not pay very much attention to events in the more remote regions of the earth. If it satisfies the people of Transvaal to lay claim to their surrounding nations, then so be it. The only concern Arkanodia has is the welfare and freedom of the region's citizens, as well as concrete steps towards democracy and universal suffrage. Any imposition of totalitarian or hegemonic rule will not be recognized by our nation as legitimate.
DIPLOMATIC NOTE FROM ARENELLIA: Our squadron (a single light cruiser, two destroyers, and an armed replenishment ship) will accept your kind hospitality and remain on station to patrol the coastal region and interdict the pirates who operate in the area. Should they require the services of your facilities at Walvisbaai you will be able to expect prompt payment in gold for the same. Naturally, should your forces require reciprocal assistance you'll find our medical staff quite capable and, if needed, the four ships can muster a force of some 200 Marines to assist on the shore.
DIPLOMATIC NOTE FROM TAHOE: The Tahoe Republic acknowleges Transvaal's hegemony over South African affairs and all of its territorial claims.
REPLY TO IMPERIAL WELLINGTON: Transvaal would be amicable to establishing diplomatic ties with Imperial Wellington.
REPLY TO TAHOE: Thank you as always to our good friends in the Tahoe Republic. We hope that your nation has regained stability since the recent episode of communist terrorism which plagued your lands.
REPLY TO ARENELLIA: Excellent news to hear. Then we are agreed as we share a common aim to bring order and stability to a lawless region. Any pirates found using our territory as a base will be arrested and turned over to your custody.
REPLY TO ARKANODIA: Ask any one of our international friends: after all the conflict and violence which has occured in the region in the past year, the welfare of Southern Africa is as good as it will likely get under Transvaal and National Party direct rule or as one of our protectorates.
While our goal has always been first and foremost the establishment and reinforcement Afrikaner supremacy in the region, we nevertheless do not allow those who are friendly to our Government to simply fall by the wayside.
That is why we established the various African protectorates which surround us, so that they can be governed, kept free of anarchy and terrorists, and so that prosperity can thus ensue. Many a native African in Southern Africa gain their first primary education or first vacination from our Government's humanitarian efforts.
We are a proud peolple and do not hide the fact that we are not some liberal socialistic state. But if the Arkanian people have any doubts to the situation in Transvaal, you are free to visit us and see for yourself... warts and all.
JANUARY 17, 2008
DIPLOMATIC NOTE FROM ARENELLIA: Arenellia's Foreign Minister insisted that we make clear that we have no territorial ambitions in the region. Our purposes are solely to police the area and to protect vital international shipping lanes for civilized commerce. Incidents of piracy in the area have increased in recent years and last years attack on an NPO flagged passenger ship (which resulted in the deaths of two Arenellian citizens) demanded this response. It was reported to me that the particular pirates responsible for the attack on the NPO passenger ship were captured and turned over to NPO authorities who held a brief trial followed by a swift execution of the miscreants.
I am quite pleased, really, that Transvaal was not aware of the squadron at Lobito. Not for that they were to be operating in a clandestine capacity, but for that their orders were to not interfere or upset lawful commerce in the area as they interdicted pirates. I trust that our ongoing operations likewise will enhance the security of Transvaal commerce in the region while attracting no unwanted attentions.
Arenellia looks forward to working with our friends in Transvaal to secure the region.
REPLY TO ARENELLIA: In the absense of suitable government or colonial rule in Angola, the Government of Transvaal welcomes Arenellian involvement to assist the policing of that territory.
It is our nation's desire that a suitable Portuguese nation can be found to take administration of Angola off our hands - but in lieu of that occuring, Transvaal will continue to maintain whatever security measures are necessary to maintain a semblance of law there.
Transvaal would welcome an Arenellian occupation force in Angola - perhaps we could establish a (temporary) joint-colonial administration until the territory is relieved from our concern?
We propose the follow division of Angola into an Arenellian (north Angola) zone and Transvaal (south Angola) zone; with both nations relinquishing administartive control once a stable colonial power or government is located: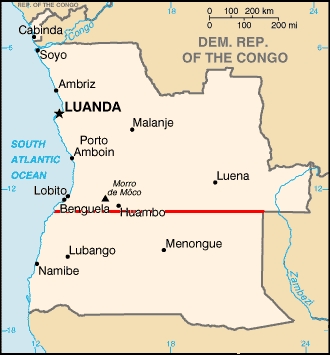 JANUARY 20, 2008
DIPLOMATIC NOTE FROM CHEROKEE NAMIBIA: As the days where territorial overlap was justification for war seem to have passed, how does Transvaal plan to enforce such claim? More importantly how does this effect nations with overlapping territory, or nations entirely encompassed by Transvaalian territory, like Cherokee Namibia?
REPLY TO CHEROKEE NAMIBIA: Transvaal has always acknowledged the existance of its peaceful and friendly neighbour Cherokee Namibia.
At some point our two governments need to sit down and negotiate Transvaal's recognition of the full and complete independence of Cherokee Namibia, much like the arrangement we have with Natal (although granted Natal's independence was secured as a result from fighting a victorious war versus Transvaal).
Our prime interest in Namibia is control of Walvisbaai (where our in-game habour is located) and Windhoek - as well as maintaining a viable land-route linking those two cities with the rest of our territory.
Therefore to get discussion rolling, we propose recognising the territory indicated on the map in red as constituting the independent territory of Cherokee Namibia - completely independent and outside the jurisdiction and rule of Pretoria. This recognition would be reflecetd on all maps published by the Federal Governement of Transvaal.
Chereokee Namibia would also be granted tax and duty exemption for all commercial ships docking at Walvisbaai.
We would also like to negotiate that the Cherokee Namibia capital be moved away from its present location within South African territory and to somewhere within the designated territory - say, perhaps to the city of Lüderlitz. In return for this, Transvaal will promise to pay Cherokee Namibia the amount of R$1,000,000 rand in foreign aid within one month of the signing of the formal agreement.
JANUARY 29, 2008
DE RUIJTERS RELEASED
Former Transvaal interior minister Uys Rooyan de Ruijters has been released from prison after being granted a pardon initiated by Prime Minister Hertzog.
De Ruijters was arrested by the Transvaal government on September 29 after evidence surfaced that he had established covert links between the Slavorussia Dark Hand terrorists and the Volkstaat neo-nazi militias within Transvaal.
After the October 24–29 treason trial, the Transvaal Supreme Court implicated Uys Rooyan de Ruijters in the assassination plot against the then-exiled Slavorussian Emperor Justinian the Mighty, who was residing in Pretoria at the time with the rest of his imperial family. De Ruijters was found guilty of assassination conspiracy and treason and sentenced to be hung, although the death sentence was then commuted to life imprisonment after Transvaal refused to carry out the the hanging and Slavorussia indicated it was content that De Ruijters remained in prison.
However after today's announcement that the Imperial Family of Slavorussia had perished in fighting from the BLEU-NADC war which has stuck that nation, Prime Minister Hertzog said he saw little need now to keep de Ruijters imprisoned on behalf of a Slavorussian government which no longer was in existence.
Hertzog petitioned Staatspresident Botha for a pardon to be granted to de Ruijters, which was given after much deliberation and only after the condition made that de Ruijters is prohibited to enter Republican territory. It is anticipated that de Ruijters will now accept an invitation by Colonal Annetjie van Matteus to take up residence at her villa compound in Namibia.
Whether the two self-proclaimed fascists will make common cause together is unknown - while de Ruijters still supports reviving the pro-aparheid Volkstaat cause, van Matteus has cautiously and carefully distanced herself from the Volkstaat movement, calling it "a political liability" and strengthened her ties with the National Party government.
FROM THE TAHOE REPUBLIC
Press release from the Ministry of Foreign Affairs (An Roinn Gnóthaí Eachtracha)
Taoiseach Ó Déaghaidh recognized various members of Transvaal's government and military for their service in assistance to the Republic during the socialist insurgency crisis in December. Staatspresident Botha and Prime Minister Hertzog were both awarded with the Order of Saint Patrick, the highest civilian honor given out in the Tahoe Republic. It is often awarded to former government officials and civilians for a lifetime of honorable service for the people and government of the Tahoe Republic.
Colonel Annetjie van Matteus was awarded the Order of Cuchulainn, Third Class. This award is commonly used to recognize outstanding service in military matters pertaining to the Tahoe Republic. The awards for Botha, Hertzog and van Matteus were all presented to Ambassador Andries Joubert by Taoiseach Ó Déaghaidh on behalf of the Parliament of the Tahoe Republic.
JANUARY 31, 2008
TRANSVAAL EDUCATION SYSTEM EXPANDED
Education has been the recent focus of the Hertzog government as two new universities opened their doors for students in the past week.
The Universiteit van Stellenbosch opened for classes on January 23, while the University of Johannesburg was opened today by a beaming Prime Minister Hertzog in a ribbon-cutting ceremony in front of new students and their instructors.
Universiteit van Stellenbosch offers all its courses in the Afrikaans language while the University of Johannesburg - or Jo'burg U. as students refer to it - uses English as its primary course medium. The two new universities augment the three existing school systems already in place in Pretoria, Johannesburg, and Bloemfontien.
In a short speech following the ribbon-cutting, Prime Minister Hertzog stated that two more schools are planned for the nation in the coming months to be built in Kaapstad (Cape Town) and Port Elizabeth.

FEBRUARY 2, 2008
COUP ATTEMPT IN PRETORIA; COLONEL ROUSSOUW DEAD
Pretoria is currently under a 72-hour curfew after Colonel Johann Roussouw, the Minister of Interior & State Security, was killed this early this morning after coup d'état and assassination attempt by him and his closest cohorts from the Interior Ministry.
Confined to a small area covering a few city blocks around the downtown hub of government buildings, the Transvaal Krygsmagte quickly proclaimed its loyalty to the Hertzog government and moved in to crush the rebels.
While most of Pretoria slept unaware of the street battle ranging, Field Marshal Paul Cruywagen arrived on the scene and organized the loyalist defense of Government House, the working offices of Staatspresident Botha and the Prime Minister, which suffered some damage in the coup attack after Prime Minister Hertzog's office was destroyed from an anti-tank rocket attack. Jakob Hertzog was working at Government House during the attack but not in his office when the rocket smashed into it.
After the military regained full control over the situation, the coup sputtered out and Colonel Roussouw was killed during the storming of the Interior Ministry building after refusing to surrender to Krygsmagte troops.
It is expected that either the Staatspresident or Prime Minister will speak to the nation in the next few hours.
FEBRUARY 2, 2008
STATEMENT FROM STAATSPRESIDENT BOTHA: Greetings my fellow broers and susters!
I wish to inform everyone that this morning the National Party government and the Transvaal Krygsmagte crushed a diabolical plot against our beloved nation.
A member of the government, Colonel Johann Roussouw the Minister of Interior & State Security, launched a pre-dawn assassination and coup d'état attempt against Prime Minister Jakob Hertzog and the rest of the Federal Government. That attempt failed miserably and resulted in the death of Johann Roussouw.
Government House in Pretoria came under direct attack as traitorous elements within the Department of Interior fired three FIM-92 Stinger missiles into the main building. Thankfully the missiles failed to function properly due to their foolish usage against such a grounded target, which they were not designed for. Their target was our Prime Minister, Jakob Hertzog, who happened to be elsewhere in the building when the attack on his office was made.
Field Marshal Paul Cruywagen proclaimed the loyalty of Transvaal's armed services, and quickly deployed commandoes against these despicable rebels.
The Interior Ministry complex was secured after three hours of intense room-to-room fighting. Krygsmagte losses were minimal while the approximately 100 rebels led by Colonel Roussouw were completely wiped out. An investigation into the origins of the coup is underway, although we do know at this moment that Colonel Roussouw did commit suicide soon after refusing to surrender the building to the Government forces surrounding it outside.
We secured Colonel Roussouw's private safe and personal papers, and within those documents we have uncovered incriminating evidence of his involvement with smuggling operations in Angola as well as being linked to the shady events surrounding Darakai Baako.
At present we do not suspect the direct involvement of any foreign governments – including that of the PDSAR who is presently providing refuge to Mr. Baako. We shall however shortly be presenting our evidence, once compiled, to our PDSAR ambassador for a probable formal extradition request against Mr. Baako.
FEBRUARY 2, 2008
PROTECTOR OF SOUTH AFRICA: Staatspresident Botha today accorded himself the new title of Protector of South Africa to go along with his numerous other personal titles and awards.
When asked why the need for such a title, the Staatspresident simply replied: "It felt like the right thing to do..."
In recognition of this honour, the Transvaal Post Office issued this new stamp commemorating the Staatspresident and his succesful National Unification of South Africa under Transvaal rule.
FEBRUARY 4, 2008
STATE OF THE REPUBLIC ADDRESS - On Recent Events: Angola Occupation, Darakai Baako, and the Roussouw Putsch
My Boers en Susters van ons beminde nasie! My Brothers and Sisters of our beloved nation!
First off, our Federal Republic is grateful for the recent pledge of military support in Angola from Arenellia as well as for the recent declarations of moral support for our current involvement in Angola from such nations as Neo Waianae and Novapolis.
It is the desire of our government to expand and strengthen diplomatic relations with these new international contacts. Our Foreign Minister has informed me that he shall be exploring the possibilities to increase mutual diplomatic recognition to the ambassadorial level with Arenellia, Neo Waianae, and Novapolis. Transvaal is fortunate to have the strong frienship and allegences with the vast number of nations which we do. We are no longer isolated and shunned like a backwater which we were perceived at independence over a year ago.
This weekend treacherous elements within our own internal security apparatus, lead by Colonel Johann Roussouw, launched a foolhardy attack against the Government lead by Prime Minister Jakob M. Hertzog. The coup was quickly crushed by the loyal troops of our Kyrgsmagte armed forces. Colonel Roussouw refused our offer to surrender and shortly after committed suicide. His remaining supporters were soon eliminated when the Interior Ministry building was forcibly occupied by the Krygsmagte.
Just prior to this coup attempt, I had been shown evidence and documentation implicating Colonel Johann Roussouw along with Darakai Baako with a smuggling ring operating out of Johannesburg, Angola, and the PDSAR. Our investigation has come to the conclusion that – and I stress - the PDSAR government had no direct involvement or had no knowledge of Baako's operations in the PDSAR – much like how Colonel Roussouw was able to abuse his government position and use subterfuge to keep the rest of our government in the dark.
We have been able to link the smuggling ring as follows:
Colonel Roussouw was shipping illegally-impounded automobiles built in Transvaal through Angola to the PDSAR. Those automobile were sold on the black market in that nation – which does not have its own automobile industry – in exchange for precious metals and jewelry which where then shipped through Angola back to Johannesburg. These shipments of metals and jewelry were then sold on the open market for hard currency, half of which were piped back to the PDSAR as CN dinars to likely grease collaborators operating within their government, while the other half were converted into CN florins (Transvaal rands). This currency entering Transvaal was then deposited into an account which was slated towards funding far-right militias.
During this whole operation, Baako was working in the pay of Roussouw. The Interior Minister used everything in his power to suppress as much knowledge about the neo-nazi militias operating in Transvaal underground in waiting while Baako was to utilise his prestige and status amongst our African population to ferment rebellion. Roussouw was conspiring to create a situation of rebellion amongst the Native population so that the Government would become unstable enough to permit the Volkstaat militias to operate in the open and possibly hijack the May elections.
Colonel Roussouw was at one time a rising star within the National Party but secretly resented his demotion when Prime Minister Hertzog removed him from the post of Deputy Prime Minister, which he held briefly for a week in November 2007.
From that time onwards, he used any means within his power to plot his revenge against our Prime Minister. Such activities included sabotage within our economy – namely our trade agreements for aluminum imports – to further discredit Herr Hertzog's credibility in the public eye. When rioting broke out, Roussouw used his position to tarnish this government by his use of excessive force to create an atmosphere of unrest towards the Hertzog government. He was also responsible for the drafting and circulation of a bogus report from Cybernations Amnesty International.
During the occupation of Soviet Britian this autumn after that nation had surrendered to us during our involvement in the NoV-LSF War, Colonel Roussouw had been appointed governor of the occupation force and used excessive force and torture to create hostility between the occupation force and local populace.
While these recent activities regarding Baako and his Matadi mining concern, which was yet another front for his illegal activities, may appear to put the PDSAR Government and nation in poor light, our own direct governmental contacts between our ambassadors leads us to believe the PDSAR Government had been duped and their generosity taken advantage by Baako and Roussouw.
Our ambassador in the PDSAR, Ms. Judith Matambanadzo has since delivered a request to that government for the immediate extradition of Darakai Baako to stand trial in Transvaal for conspiracy and smuggling charges.
Effective immediately, Deputy Prime Minister Willem Coetzee has also been appointed Minister of Interior & State Security. Herr Coetzee is one of the longest serving members of the National Party government, mostly in ambassadorial posts –and his name may be familiar to some of our overseas friends and allies.
Transvaal ewig voorwarts! Transvaal forever foward!
FEBRUARY 10, 2008
The Federal Government of Transvaal confirmed this evening that Dakarai Baako had returned to Transvaal under the custody of the Department of Interior & State Security.
"I breifly met with my opposites in the PDSAR security apparatus and thanked them for their swift co-operation in crushing the smuggling ring that was operating between our two nations" commented Deputy Prime Minister Willem Coetzee, who alos holds the portfolio of Interior Minister.
"During the flight back to Transvaal, I spoke at length with Mr. Baako and he has agreed to co-operate with Transvaler authorities in uncovering the details of the Angolan smuggling ring and the extent of Colonel Roussouw's involvement."
FEBRUARY 14, 2008
MISSILES STRIKES ON PRETORIA - Transvaal at war versus the GPA: The Transvaal Federal Government has now confirmed that GPA guerillas based in Nyasaland (Malawi) – and bankrolled by the Union of Mahone – launched two SCUD missiles at Pretoria.
There are 184 confirmed civilian casualties from the attacks, which hit the Transvaler capital at around ten minutes past one o'clock this afternoon.
A member of the Independent Republic of Orange Nations, Transvaal has been at war with the GPA nation of Union of Mahone since February 12 when it participated in the initial Continuum blitz on the Green Protection Agency just prior to update on Tuesday night (Transvaal time).
Field Marshal Paul Cruywagen, commander-in-chief of the Transvaal Krygsmagte, has stated "…the offensive against enemy positions in our Nyasaland campaign are progressing steady and surely with the GPA firmly on the defensive. Transvaal and IRON power is on the march and advancing in Southern Africa."
Transvaal has fought in 63 wars against 59 nations spread over 20 campaigns during its history – but this is the first fought under the IRON banner.
"This is a new military experience for our nation," commented Marshal Cruywagen, "but what we have witnessed so far of the IRON military machine order we are both impressed and pleased with the organization, leadership, and results."
FEBRUARY 18, 2008
DEMOGRAPHICS OF TRANSVAAL
The Ministry of Interior & State Security released infromation today documenting the population growth of our nation based on alliance membership after the national population exceeded 25,000 civilians this morning.
The following population demographics were released by the Interior Minister:
POPULATION BY RACE
Transvaal Afrikaners: 2,751; Anglo-Transvalers: 2,250; Black Africans and other non-whites: 20,003
CIVILIAN BIRTHS BY ALLIANCE
Transvaler citizens born under NoR rule: 4,000 (16.00%); Transvaler citizens born under NoV rule: 10,061 (40.24%); Transvaler citizens born under SoM rule: 3,114 (12.45%); Transvaler citizens born under IRON rule: 7,829 (31.31%)
CIVILIAN BIRTHS BY TEAM COLOUR
Transvaler citizens born under Maroon: 17,175 (68.69%); Transvaler citizens born under Orange: 7,829 (31.31%)
In other news, the Federal Government announced the completion of a new school in Kaapstad (Cape Town). Even during this time of war for our nation, plans are nevertheless in the works to build a school in the South Western Townships of Johannesburg (also known as Soweto) followed by the construction of 3 more Transvaal Gesondheidsorg medical clinics.
Nyasaland War
Edit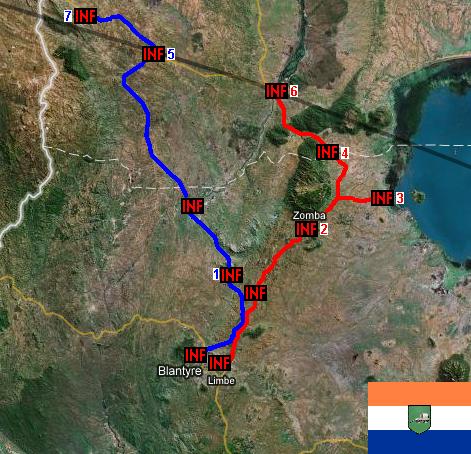 Campaign Map (February 12–19) indicating ground advances in Malawi
FEBRUARY 12, 2008
Transvaal declared war on the Union of Mahone (GPA) to commence the Nyasaland Campaign of the Continuum-GPA War. Field Marshal Paul Cruywagen set out from bases at Blantyre in the Rhodesian Protectorate to lead two Krygsmagte army corps into un-occupied Malawi; the corps are code-named Rooimagte (Red group) and Bloumagte (Blue group).
Battle of Matope (1) won by Transvaal. Enemy casualties numbered 9471 dead while Transvaal losses were 2706 soldiers killed and 1036 tanks destroyed. 80 units of enemy infrastructure destroyed while 4 units of tech and just over $817,000 rand liberated after the Krygsmagte advanced 29 miles.
FEBRUARY 13, 2008
Battle of Zomba (2) ends in Transvaal victory. Friendly casualties were 3500 soldiers and 554 tanks lost while 6475 GPA guerillas were killed. Ground troops advanced 27 miles into the Domasi-Kachulu district towards Liwonde, liberating 3 units of technology and $1,603,000 rand. 50 units of GPA infrastructure destroyed during the battle.
FEBRUARY 14, 2008
Battle of Chilwa Lake (3); Tranvsaal Red Corps troops broke off towards Kachulu on Chilwa Lake and advanced 10 miles after initial set-back in first round of attacks. 50 units of infrastructure and 2 units of technology destroyed by the Krygsmagte during fighting. $777,000 rand and 1 unit of technology liberated by Transvaal. Losses from the battle were 3206 soldiers and 677 tanks for Transvaal while Mahone GPA casualties numbered 3,627. During that afternoon, Union of Mahone struck Pretoria with two cruise missiles which resulted in 184 civilian casualties.
FEBRUARY 15, 2008
Transvaal Krygsmagte suffered defeat during the First Battle of Liwonde (4). During the Second Battle of Liwonde (6) six hours later, the Krygsmagte advanced 1 mile. Southern District of Nyasaland-Malawi fully occupied by Transvaal forces. Transvaal casualties were 4,023 soldiers and 1314 tanks; enemy GPA loses numbered 1,998 guerillas and 97 tanks lost. $58,810 rand and 4 units of technology liberated by the Krygsmagte.
FEBRUARY 16, 2008
Battle of Balaka (5) resulted in resounding victory against Union of Mahone and an advance of 6 miles to the outskirts of Balaka and Liwonde. Krygsmagte loses were 1,371 soldiers killed and 363 tanks destroyed while 2,092 GPA guerillas were killed in the ground-fighting. $9,377 rand and 6 units of technology looted by Transvaler forces.
FEBRUARY 17, 2008
Transvaal gained air superiority after all Union of Mahone fighter aircraft are shot down by this point. Unescorted bombing campaign commences against GPA infrastructure.
FEBRUARY 18, 2008
First Battle of Ncheu (7). Krygsmagte advanced just under 1 mile as Union of Mahone resistance crumpled. Transvaal forces killed 21 GPA soldiers while 34 Krygsmagte soldiers and 11 tanks were lost. $75,269 rand in cash seized by Transvaal as spoils.
FEBRUARY 20, 2008
War with Union of Mahone expired as Transvaal claimed victory in the first campaign.
Campaign Map (February 21–25) indicating ground advances in Malawi
FEBRUARY 21, 2008
Transvaal declared war on Iridia. Second Battle of Ncheu (8) fought against GPA guerillas; resulted in 11 enemy soldiers killed while Transvaal lost 8 soldiers and 6 tanks. 100 units of enemy infrasture destroyed in ground, air, and missile strikes. Krygsmagte forces advanved 16 miles after victories in the ground fighting, capturing 3 units of technology and $59,132 rand in cash.
FEBRUARY 22, 2008
Transvaal Lugmag (air force) commenced bombing raids against GPA civilian targets. 60 units of enemy infrastrucutre destroyed in air and missile attacks resulting in 2,223 GPA civilian casulties.
FEBRUARY 23, 2008
Bomber raids destroyed further 60 units of enemy infrastructure. 1,111 civilains killed in bomber raids.
FEBRUARY 24, 2008
Lugmag bombers destroyed 60 units of GPA infrastructre and 1,444 civilians killed in the bombing raids.
Campaign Map (February 25-March 3) indicating ground advances towards Lilongwe
FEBRUARY 25, 2008
Third Battle of Ncheu (9) resulted in two Transvaal victories. Krygsmagte forces advanced 12 miles. 1,998 civilians killed during bombing raids and the ground fighting. Casualties minimal at 2 soldiers lost while 1 enemy guerilla was killed; $33,677 rand in cash captured as the Iridian military is completely destroyed.
FEBRUARY 26-28, 2008
Lugmag bombers commence unescorted bombing runs against Iridian infrastructure, destroying 240 units during six raids.
FEBRUARY 29, 2008
War with Iridia expired as Transvaal claimed victory in the second campaign. Transvaal declared war on Flippinistan but was unable to launch any ground attacks due to outnumbered troops. During the next two days, both sides exchange cruise missile attacks; Lugmag launches fighter missions to destoy the enemy airforce cover.
MARCH 2, 2008
Flippinistan suffered military defeats from other Continuum forces, which then opened up the Krygsmagte to launch two ground strikes. Transvaal forces gain two decisive victories against GPA forces in the Battles of Dedza (10) and Lake Malombe (11). Transvaal military loses from both battles were 2,657 soldiers and 1,203 tanks while enemy casualties numbered 2,925 GPA guerillas. 10 units of technology and just under $300,000 rand were liberated during the 36 miles advance towards the outskirts of Lilongwe.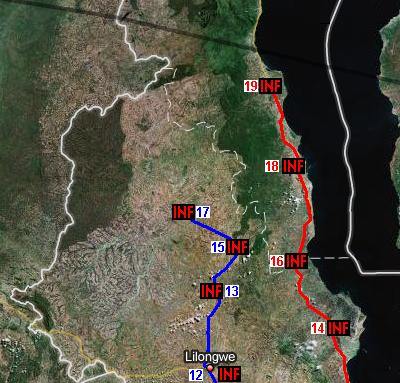 Campaign Map (March 3–16) indicating ground advances north of Lilongwe
MARCH 3, 2008
Battle of Lilongwe (12). Transvaal victorious in ground attacks against Flippinistan guerillas. Krygsmagte forces advanced over 30 miles to occupy the city of Lilongwe. 1,781 enemy soldiers killed and 164 tanks destroyed. Transvaal casualties numbered 2523 troops and 281 tanks lost during the fighting. Transvaal ground troops captured $318,000 rand in cash left behind by the guerillas.
MARCH 4, 2008
Battle of Mponela-Dowa (13) results in two further victories for the Transvaal Krygsmagte as they advance 25 miles. Krygsmagte losses were 1667 soldiers and 189 tanks while GPA losses totaled 3778 guerillas and 10 tanks. $188,000 rand was recovered during the advance.
MARCH 5, 2008
Krygsmagte suffered defeat at Battle of Salima (14); losses numbered 2263 casualties and 2000 tanks destroyed while 647 GPA troops were killed.
MARCH 6, 2008
Transvaal military forces advanced almost 22 miles after two victories at in the Battle of Ntchisi (15). Krygsmagte forces eliminated 3866 guerillas and captured just over $1,000,000 rand in money. Transvaal losses numbered 2904 soldiers and 1149 tanks.
MARCH 7, 2008
Transvaal declared war on yankee nation and Republic of Akatra. Krygsmagte secured a bloodied victory against Flippinistan forces holded up at Benga (16). Enemy losses were 1556 troops and 343 tanks destroyed while the Krygsmagte lost 3934 soldiers and 999 tanks.
MARCH 8, 2008
War with Flippinistan expired. Ground fighting against GPA guerillas in Nyasaland ceased as the Lugmag begin concentrating on its heavy bombing campaign in Central Nyasaland to smash enemy infrastructure. 629 units of infrastructure and 60 units of technology destroyed during bombing raids carried out during the next five days.
MARCH 9, 2008
Transvaal declared war on Wolfpack guerillas funded by Drs Baltish Próvnn. Battle of Kasungu (17) ended in Transvaal victory; ground troops advanced over 13 miles.
MARCH 10, 2000
Second Battle of Benga (16) resulted an another decisive victory with a ground advance of 24 miles.
MARCH 11, 2008
Battle of Nkhota Kota (18) ended in Transvaal victory and an advance of 18 miles. Transvaal forces by this point had destroyed 2002 units of GPA infrastructure since the war began one month ago.
MARCH 13, 2008
Ground operations against the GPA resumed when the Krygsmagte advanced 8 miles into the Northern District towards Dwangwa. GPA losses were 417 guerillas and 6 tanks while Transvaal lost 1313 soldiers and 176 tanks. $228,000 rand in cash was liberated during the battle.
MARCH 15, 2008
GPA guerillas surrendered to Continuum forces and wars with yankee nation and Republic of Akatra expired the following day.
MARCH 16, 2008
Battle of Dwangwa (19), the last ground battle of any size during the campaign, ended in Transvaal victory. Casualties in the minor skirmish were light, numbering 29 soldiers and 2 tanks lost while enemy losses were 11 guerillas. The campaign finally concluded after the sudden destructuion of Drs Baltish Próvnn a few hours later.
Total losses during the entire campaign numbered 40,357 Krygsmagte soldiers killed and 11,392 tanks destroyed from enemy fire while enemy losses were 45906 guerillas and 785 tanks lost. Nyasaland devastated from the war as 3108 units of infrastructure and 196 units of technology were destroyed by Transvaal forces while 128 units of technology were liberated and carted off to Transvaal. Over $5.5 million rand in enemy currency was also recovered.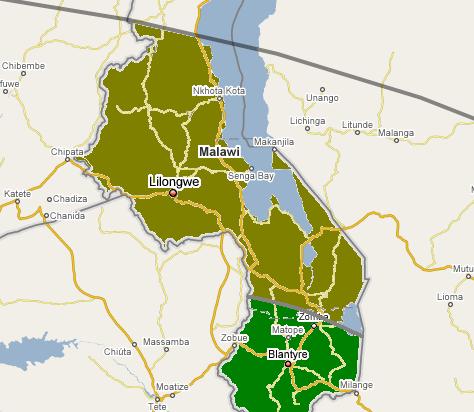 Green indicates pre-war Nyasaland territory under Federal Republic control; mustard indicates territorial gains from the war campaign.
MARCH 17, 2008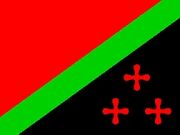 Alarmed with the increasing unrest north of its borders in the Congo, the Federal Republic of Transvaal invaded southern Congo today - ostentatiously in support of the secession of the so-called Katanga Free State established and ruled by one President Kananga.
Foreign Minister Peter Stellenbosch issued a brief statement that "in lieu of centralised authority existing in the Congo, we have felt it necessary to support the local governor (Kananga) in Elisabethstad (formerly Lumbumbashi) in maintaining peace and control over this region which forms a potential military and smuggling security threat towards our Rhodesian Protectorate.
While President Kananga has decreed the city of Elisabethstad-Lumbumbashi as the capital of the "new" state, wary foreign observers have been keen to note that Mr.Kananga has so far not been keen to leave his current Chingola sanctuary in northern Rhodesia.
At his daily press conference this afternoon, Rhodesian Governor Riaan van der Byl applauded the decision, calling Dr. Kananga "one of the most outstanding Natives to which have had the pleasure to make acquaintance with" and "a bastion of native African democracy in Congo".
Most reporters present responded to Governor van der Byl's comments with guffaws of laughter, as Kananga has a reputation amongst the Congolese for ruthlessness and savagery in dealing with his opponents.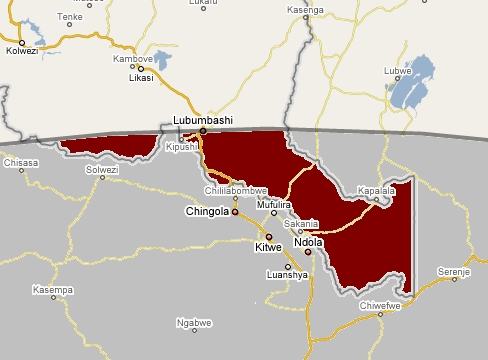 Map of the Katanga Free State as provided by the Transvaal Government
MARCH 17, 2008
Transvaal Oorsese Korps (Overseas Corps) troops in the Katanga Free State are there by personal invitation of His Excellency President François Kananga to guarantee the security of his government and to maintain law and order there until the Katangans can raise their own army.
The commander of the Transvaal Oorsese Korps, Colonel Annetjie van Matteus, would be willing to meet with Colonel Etienne De Clercq and has suggested the village of Luiswishi, located about 20 kilometres north of the Katangan frontier near Lumbumbashi.
President Kananga has indicated to our Government that no meetings with what he refers to as Belgian Colonial interlopers may take place within the Katanga Free State as he cannot vouche for the safety of what he views as "hostile" forces.
MARCH 19, 2008
Colonel van Matteus stepped out of her command vehicle and walked up to the Belgian Colonel De Clercq. She motioned towards an open field nearby and the two officers began walking in that direction away from their respective detachments of troops.
"Colonel de Clercq" she began, "my troops were invited into Katanga from a request which François Kananga made to our governor in Rhodesia, apparently a pesonal friend or business partner. Governor van der Byl agreed on his own accord and was somehow able to convince Pretoria to recognise Kananga's regime."
"As far as I am concerned, Kananga is a butcher and the worst kind of uncivilised savage kaffir there can be. Since my Overseas Corps were the closest available detachment of troops in the area, we were diverted to assist Kananga. However I am not prepared to risk my men all for some corrupt tinpot African dictator."
Van Matteus then spat at the ground to accent her obvious contempt at the situation. She then stopped and turned around into De Clercq so the two colonels were almost face-to-face, snarling "Colonel De Clercq... stay out of Katanga and leave Kananga to me!"
"I have no desire to see such a banana republic staining our borders. I also have no desire to see Governor van der Byl profit from whatever chaos he thinks he can profit from by propping up his toady Kananga."
Van Matteus then backed away from De Clercq, continuing on in a more quiet yet conspiratory tone. "The Federal Republic elections are seven weeks away, and Governor van der Byl will once again try in vain to run for Prime Minister. He won't win, but he could again become the balance of power in the National Party like he was last election. I want to see him fail, fail miserably so there is no reason for him to remain Rhodesian Governor. Leave Kananga and Katanga to me and I shall make an embarressment of him."
De Clercq asked "So, are you planning on running for office?"
Van Matteus stopped. "Perhaps... perhaps..." she whispered, as the two officers separated and walked back to where their own troops were waiting.
MARCH 19, 2008
His Excellency, President-Field Marshal Dr. François Ngarta Kananga speaks: The Government of Katanga Free State is the sole true authority in Katanga. All Belgian citizens and nationals must leave Katanga Free State in 48 hours and leave their personal effects and money behind as the property of the Government of Katanga Free State and Katanga Free State cannot guarantee safety of Belgians - so leave while you still can! And Rhodesians and Transvalers are my friends and here to help us kick out Belgian colonials. The capital city formerly named Lumbumbashi is now renamed Ville-François-Kananga. Kananga's word is the law. Any resistance to my decrees will result in immediate punishment. All government officials must join the Katangan People's François Kananga Movement Unity Freedom Party (KPFKMUFP). That is all.
MARCH 20, 2008
His Excellency President-Field Marshal Dr. François Ngarta Kananga, President of Katanga Free State claimed victory in national elections which outside observers are calling a "complete and utter mockery of democracy".
The Katangan dictator cast the only ballot seemingly available and then immediately stated that his Katangan People's François Kananga Movement Unity Freedom Party (KPFKMUFP) had won "democratic elections" with a 100% mandate from the people, and he was "accepting the will of the Katangan people as their rightful elected President".
In other news, there were numerous rumours of heavy fighting a few miles north of the capital city of Ville-François Kananga (Lumbumashi). Despite having no standing military or police force of its own, the Katanga Free State government claimed that 21 rebels had been arrested and shot.
Most Belgian colonials have since made a hasty exit from the country, fleeing across the frontier with Transvaal into Northern Rhodesia. News crews filmed footage of thugs most likely in the pay of Dr. Kananga beating and kicking Belgian civilains as they passed the last border guard post before entering the Federal Republic a few feet away.
Despite being the only government so far to recognise the Katanga Free State, Pretoria has been silent regarding its involvement and activities in the stricken country.
Dr. Kananga has stated he may hold a referendum next week to bestow him the title of "Emperor of Congo and Belgium also", although he then said he may "turn down that request from the people as I am a democrat and we don't tolerate kings and emperors in Katanga. But if that is what the people will, who am I to argue with the people?".
MARCH 23, 2008
CONGOLESE COMMUNISTS HAVE KANANGA ON THE RUN
François Kananga, self-declared President of the Katanga Free State is on the run today after Congolese communist guerillas launched a lightning quick attack on the Free State capital, routing Katanga's supporters before regrouping a few miles south of Sakania on the Katanga-Transvaal frontier.
"That bitch Van Matteus backstabbed me!" screamed a livid Dr. François Ngarta Kananga.
"The Transvaler support which the Rhodesians promised me disappeared as soon as the communists showed up in Ville-François-Kananga" explained Kananga, still referring to his former capital city of Lumumbashi by its Katangan name.
Meanwhile in Salisbury, the capital of the Rhodesian Protectorate which borders on Dr. Kananga's "country", Governor Riaan van der Byl stated that "the Rhodesian government will stand by our man Kananga and in lieu of the questionable withdrawl by the Transvaal Overseas Corps, I shall now personally look into securing paramilitary support for our friend President Kananga."
The wherabouts of Kananga are unknown.
Map showing communist advance in Katanga
MARCH 25, 2008
KANANGA CROWNS HIMSELF EMPEROR OF CONGO AND BELGIUM
François Ngarta Kananga, the Rhodesian-backed mercenary leader of the breakaway state of Katanga is back in the news again... this time proclaiming himself "Emperor of Katanga, Congo, and Belgium also" despite the glaring fact his tottering regime controls only covers a dozen or so miles.
MARCH 27, 2008
TRAGEDY IN KATANGA - REPORTS OF MASSACRE
JOHANNESBURG FREE PRESS - EXCLUSIVE: News has been filtering out of Katanga for the past few hours reporting that Rhodesian mercenaries supporting François Kananga have gone on a rampage at Shingana, killing over 300 civilians in cold blood.
The rumours began four hours ago when a Transvaal border patrol near the frontier at Ndola came across a group of two dozen women and children trying to flee across the border into Rhodesia. After being taken into custody and transported to Ndola, under questioning the Transvalers were told of the massacre which has started around noon.
Since that time, approximately another 200 refugees have crossed into the Federal Republic, all bringing stories of the horrors going on in Shingana. With the revelations that the perpetrators were Rhodesians with Transvaal citizenship, the Krygsmagte military command has been meeting to determine a course of action.
"It's Kananga... it's his soldiers that did it! They've gone berserk. They broke into our home with machetes and butchered my husband and three sons right in front of my eyes!" cried one woman tearfully to the Transvaler government authorities arriving on the scene in Ndola.
Since proclaiming independence, François Kananga has been an embarrassment in the region with his over-the-top pronouncements and naked brutality. Today's events prove once and for all that Kananga is not afraid to shed innocent blood.
MARCH 28, 2008
The Federal Government of Transvaal met today in Pretoria for an emergency session to deal with the recent crisis in Katanga - but as of yet has been unable to come to agreement for a solution.
Rhodesian governor Riaan van der Byl controls enough representative votes in the National Party to bring Prime Minister Hertzog's government down - something he has threatened to carry out should action be taken to remove Katanga from power.
The National Party controls 22 electorial district representitives compared to 21 held by the white supremacist Verwoerd Front Party. Of those 22 districts, 17 are Herztog supporters while 5 are in the van der Byl camp. Governor van der Byl has used the spectre of using white supremacists to take control of the government by withdrawing his 5 districts from supporting Prime Minister Hertzog should the Federal Government take any hostile action against his client Francois Kananga.
Transvaal goes to the polls on May 1 and many political observers believe that a lasting solution to the bloodshed and violence in Katanga won't be found until after the election. Both Prime Minister Jakob Hertzog and Riaan van der Byl have declared their candidacy for the elections.
It is unknown if Annetjie van Matteus, Governor of Northern Namibia and a longtime stauch opponent of van der Byl, will run in the election. Ms. van Matteus has thrown her political machine behind Prime Minister Hertzog even through she is viewed as a neo-fascist compared to the conservative yet pragmatic Hertzog.
MARCH 31, 2008
His Imperial Majesty, Emperor François Kananga of All Congo and Belgium, has taken great favour towards the messianic Takku Sait from Hindustan. Therfore the Katanga Free State Empire gives full diplomatic recognition of Hindustan.
The Imperial Government of Katanga has also proclaimed the Worship of Takku Sait one of the official state religions of Katanga along with Kananganism. Therefore all catholic churches located within the Katangan Empire will be converted into Houses of Takku Sait Worship.
Emperor Kananga I plans on constructing a 300 ft ivory statue of Takku Sait as soon as the capital city of Ville-François-Kananga is reliberated and enough elephants can be located and shot to provide the ivory.
EXCERPT FROM KAISER MARTENS OF DEUTSCHLAND
"Belgium did I hear? This Kananga, is he claiming Belgium? Go find out."
Martens ordered one of is aides, who rushed out in order to have one of the Nordenstern reporters ask precisely this, whether if Kananga had claims on Belgium or not.
KATANGA AIR FORCE FAILS MISERABLY TO ELIMINATE GUERILLAS
The Katangan Imperial military suffered a major setback today when its newly-built airforce failed to get off the ground.
The fleet of 20 "heavy bombers" and 10 "high-performance attack interceptors" - all designed and built by the Kananga Aerospace Corporation (a division of Van Der Byl Industries) - were suppose to be used today for a bombing mission against the communist-held Katangan capital of Lumbumbashi located about 60 miles away.
Dr. François Kananga blamed the failure on sabotage - based mostly on the fact that the commander of the Katanga Air Force, one Sky Marshal Chimutengwende "Sonny" Chibemba, was last seen fleeing on foot towards the frontier with Transvaal.
One pilot, who requested anonymity for our interview, said he was recruited with the promise $5,000,000 Katanga dollars (worth approximently $3 CN dollars). After his interceptor failed to become airborne, the pilot commented that "...we could hear laughter coming from the bushes beyond the airport, we later found out it was from the guerillas".
"I think one of them even said they'd come over and help push" he laughed. But then with a more serious look on his face and tone in his voice, he said "I think I'm also going to flee Katanga - I fear I'll be made the next air force commander and I don't want to face the wrath of Dr. Kananga."
His fears were well-founded, as an hour later when we left the Dr. Kananga Air Force Base, we passed by the lifeless body of Sonny Chibemba dumped at the side of the road still in his Sky Marshal uniform - apparently killed in cold blood. By whom we could not find out, such is the tragedy of the times.
SOLOMAN KOLWEZIBUSANGA'S REPLY TO KAISER MARTENS
"The Empire of Katanga Free State, under the wise and most benevolent rule of His Imperial Majesty, Doctor François Kananga the First, Glory of All Africa, Emperor of Katanga Free State, both Congos and Belgium also, does indeed claim the entire country of Belgium as part of his vast global empire.
Why do you ask?" - Soloman Kolwezibusanga, Information Minister of Katanga
DEUTCSHLAND REPLY TO SOLOMAN KOLWEZIBUSANGA
"Because the majority of Belgium is under control of Kaiser Martens, Leader of All Germans, and has been so during several months. He would like to, through me, formally request for Emperor Katanga to give up this claim, as all citizens of Belgium are and have been citizens of the Reich, and loyal Martencists."
Soloman Kolwezibusanga, the Information Minister of Katanga, is taken aback by that sudden revelation. His face looks drained, "Umm, well then kind sir, is it possible for me to claim asylum with you then? Because there's no way I can go back to Dr. Kananga and now tell him he doesn't control Belgium... he'll probably kill me."
"Oh..." He blinks a few times, confused...
"Uhh I'm sure Martens will allow that...alright...we will send him a telegram explaining it...you can come with me to Germany..."
Hours later, Kananga would receive a letter from the Imperial Government, explaining in detail the situation and asking him to desist from his Belgian claims. To support this, pictures of troops marching through Belgium were shown, the population supporting them, and the Imperial flag atop. Martens figured it'd be primitive enough for Kananga to understand...poor was the fool forced to deliver this letter...
STATEMENT FROM PETER STELLENBOSCH, TRANSVAAL FOREIGN MINISTER
"The Federal Government of Transvaal kindly recommends that all governments just ignore Dr. Kananga's more outrageous claims, such as his rule over Belgium."
"At present the Katanga regime can barely hold on to the one village it still has a toehold over, let alone rule over the Congo or an overseas claim somewhere thousands of kilometres away. We shall hopefully deal with Kananga once and for all in due course when the time is right."
EVENTS IN KATANGA
Soloman Kolwezibusanga offer the small bit of advice that "I don't even believe the poor sod knows where Belgium is. It could be located two block from his home or somewhere on the Moon, I honestly don't think Kananga knows."
Meanwhile in the makeshift temporary capital of Shingana, Dr. Kananga broods at all the chaos going on around him. He sits from his throne and looks at the letter, from somewhere called Deutshland, telling him that Belgium is not his.
He is shocked - and downtrodden. What more could go wrong now? His airforce manufacturing company was an abyssmal failure, his airforce the laughing stock of Africa, his empire is crumbling at this very moment now with this apparent loss of Belgium...
Kananga sat very quietly and thought to himself for many minutes...
He then sat up, took a deep breath and left the ramshackled barracks which was his "goverment" complex. He got into his parked jeep, started it up, and put it into gear as he headed towards the dirt road marked "Ndola, Rhodesia 20 km".
From there, if he could sneak across the frontier under the cover of darkness, he would continue on towards Salisbury, the capital of Rhodesia. It would be a long journey, almost 1000 kilometres, but he felt it was time to pay his "friend" Governor Van Der Byl a friendly visit.
APRIL 1, 2008
FREEDOM IN CONGO – KANANGA GONE!
There is the pandemonium of jubilation and celebration in the streets of war-torn Lumbumbashi this morning, as citizens awoke to the welcome news no one thought would ever come true, that the brutal dictator François Kananga had resigned and fled from Katanga.
"I wanted to see him strung up by his heels like a dead animal" screamed one man as he danced joyfully along with hundreds of others.
What remained of the Katanga regime faded into the night once his last handful of soldiers realised that their master had suddenly vanished on them. Katanga flags were torn down as the Congolese flag was then returned to the flagpoles.
The former "emperor" was last reported crossing the frontier between Congo and the Transvaal protectorate of Rhodesia just after midnight and seen heading south towards the Rhodesian capital of Salisbury. Kananga somehow managed to drive his jeep through the Transvaal customs, his identity unknown to the border guards on duty.
Meanwhile... in Salisbury, Rhodesia:
"What do you mean you don't know where he is?" screamed a now nervous Governor Riann van der Byl. "Are you telling me that I now have some crazed and murderous 300 lbs. kaffir blacker than the ace of spades out for a joyride somewhere in my country and no one knows where the damned he is?"
Governor van der Byl slammed down the phone and undid his tie. The sweltering morning heat was getting to him - so to calm himself down he walked over to his office bar and made himself a gin and tonic to cool down over. He sat back down at his desk and lit a cigarette.
'Fokken hel!' he thought to himself in Afrikaans, 'This is a fine mess, I am now ruined!' He gulped back the drink and then made himself another. 'Do I flee or do I weather out the storm and hope Kananga doesn't come after me?'
Van der Byl looked at the empty glass and thought 'get a grip on it, old boy'...
"Sergeant at arms!" he yelled. A moment later, a be-medaled soldier in a khaki uniform and shorts marched in. "Sir?"
"Sergeant... Triple the guard around the perimeter of my mansion – and I want roadblocks placed on all roads leading towards Salisbury. If your men see Kananga, he is to be shot on sight! Is that understood?"
"Sir, yes sir!"
Once the sergeant at arms had left, the Governor slowly opened his desk draw to make sure the loaded pistol and plane tickets to Madrid were still in there. He grabbed both and tucked them inside his suitpocket.
Van der Byl then walked back over to the bar to make yet another drink to quench is insatiable thirst.
"Oh darn, I'm out of gin..."
May 1 Election
Edit
The current term for Eersteminister [Prime Minister] and African Paramount Chief expires on April 30, 2008.
His Excellency, the head-of-state Staatspresident Botha has therefore called for a National Election to determine the next Prime Minister and Paramount Chief of the Federal Republic of Transvaal.
TERMS OF OFFICE: May 1st 2008 to November 30th 2008
Prime Minister of the Federal Republic
The office of Prime Minister is open to any party candidate of the white Afrikaner race. All citizens regardless of race residing in the Federal Republic may vote for Prime Minister.
CANDIDATES
Jakob HERTZOG (National Party – incumbent), Prime Minister of Transvaal since November 12, 2007, he is regarded as a moderate conservative. Herztog was responsible for Transvaal's move to Orange (his government has been nicknamed the Orange Republic) and the period of economic rebuilding which resulted from losing trade agreements with Maroon nations. He faced strong public opposition and rioting in January 2008 when his government was too slow to implement successful trade agreements and the government was unable to pay its bills, but soon afterwards re-gained popular favour when all South African territory (save for independent Natal) was united under Federal Republican rule. Domestic policies are his main strength but leaves foreign policy for the Staatspresident to handle on account of his inability to speak understandable English. Nicknamed "Oom Jakkie" (Uncle Jake) for his low-key conservative tastes and somewhat blue-collar style.
Willem COETZEE (National Party) Deputy Prime Minister and Minister of Interior; Transvaal election law stipulates the deputy prime minister is placed on the ballot so as to always ensure the incumbent does not win the election by simple acclamation if there are no challengers. Has stated that any electoral votes he receives will go towards his support of Jakob Hertzog.
Annetjie VAN MATTEUS (National Party) Governor of Northern Namibia and commander of the Transvaal Overseas Corps. Former prime minister in office in May–June 2007. Deposed by military coup after publicly executing one of her ministers on television. Later tried for alleged treasonous involvement during the GOONS war but acquitted by the courts. Regarded to be a neo-fascist but supports the current federal republic format.
Riaan VAN DER BYL (National Party) Governor of Rhodesia, former prime minister March to May 2007. Deposed during rioting after Transvaal's defeat in the Natal War of Independence.. His opulent lifestyle is world famous. Regarded to be conservative although known to dislike Africans in general.
Uys Rooyan DE RUIJTERS (Verwoerd Front) – leader of the white supremacist party favouring the reintroduction of total Verwoerdian apartheid and the complete subordination of blacks to white rule in Southern Africa. De Ruijters was a former Minister of Interior but replaced during the GOONS war last summer after he engaged in conspiracies to overthrow the government. Imprisoned for treason but later released and pardoned by Prime Minister Herztog under a blanket amnesty declared when the Federal Republic was proclaimed last November.
Paramount Chief & African Affairs Minister
CANDIDATES
The office of Paramount Chief and African Affairs Minister is open to any party or independent candidate of Black African ethnicity. All Black African citizens residing in the Federal Republic may vote for this post. No whites are permitted to vote for Paramount Chief
Govan Lethu MAUNTANG (National Party – incumbent) Minister of African Affairs since appointment in April 2007; Titular leader of all African people residing within the Federal Republic of Transvaal, Mr. Mauntang is the governor for the African federal protectorates of Tswanaland, Basutoland, and Swaziland. He has worked with the current prime minister to secure improvements dedicated to the welfare of Transvaal's black population.
Dakarai BAAKO (independent) – former football (soccer) player for Transvaal Springboks' UCFA squad. Involved through blackmail in a smuggling ring operating between PDSAR, Angola, and Transvaal. Claimed asylum in PDSAR until deported to Transvaal in February 2008. Baako was formally accused by the government of smuggling but charges later dropped.
MARCH 31, 2008
LUKAS REITZ (TELE-TRANSVAAL): "Keep in mind that Transvaal is first and foremost an Afrikaner homeland - hence why an Afrikaner always occupies the top elected post of prime minister.
"And by having the combined position of paramount chief and African Affairs minister elected by the people he is suppose to represent, it helps ensures the Black Africans have a voice instead of having the government appoint someone who may or may not have their interests at heart."
"Blacks get to vote in both ballots but the ethnic group which really gets the short end of the stick are the small numbers of Anglo-Transvalers - they can't run for either post."
"Please be aware that in the next week or so, Tele-Transvaal will be an all-candidates meeting held where the foreign press is invited to attend and question the candidates about various issues."
APRIL 1, 2008
VERKIESING MEI '08 - ELECTION MAY '08
ELECTION COVERAGE brought to you by TeleTransvaal
Good evening everyone, welcome! Lukas Reitz here from Afrikaans Daaglikse Tele-Nuus and its English-language equivalent Daily TV News.
I will be your host tonight for this, the National election all-candidates debate for Paramount Chief and African Affairs minister.
Assembled with us we have invited numerous, respected members of the foreign and local press who will be fielding questions to the candidates. When presenting their questions, I request you give your name and news bureau you are assigned to. Following the end of this debate, we shall then move on to the all-cadidates debate for the Prime Ministerial election.
So... now without further delay, I would like to introduce to you the two candidates. Here on my left, we have Mr. Govan Lethu Mauntang, the National Party candidate and current Minister of African Affairs for Transvaal. On my right, we have Mr. Dakarai Baako, the independent challenger.
APRIL 3, 2008
CORROSPONDENT FROM PEOPLE'S VOICE NEW COMPANY No.236, Prevaat Chowk, Durg, People's Democratic South Asian Republic:
Here is my Press ID Card, Mr. Lukas Reitz. My ID number is 10044. I'd like to first and foremost thank your country for its kind invitation.
As you are aware, there is a hostage crisis in our neighbourhood. Five Transvaal tourists have been kidnapped in the neighbouring HTF rogue regime. Two Transvaalers have been executed. If it is permissible, I would like to ask the two candidates if they have taken any steps to get the concerned authorities in Transvaal to take action regarding the securing of the remaining 3 Transvaalers. If so, what would they be?
Do both of the candidates have any messages to convey your 3 comrades, languishing as hostages in the Hindustan Tribal Federation?
And Mr. Baako, this is just to let you know, you are still a much loved celebrity in Glanj, especially with the Dempo Futebol Club. Many in the nation have attributed our team's modest yet satisfactory debut appearence in the Transvaal World Cup to your mentorship. There is even a shrine being constructed for you by your fans in Glanj.....
MAUNTANG: Yes, indeed welcome to Africa. Now to your qyestion, I am aware that our government had tried to get our ambassador Mrs. Judith Matambanadzo to meet with the terrorists but was refused a meeting by them. Since international affairs are quite outside my scope except as they may pertain specifically to Southern Africa, there is little I can do personally in this matter. PDSAR is so far away from the Federal Republic that our probable course of action is relying on the local PDSAR authorities to locate and liberate them.
BAAKO: Since I am outside the government, I have no knowledge what steps are being taken. I am not sure if my reputation in the PDSAR would be a help or a hinderence.
Your words are too kind. I watched some of the PDSAR matches in the Transvaal World Cup and am pleased to hear I may have had an impact in your squad's better than anticipated finish. I wish all my former teammates on Dempo the best of luck for their football campaign.
APRIL 4, 2008
Uys Rooyan de Ruijters, leader of the Verwoerd Front Party would like to clarify that he was not involved in a conspiracy to overthrow the Transvaal Government; he was however involved in a conspiracy in conjunction with the Dark Hand of Slavorussia to assassinate Emperor Justinian while his imperial highness was staying in Transvaal as a guest of the government.
"I am not a traitor to my country, my activities were strictly involvement of a foreign nature..." the VFP leader steadfastly proclaimed.
"Some of the acts of the current Federal Republican government can be deemed just as traitorous, such as giving blacks political rights and wasting valuable nation improvments like schools and banks on them" explained de Ruijters standing in front of a Verwoerd Front election banner with its motto De Ruijters: The White Light over Darkness!
CORROSPONDENT FROM THE OSEAN FEDERATION: The Osean Parliment would like to inquire, what each Canidates Position on the Rapid Growth and Militarization of Osea. The Osean Federation, has long been known as the only other Major African Power other than Transvaal, and is slowly but surely becoming a Thorn in in the Side of Middle Eastern Unity Groups, so what are your Positions?
Also, what are your Positions on a Greater-Afrikaan Trading Sphere, and Common Currency?
Finally, what are your Positions on Middle Eastern Unity.
CANDIDATE RESPONSES TO OSEAN CORROSPONDENT:
MAUNTANG: I was under the impression the Osean Federation was based in Central Russia and not in Africa. However to answer your questions, while the topics you bring up are outside my scope as current Paramount Chief, I believe the incumbent National Party government encourages
A common currency is less of likelihood. Transvaal uses rands for internal currency and relies on CN florins for its foreign trade – there aren't many nations which use CN florins, none that I am aware which also have established diplomatic relations. As for the Middle East, it is a region which bears little interest to the government, apart from our general policy to lend support to Israeli nations.
BAAKO: Umm, I not really sure about any of this [obviously struggling] International trade and currency has had had little daily impact on the common rural African. I care less about international relations than striving to ensure everyone has food on their plate.
CORROSPONDENT FROM THE OSEAN FEDERATION:
To MAUNTANG: Mr Mauntang, the Osean Federation has been in Africa for close to a Year now, and a Common Currency would greatly benifit both nations as the Value of the Rand (Or Zollar) would increase due to the Amount of Liquid Bullion behind it.
To BAAKO: International Trade, and Currency have a very large impact on the Common African. With International Trade you can ensure that all people have grain to use to make bread, to make sure that Canneries do not close because fruits are harder to come by, and that Olive Oils, and Butters are not a rare commodity, along with the fact that it would help the Common African slowly but surely work up their wealth, so that one day all of Africa is not impoverished, and that all people are treated Equally, and that the Line between the Lower, and Middle Classes are almost invisable.
CANDIDATE RESPONSES TO OSEAN CORROSPONDENT:
Govan MAUNTANG: Then it must be as an Osean colony in Africa - can you provide me with a map? Regardless, the usage of CN florins in our international trade would provide the common currency as CN florins are directly convertable into all other CN currencies; the Transvaal rand not directly so.
Oh yes, that nation... I apologise as we don't hear much news out of the Horn of Africa.
Going back to what you say about a common currency, I must stress that the ruling government has always been very protetctive of its usage of the CN florin due to its ties with Afrikaner nationalist identity. I personally would not anticpate much enthusiasm from the Afrikaners to enter into any sort of curency agreement which would weaken their identity. Perhaps that is a question more directed towards the Prime Minister and the other candidates in that electroial race which you should ask when they make their appearance later on here.
Dakarai BAAKO: I see national domestic policies having more direct economic impact on the African in Transvaal than international trade has - which just seems to benefit the whites due to their larger amount of personal capital.
APRIL 5, 2008
Open Letter to: Uys Rooyan de Ruijters, leader of the Verwoerd Front Party. From: People's Voice.
Do you have any comments about the current hostage crisis in HTF, where 5 Transvaaler citizens were captured? Would you have handled the crisis differently than the current Transvaal government? How so? Do you have any message regarding this particular incident to the people of Transvaal? Or most importantly- to the remaining 3 hostages (considering 2 were executed very quickly before a rescue operation could be even dreamed of)?
DE RUIJTERS: First off, our party does not support diplomatic relations with communist regimes so this kind of incident would never have occured if the Verwoerd Front was in power, because we would prohibit our citizens from travelling to communist and non-white nations.
I have little sympathy for the fate of the hostages, because they were probably quasi-communist liberals by their very being vacationing in that part of the world. In short, those people got what they deserved from their unacceptable behavior and associating with questionable non-white types.
Feel free to ask myself further questions when I participate in the all-candidate debate for the Prime Ministerial election.
LUKAS REITZ (TELE-TRANSVAAL): And just a reminder that the Prime Minister all-candidates debate will commence next Friday, April 11 and continue through until the election results are declared at midnight on Thursday, May 1. The two candidates for Paramount Chief will also be kept on hand during that debate.
APRIL 7, 2008
NEWS BROADCAST FROM RADIO-TRANSVAAL:
After one week of voting, the National Party is leading the election for Prime Minister so far with 12 electoral districts to 5 for the pro-aparthied Verwoerd Front.
Prime Minister Jakob Hertzog holds a slim lead for National Party prime minister candidate, with 50% of all ballots cast for the National Party supporting him.
The most surprising race is however in the election for African paramount chief, with upstart independent candidate Dakarai Baako taking a strong lead against long-time African Affairs Minister Govan Lethu Mauntang.
Under Transvaal electoral law, the incumbant holds the tiebreaker by requiring 50% of the vote while all challengers require 50%+1 to unseat an incumbant.
Almost all forecasters are predicting a National Party victory with Hertzog returned to power - mostly due to the ferocious hostility between Annetjie van Matteus and Riaan van der Byl would prevent any sort of working coalition should they combined collect enough votes to unseat Hertzog.
The main question is just how much Hertzog would need to rely on coalition partners to maintain a National Party government. Prime Minister Hertzog has governed since November with the support of van der Byl, and that working relationship has been severely strained lately due to van der Byl's personal adventures in stirring up troubles in Congo-Katanga.
While the best case scenario for Prime Minister Herztog would be to gain an absolute majority for electoral votes, he has quietly said that he expects that some sort of coalition will need to be formed should he retain his post.
APRIL 7, 2008
This is a political party advert paid by the National Party campaign to elect Jakob Hertzog:
The Hertzog government has stood for proven growth, proven stability, and proven peace:
- Since Jakob Hertzog was named prime minister of our beloved nation, our population has grown by 90%.
- Since Jakob Hertzog was named prime minister of our beloved nation, our nation has built 3 medical clinics, 2 stadiums, 2 schools, 2 universities, 1 church, and 1 hospital.
- Since Jakob Hertzog was named prime minister of our beloved nation, our nation has contributed $8.75 million rand in foreign aid and our international relations have expanded.
- Since Jakob Hertzog was named prime minister of our beloved nation, our national infrastructure has gained steel, automobiles, and asphalt.
- Since Jakob Hertzog was named prime minister of our beloved nation, personal income has increased by more than 25%.
- Since Jakob Hertzog was named prime minister of our beloved nation, our South African homeland has been unified under Transvaal rule.
- Since Jakob Hertzog was named prime minister of our beloved nation, Transvaal has undergone its longest period of peace.
When you go to the polls, think of what Jakob Hertzog has done for our beloved Transvaal... then think what Jakob Hertzog will do for you in the future.
OM MEI.1 STEM NASIONALE PARTY! STEM J.M. HERTZOG! ON MAY 1 VOTE NATIONAL PARTY! VOTE J.M. HERTZOG!
This is a political party advert paid by the Verwoerd Front to elect Uys Rooyan de Ruijters:
DE RUIJTERS IS THE SHINING LIGHT OVER DARKNESS!
UYS ROOYAN DE RUIJTERS promises an affirmation of white supremacy in our Afrikaner homeland. A Verwoerd Front Government will build up our infrastructure through forced labour camps and build our military up to insulate us from the communist pollution called Black Africa.
The traitor Hertzog has opened the doors of our nation wide open to liberal and communist influence to bring down our cherished Christian-Nationalist way of life. DE RUIJTERS promises to remove this communist-liberal cancer from our nation.
DE RUIJTERS promises to end the sham called the Federal Republic and unite all rightful Transvaler territory under rightful and segregated white rule.
OM MEI.1 STEM VERWOERDFRONT! STEM JA VIR BLANKIES! STEM DE RUIJTERS! ON MAY 1 VOTE VERWOERDSFRONT! VOTE YES FOR WHITES! VOTE DE RUIJTERS!
APRIL 8, 2008
This is a political party advert paid by the National Party campaign to elect Annetjie van Matteus:
A former prime minister, a foreign minister, a military leader, a patriot, a modern Afrikaner woman... Annetjie VAN MATTEUS
The embodiment of fascism with a human face and a clear conscious, a friend of the free market economy, firm but fair governance... van Matteus has the strength and leadership to lead a determined and confident Transvaal in an unsure world...
A friend of the world striving to be free from international communism and a friend of all races in Transvaal... van Matteus believes in the strength and unity of the Federal Republic and maintaining that strength and unity against our enemies...
OM MEI.1 STEM NASIONALE PARTY! STEM A. van MATTEUS! ON MAY 1 VOTE NATIONAL PARTY! VOTE A. van MATTEUS!
This is a political party advert paid by the National Party campaign to elect Riaan van der Byl:
VOTE R. VAN DER BYL - Your Rhodesian Choice for Transvaal
No one knows the world better than Riaan van der Byl. Economic mastermind of Transvaal's Second Republic. Prestigious governor of Rhodesia. International businessman. Successful entrepreneur. When you think of success and wealth, think Riaan van der Byl.
This is a political party advert paid by the National Party campaign to elect Willem Coetzee:
Stem W. COETZEE - die stem van veiligheid. Vote W. COETZEE - the voice of security
APRIL 9, 2008
PDSAR PEOPLE'S VOICE: Open Letter to Riian Van Der Byl (to be answered anytime as per the governor's convenience): Is it true you offered asylum to Takku Sait of the HTF? If you don't mind us asking...if it's true, then what made you offer asylum to a deranged, unstable lunatic?
RESPONSE BY RIAAN VAN DER BYL TO PDSAR PEOPLE'S VOICE: Why yes of course... why shouldn't I? Mr. Sait has proven himself a friend of Rhodesia what with his staunch support of our Katangan friends, namely Dr. Kananga.
PDSAR PEOPLE'S VOICE: Ah. Mr. Van Der Byl apparently may gain some political mileage as he unintentionally secured the release of the two Transvaal hostages held by Takku Sait in Sait controlled HTF. Do you have anything to add, Mr. Van Der Byl?
RESPONSE BY RIAAN VAN DER BYL TO PDSAR PEOPLE'S VOICE: I have a very modern and effective surplus airforce to sell to Takku Sait if he is interested... he'll just need to repaint over all the Katangan air force roundels.
OPEN LETTER TO R. VAN DER BYL: The Sahrani Peacekeeping Corp in the Hindustan Tribal Federation of Sind invite Mr Van Der Byl to visit the northern side of the liberated HTF-Sind where we and the Sahrani Civil Defense are helping the local population to re-build the state from a scratch. We, the Department of Peacekeeping Operations, would be pleased to show you what Sait's "Year 1" plan has left behind. To stimulate your curiosity we send you some photos of the HTF-Sind, before and after our arrival.
RESPONSE BY RIAAN VAN DER BYL: TO: Khalid Al-Fulani, Kingdom of Sahrani; FROM: Riaan van der Byl, Governor of Rhodesian Protectorate
I disagree with the slanderous content of your letter. Like his contemporary Dr. François Kananga of Congo-Katanga, Takku Sait is one of the most prominent democratic leaders of the third-world. If the people of PDSAR do not want his services, then I am sure that Mr. Sait would find a home here in the Rhodesian Protectorate. [signed] R. van der Byl
COMMENT BY BARON UBERSTEIN: The Uberstein Empire does not support any of the politicians running for power in your country.
"Democracy is such a silly thing, all it does is bring out the worst in people. Just look how many racists you have in your elections!" Commented Uberstein, "Also, that Van Der Bill person was one of the most annoying people I have met. His total disreguard for history and culture shows that he is a simpleton. He was more intrested in a car, one that only looked like the old Phantom and was really a refitted VW Bug, than the history of the very birthplace of humanity."
APRIL 10, 2008
UNIDENTIFIED CORROSPONDENT WITH THE JOHANNESBURG FREE PRESS: In response to Baron Uberstein, the only openly-admitted racist running for election is U.R. de Ruijters of the Verwoerd Front.
Granted that Mr. van der Byl is known for his contempt of non-whites in Transvaal but generally keeps this to himself. He is shrewd enough to know when to put aside his personal dislikes when it comes down to good business. That said but his buffoonery is legendary although domestic political observers are often divided whether he is just acting that way simply as a ruse.
Prime Minister Herztog has probably done more for Africans in Transvaal than any other civilian Prime Minister. Mr. Coetzee as the Interior Minister has done a relatively fair job rooting out racists from the security network - which were placed there by De Ruijters last year.
As for Ms. van Matteus, she believes is the primacy of Afrikaner culture in the nation but still maintains a respect for African as soldiers; it is believed she prefers her African askari troops (along with foreign volunteers) within the Transvaal Overseas Corps which she commands. She also was responsible for setting up the Ministry of African Affiars during her term as prime minister last year. In her past she did associate closely with the likes of De Ruijters but since her release from prison in November, has distanced herself from him. She is pragmatic enough to know that the clock cannot be turned back.
RESPONSE BY RIAAN VAN DER BYL TO BARON UBERSTEIN: Hrrmph! You had no problem with me when you visited Rhodesia, drank frommy bar, and was wined and dined every night. Lest I forget you had free reign to plunder the countryside of these alledged "cultural artifacts" which you seem to hold so dear... Before you accuse me of having no respect for the history of Rhodesia, perhaps you should look in your own art collection first to remind yourself!
ANITA CORROZON - SAHRANI PEACE FOUNDATION: "We are extremly concerned to hear Van Der Byl's answer to Mr. Al-Fulani's letter, the candidate's answer proves a completely lack of informations on the humanitarian crysis in the Hindustan Tribal Federation of Sind. The Sahrani Peace Foundation would like to support one of the candidates but it doesen't look an easy choice. Unbelievable how a woman who publicly executed one of her ministers on television has been candidated, in our Country she would be considered a war criminal. However, we would rather support Jakob Hertzog who didn't prove to be a racist and totalitarian Prime Minister. We hope that the new Prime Minister of the Federal Republic of Transvaal will be a democratic and responsible leader."
PDSAR PEOPLE'S VOICE NEWS ARTICLE
BREAKING NEWS: TWO TRANSVAAL HOSTAGES FREED- TRANSPORTED FOR MEDICAL TREATMENT IN DURG MILITARY HOSPITAL:
Hostages safe after treatment, and speak out to the "people of Transvaal." and to election contenders.
Durg Military Hospital Post Treatment Ward:
An interview with the freed Transvaaler hostages, by Takku Sait in "honor of Riian the African overlord" Ms. C. Kayla, (a Transvaaler female, in her early 30s who worked in a management company) and Mr. Keith Ntini, (a successful small scale entrepreneur in Transvaal, traditional NP Hertzog supporter) spoke out after recovering from their ordeal in Sait controlled HTF.
"I am simply a wildlife enthusiast and into adventure. And the HTF before Sait was very loving towards Transvaal Afrikaaners. We were treated like a VVIP, which made me attached to the place. I just wanted to start a wildlife & adventure sporting industry there and help the locals out. Sometimes people would save moths of their rations to feed us" explains Ms. Kayla "I just wanted to go to the HTF Sind, the previous pre-Takku regime treated us as family....how on holy Earth could I have known a lunatic psycho was going to take power over there?!! And she apparently spoke a series of curse words to U.R. de Ruijters of the Verwoerd Front.
"That's the most ludicrously stupid and insensitive things to say about a person who you were supposed to defend. A white from Transvaal. I'm white. And I'm from Transvaal. And UR de Ruitjers hides behind his incompetence and cowardice by pinning me as a quasi Communist. Well know this you geographically ignorant idiot (UR de Ruitjers)- the HTF regime was VERY pro Transvaal and had a very strained relationship with their 'Communist' PDSAR neighbour. I was trying to promote the free market there by making it a destination for tourism sports & adventure and giving an excellent opportunity for Transvaalers to travel. Not all of us are close minded bigots like you. I was honestly once a staunch VFP supporter- check your donation records- but your level of filth, insensitiveness and cowardice....backed with upteen ignorance is mind blowing and a real turn down. I am just in a state of it all. I just want to rest for a while. But I got to say- I would vote Riian Van Der Byl over you ANY DAY( Refering to UR Reutjers)."
"At least Riian is the reason I am safe and sound, though my previous 3 fellow countrymen have suffered a bad fate." Expalained Ms. Kayla. "He may be sleazy corrupt extravagant spendthrift using his position in power, but at least he did something rather than hide from the VERY people you are so called parading for, you coward (refering to UR Reutjers)"
Mr. Keith Ntini, a successful small scale enterpreneur, and a staunch supporter of JM Hertzog replied "I am a bit dissapointed, yes....that my idol didn't do anything or even try anything to secure my release....even after 3 fellow Transvaalers were gunned. It was a let down. I am still getting over that....I don't know. I just need some rest, and I don't want to think of politics for a long, long time.
The paramount African chiefs, or whatnot....I have no idea. Not even a letter. And me, and all the Transvaaler hostages, including the 180 odd from other countries still languishing there....we were moved about 50 kilometers a day of foot. And we were paraded to villages and hamlets as "special forces PoWs in Belgium....or in J Andres....or in Sahrani. We were rationed 2 meals with 150 calories, the natives of HTF got even less. But since they needed us fit, soldiers & Sait's men themeselves gave us "luxuries" like meat- fish, well....but I just couldn't bear to see how the civilians had it. I just want to forget it. Sorry if I have nothing more to add.
RESPONSE BY BARON UBERSTEIN TO RIAAN VAN DER BYL:
"Art collection? They are inside the most protected and largest Museum in the Uberstein Empire. I did have a problem with you the seccond I saw you, and did not bother to stay inside your country. I dined in my airship as we left with the first artifacts. I do not keep these artifacts for myself, I keep them to safeguard history."
RESPONSE BY RIAAN VAN DER BYL TO BARON UBERSTEIN: Sure, that is what they all say... in a "museum".
COMMENT BY KAISER MARTENS: "Hey, Mr Byl! You sure speak loud for someone who is being so mercilessly crushed by the voters!"
APRIL 11, 2008
VERKIESING MEI '08 - ELECTION MAY '08
ELECTION COVERAGE brought to you by TeleTransvaal
Welcome back viewers... I am your host Lukas Reitz and this is the special broadcast from the all-candidates meeting hosted by Daaglikse Tele-Nuus and its English-language equivalent Daily TV News.
The portion of our broadcast focusing on the two candidates for African paramount chief has now concluded - however Mr. Mauntang and Mr. Baako shall remain with us as we now move to the Prime Ministerial candidates.
We have with us tonight the five candidates from the two political parties: from the governing National Party we have Prime Minister Jakob Martin Hertzog, Deputy Prime Minister and Minister of Interior Willem Coetzee, Rhodesian Governor Riaan van der Byl, North Namibian Governor and commanding colonel of the Transvaal Oorsese Korps Ms. Annetjie van Matteus, - and from the opposition Verwoerd Front Party, Colonel Uys Rooyan de Ruijters (ret).
Goeienaand vir julle almal, good evening to all of you... welcome!
Before we open the floor to questions from the domestic and international press gathered here with us, I shall begin this discussion by asking each of you: if elected, what are your plans for the economy?
Let's start with Prime Minister Hertzog...
HERTZOG: Dankie, you must me for my poor English excuse... sorry. If I is re-elected, my government would our economy continue to upbuild by focus on publicworks so we a full compliment of medical clinics have. Then we build more churches and stadiums because those make the people happy. I believe strong that happy workers are productive workers. We spend money then upbuild our infrastructure so we more citizens in workforce will have.
COETZEE: I agree with Prime Minister Hertzog in that popular happiness benefits our economy, however I would focus on strengthening our police force so that we have less crime and safer communities.
VAN DER BYL: When elected, I promise to devote our economy to develop our own national stock market within two months of taking office.
VAN MATTEUS: My economic plan is basically a composite of what Prime Minister Hertzog and Mr. Coetzee have stated, the same areas of improvement but more diversified. I agree that we do need more police and our medical system needs to be brought up to the highest level possible.
DE RUIJTERS: I would build a network of labour camps in the Special Economic Zone in Mozambique and rely on forced prison labour to bring our infrastructure costs down.
LUKAS REITZ: Well, interesting answers all. I now open the floor up for your questions...
MS. McCORMICK - PROCINCTIA BROADCASTING CORPORATION: "A question for all candidates, regarding international affairs. What foreign policy will Transvaal pursue under your administration?"
PDSAR PEOPLE'S VOICE: An Open Question to all the candidates:
Out of a strange twist of perhaps fate, it would seem that Mr. Riian Van Der Byl has played a key role in securing the Transvaal hostages. Some in the PDSAR say it is Mr. Van Der Byl's charm and wit with Takku Sait, which secured the hostages' release from the Takku regime, and others say it was just pure luck and coincidence. Mr. Van Der Byl- do you have any insights to add?
Mr. DE RUIJTERS:- one of the hostages, who claimed to be your "staunch supporter" (please keep in mind there is no way we can confirm or deny this sitting here in the PDSAR), now claims you are a cult figure, much like Takku Sait himself. She has also accused you of "abandoning the very same people you swore to champion." What do you make out of all this? Also on a final note, how do you forsee PDSAR-Transvaal relations if you're elected?
Ms. VAN MATTEUS: If you get elected, how would you see future PDSAR-Transvaal relations?
Mr. COETZEE: Since you are a security chief, are there any scope for you to dispatch special forces operatives against Takku Sait in the near future? If you were elected in power, would you pursue a more "hot pursuit" foreign policy against operative insurgent leaders like Takku Sait?
Mr. HERTZOG: Greetings sir. This must be a very tense moment for you. You have already scored a lot of achievements under your belt. We deeply salute your accomplishments. If you are re-elected, do you see any venue for increased cooperation between our two nations?
RESPONSES TO PDSAR PEOPLE'S VOICE:
HERTZOG: I is with our current diplomatic relations very pleased, our nation has its doors wider to the world opened.
COETZEE: Maintenance of our current level of diplomatic relations, exchanging ambassadors with any nation which indicates a mutual desire for goodwill between our peoples.
VAN DER BYL: I would trim down the level of embassies we have, as there are a lot of deadbeat embassies we maintain across the globe.
VAN MATTEUS: I would have to agree with Mr. van der Byl here, while expanding and strengthening relations with active nations, we do have about 4 or 5 embassies we should probably close due to lack of dialogue.
DE RUIJTERS: The foreign policy of the Verwoerd Front is to consolidate and prioritize our diplomatic relations with white, Christian, anti-communist nations - and all the socialist riff-raff with their fifth-column bases disguised as embassies will see their diplomatic status revoked and closed as the Verwoerd Front wants nothing to do with Marxists.
RESPONSE BY VAN DER BYL TO PDSAR PEOPLE'S VOICE: What can I say? I tell everyone that Takku Sait is an honourable and reasonable man - but everyone just laughs him off. But now who's got egg on their faces now, eh? Takku Sait is one of those rare breed of adventurous risk takers the world needs more - much like myself and the great Dr. François Kananga.
RESPONSE BY DE RUIJTERS TO PDSAR PEOPLE'S VOICE: First off, you are spreading lies because no supporter of the Verwoerd Front would travel to the PDSAR - because our party's members have pledged themsleves to boycott travel and contact with all non-white and non-Christian nations. As for foreign relations with your nation, they would be terminated as soon as possible because your nation does not fit the social-political-racial qualities we demand from those nations we would want to have diplomatic ties with. This "staunch supporter" you claim to speak of is no doubt one of your government's paid agents out to discredit our party.
RESPONSE BY VAN MATTEUS TO PDSAR PEOPLE'S VOICE: I don't see them changing drastically one way or the other. Despite constant nagging suspicions about the nature of PDSAR's brand of communism, the PDSAR has so far worked honorably and respectively with our Government.
RESPONSE BY COETZEE TO PDSAR PEOPLE'S VOICE: Our domestic security forces, which I command, are just that: domestic security forces. We do not have the capabilities for overseas operations - even our military is strained for carrying out such long-distance operations, our foreign expeditions to Tahoe and Dun Carrig exposed the long-range limitations of our military.
I also believe there was some confusion on our, the government's part, in co-ordinating action against the Takku Sait terrorists with the PDSAR security forces. I think the military thought the domestic security forces were going to step in and deal with the PDSAR security department, and my own department felt it was the perogatives of the Transvaal Krygsmagte to be involved. There is at present not a lot of intra-service communication between the domestic seciruty bureau and the Krygsmagte.
RESPONSE BY HERTZOG TO PDSAR PEOPLE'S VOICE: I thank you for your kind comments very much... ja, I believes that there is still better relations that we can with the PDSAR build but co-operation is on government level good after we has together smuggling groups operating between our two nations worked to remove.
RESPONSE BY BARON UBERSTEIN TO RIAAN VAN DER BYL: "Do you want a ticket to visit it? It is a public instituion with a 5 Euro entry fee and a single entrance security checkpoint. Your claims of Ubersteinian Corruption might be bad for your long-term health."
RESPONSE BY RIAAN VAN DER BYL TO BARON UBERSTEIN: Strange words coming from some who personally came to my domain and offered me bribes...
RESPONSE BY BARON UBERSTEIN TO RIAAN VAN DER BYL: "Because it's in your character. Diplomacy is molding your actions and words to get the best bargan by using the other's character against him. The historical objects are safe for times to come, the sites are being studied by my scientists, and all I lost was a VW bug with a fake aluminum frame. Politics is not corruption, corruption is pandering to a lobby or decieving your people. I didn't even bother to deceive you, I said you would receive a car, not specificly a Rolls Royce Phantom. The fact that you fall for such manuvers and do not care about the regional history of your nation shows that you would not make a good leader."
RESPONSE BY RIAAN VAN DER BYL TO BARON UBERSTEIN: Liar! You presented to me a photograph of the exact automobile in question. Ack! Typcial deceit expected from dealing with thieving Ubersteinites.
RESPONSE BY BARON UBERSTEIN TO RIAAN VAN DER BYL: Uberstein chuckles, "I did exactly that, quite amazing what you can fit on a VW frame. I could even have you talk to the man who did it, a true artist."
APRIL 12, 2008
RESPONSE BY PDSAR PEOPLE'S VOICE TO DE RUIJTERS: That is a blatantly false allegation. The freed hostage who spoke those words was very much a Transvaal citizen, who was kidnapped by Takku Sait. And besides what would a Jucheist (mind that Jucheist and Communist are not the same) government gain by discrediting your party?
The freed hostage was just distraught that she was "let down" by the man she "always looked up to." And she claims she was developing an international adventure sports business in HTF-Sind, before the Takku regime took control, and we can certify to that.
RESPONSE BY DE RUIJTERS TO PDSAR PEOPLE'S VOICE: International communism, that villany which your nation belongs to, hates our nation and hates our people. Why? Because we defend our God-given [thumps table] Christian-Nationalist beliefs and racial purity. International communism is the unified social cancer which plagues the world and wishes to corrupt our pure blood with their perverted ideology and atheistic beliefs in racial mixing. They fear the Holy Ghost revial which a Verwoerd Front government would bring to the fortress of White Africa.
As for this alledged citizen, as I said before no correct-thinking member or support of the Verwoerd Front would want to find themselves willing or not in some racial dirthole like the PDSAR. Her surname isn't even one we have here in Transvaal, so obvious to me and any clear-minded observer that she is in fact a communist-planted agent under orders to discredit our beliefs.
ANIS RAAJA (PDSAR PEOPLE'S VOICE EDITOR): Have a beer and do chill down, De Ruijters Or you should really come down to the Western Ghats, pick some mushrooms and interospect a bit sir. Dont' forget we cooperated in a major international smuggling rink not too long ago. You must have missed it but we are not Communist, we are Jucheist, we don't interfere in affairs outside our borders. And on religion, it rotates in the PDSAR. For the moment, it's Shintoism, but was Christianity not too long back. It changes periodically, as per people's wishes.
And we don't have an immigraiton check policy and we arent too particular about "original names" - many from the First World use a 2 passports to our country to avoid taxes that apply when coming for business. We know it happens but enforcing it is more uneconomical than turning a blind eye, so we don't bother. And the person in question, the freed hostage- is almost fully recuperated under good medical care, and we are not about to put her through further interrogation out of common decency, for some trivial things like "real" name. And she will be given a choice to become a citizen or return to Transvaal on our expense.
We are not accusing you of anything, we are simply relaying what a freed hostage from your country wanted to say. We can't be held responsible for what she says. There was a serious miscommunication to rescue the hostages, between both our security apparatus, we need more communications- and I wanted to convey an apology on behalf of the PDSAR to the griefed families of the executed. We feel we need MORE cooperation and interconnection.
We waited for a Transvaal special force or at least instruction. There was a human blunder on Transvaal's side too. That's just an indication that our intercommunication wasn't enough. We need MORE. And the freed hostage wanted to start a business in HTF and she transited there using our national airline. We don't harass our guests with security checks and they have full freedom of movement here. And we don't hassle our guests with procedures, visas etc. And we don't honestly know Afrikaans names, so we can only go by what they give us.
We want good relations with Transvaal and have always respected them as a government. International cooperation between stable players- in security issues like this- is important. And three Transvaaler families were lost because there was a serious communication & interconnection gap in both our nation's security apparatus.
LETTER BY MARSHAL CRUYWAGEN TO DE RUIJTERS: Just a friendly reminder that the armed forces of Transvaal will not swear loyalty to any government lead by yourself or the Verwoerd Front. The Krygsmagte and Lugmag will not stand by watching idly while you drag our nation into the ground to be destroyed.
Therefore should your party be elected on May 1, you will have 72 hours to resign or face the consequences at the hands of the military.
I was sincerely hoping that the military would not need to become involved in helping out with the election process, but your recent inflamatory statements on national television leave us officers little option not to do so. [signed] FM P. Cruywagen
RESPONSE BY HERTZOG TO PDSAR PEOPLE'S VOICE: For the record, our government did communications with terrorists through our ambassador in PDSAR try to open but terrorists say no. Then leave we matter with PDSAR authorities.
RESPONSE BY PDSAR PEOPLE'S VOICE: Acknowledged. We were just stressing we need more security cooperation, so we have better response times in the futures. Some peoples like Takku don't listen to diplomacy.
And our hostage rescue record is not great sadly. We can assault, caravan raid, but hostages success rate in our ops are 28%. Anyway, not pointing blames on Transvaal or anyone here in the PDSAR, we honestly feel we need more security cooperation between our agencies. That's all we wanted to say. And we feel a bit worred that Mr. De Reutjers is suggesting isolationism when the reverse is needed....
Ms. Matabanadzo did try her level best tried contacting Takku day in and out, but Takku simply went on raving about "Year 1" ....and the execution was pretty sudden and caught us both off guard.
Also, if we may ask, Ms. Annetjie VAN MATTEUS how she feels about being showered by praise and respect by Takku Sait Live HTF broadcast. He apparently looted a history jewellery meuseum and pledged it all to Ms. Van Matteus as a "sign of respect to the perfect example of a modern messianic strong woman."
TRANSVAAL DAAGLIKSE NUUS
Taken aback that he has so far received 2 electorial district votes despite his open support of Jakob Hertzog's campaign, Deputy Prime Minister Willem Coetzee stated today that:
"I was not expecting to gain any electoral votes - but if the unforseen truly occurs and by chance I am elected to the post of prime minister, I will humbly accept the post. It is common knowledge that if it weren't for the electoral laws requiring me to run in the election, that I would not be running. However first and foremost I have been a public service to my nation, and if enough citizens do seek me to servive as Prime Minister, then I will accept."
"That said, but should it come down to requiring a National Party coalition to form the government, my support and the electoral districts which go with that support will be behind Jakob Hertzog, who I humbly believe is the best choice for our nation at this time."
QUESTION FROM AMBASSADOR OF TAHOE: The Ambassador from the Tahoe Republic asks all candidates what their feelings on Tahoe-Transvaal relations are, and what should or should not be changed about it.
QUESTION FROM BARON UBERSTEIN: Uberstein personally asked this question: "What is each of your views on social benifits, such as garenteed housing, food, and work? Also, what do they think of me?"
RESPONSE BY VAN MATTEUS TO PDSAR PEOPLE'S VOICE: "Takku Sait is a complete moron of the highest degree - and unlike other vain types here tonight, I want nothing at all to do with him. I'll tell you that I wouldn't lose any sleep at night if something suddenly 'tragic' happened to befall Takku Sait."
"Trash like Sait, Kananga.... and Mr. van der Byl here... need to be taken out to the trash heap of history."
APRIL 13, 2008
CANDIDATE RESPONSES TO TAHOE AMBASSADOR:
HERZTOG: Transvaal and Tahoe has a very long history of close diplomaticrelations had. I sees no in that change do not.
COETZEE: Tahoe are good people and have always supported Transvaal 100 percent even during our dark, formative months of last year.
VAN DER BYL: Is Tahoe the place with the really nice casinos and swank hotels?
VAN MATTEUS: I learnt a lot about Tahoe during the Oorsese Korps deployment there during the winter and I was relatively impressed by what the Tahoe people and government have built up. I would envisage continued close relations as our two nations have generally been on the same page.
DE RUIJTERS: Tahoe is the very kind of nation we want to strength our diplomatic relations with: Christian, anti-communist, and most of all white.
CANDIDATE RESPONSES TO BARON UBERSTEIN:
HERZTOG: My government has to unemployment as low as possible to strived keep thus a high standard of living guarantees. That is how then people housing and food can has. Is that Baron Uberstein the man who likes of armour suit wearing?
COETZEE: I'm in favour of a positive government influence in the economy so as to keep our capitalist economy vigorous and thriving without economic downturns causing sudden and drastic negative effects. As for Baron Uberstein, I have no personal opinion either way as I have never met the man.
VAN DER BYL: No, people are responsible for their own wealth. No free handouts for those who don't work. As for Baron Uberstein, he is a crafty thief and a cockroach. Everyone watch out because he lies and steals your money. He'll even steal the art off your walls if his cockroach appendenges disgusied as hands are given the chance. Beware!
VAN MATTEUS: Social benefits should be there for those who work and earn them. I do not support freeloaders who don't contribute to society. I do not trust those whose face I cannot see, so in regards to Baron Uberstein unless I had a reason to believe otherwise, I would be cautious towards him.
DE RUIJTERS: I support guaranteed housing, food, and work benefits for all whites. Africans will have to make do with whatever charitable scraps we throw their way. This Baron Uberstein - judging from his name he sounds the Jewish type if you ask me.
QUESTIONS FROM REBEL ARMY: "What are your plans for Transvaal's future? And what is your opinion on the RA (a nation with Christians, Jews, and Muslims living in peace) and our current leader Lavo (whom is Jewish)?
RESPONSE FROM BARON UBERSTEIN TO HERTZOG: Uberstein chuckles, "Yes, I am the one who wears the outdated armor. I have all I need to hear from you." The Uberstein Empire backs HERZTOG.
APRIL 14, 2008
CANDIDATE RESPONSES TO REBEL ARMY:
HERTZOG: I would along the same path continue since I has last November Prime Minister becoming. Peaceful upbuild of our strength of the nation. Our Staatspresident Botha has it policy of government make that we reciprocates for Israel and Jew nations support as thanking in times of trouble support for us.
COETZEE: I support the longtime official government line where our nation strives to maintain friendly relations and support of any Israeli nation out of recognition of their quiet support for our nation's military during the 1970s From what little I know of your leader Lavo, I believe we've had respectable dealings with him and his government. On a security level, we've never had any cause for alarm from visitors from Rebel Army. Apart from an increase is domestic police, since any government I'd end up leading would likely be a National Party coalition, I would have to obviously negotiate some common ground with coalition partners. It's really difficult for me to say at this point.
VAN DER BYL: Well I'm not a big fan of Jewish and Saraceens as they are always out to get my money - if it isn't the thieving Ubersteinian cockroaches then it is the Jewish bankers. There isn't really a place for them amongst us Afrikaners but thankfully they are few in number and haven't caused us any problems. As for what I plan for Transvaal's future, I have already stated that I promise our nation an economic miracle by the construction of our own stock market.
VAN MATTEUS: I too support Staatspresident Botha's foreign policy towards Israeli-Jewish nations and leaders. We have diplomatic relations with numerous nations of different religions and backgrounds, it is generally not an issue as our government and Staatspresident has maintained a pragmatic attitude towards other nations. I don't know anything personally about Lavo so I cannot form an opinion. Unless our foreign minister had reason to say otherwise, I would maintain our current level of diplomatic contact with Rebel Army.
DE RUIJTERS: The Verwoerd Front would repatriate all jews and muslims residing in our Christian nation as we have no tolerance of rights for minority religions. I would suspect we would cut dipolmatic relations with Rebel Army as I suspect they do not conform to the racial and social profile we want to maintain for diplomatic contact.
QUESTION FROM PDSAR PEOPLE'S VOICE: Do any of the candidates have anything to comment? Is our policy "right" or "wrong"- or "just a different shade of gray"? Is there any scope to liberalize the "20 Dinar moon trips (as they are called in the PDSAR)" in Transvaal?
CANDIDATE RESPONSES TO PDSAR PEOPLE'S VOICE:
HERTZOG: The National Party opposes narcotic drug and those caught or traffick drugs use they is dealt with very harshness.
COETZEE: The military of Transvaal has been positioned at all border crossings and is arresting all drug traffickers.
VAN DER BYL: no comment.
VAN MATTEUS: I would staunchly combat narcotic use and distribution.
DE RUIJTERS: Verwoerd Front believes that the death penalty should be applied to eradicate and combat drug usage. Those drug users we don't kill outright will be sent to our labour camps to feed our infrastructure.
QUESTION FROM PDSAR PEOPLE'S VOICE: Do any of the candidates have any opinions on the Dear Leader of the PDSAR?
CANDIDATE RESPONSES TO PDSAR PEOPLE'S VOICE:
HERTZOG: No, I do not because I him never meet.
COETZEE: No, I have never met him - actually I don't even know his name.
VAN DER BYL: (has wandered off outside for a smoke)
VAN MATTEUS: I have never met him but judging from the actions of Takku Sait, sounds like he does not have much control over his own citizens.
DE RUIJTERS: Most likely he is typical communist scum.
QUESTION FROM PDSAR PEOPLE'S VOICE: On a more "political" note....the Transvaal and the PDSAR have communicated for a while thus far. Do you (referring to the candidates) see any difference in Jucheist Socialism, as compared to Socialist nations with more "orthodox" (Socialist) systems?
APRIL 15, 2008
CANDIDATE RESPONSES TO PDSAR PEOPLE'S VOICE:
HERTZOG: It look all the same to me.
COETZEE: No comment, I am not familiar with the nuances of jucheist socialism to be able to comment.
VAN DER BYL: Communism is the product of freemasonry gone wild. Thank God we do not permit freemasonry in Transvaal.
VAN MATTEUS: I see no difference; communism is a monolithic social disease. While our government may make deals with it externally, we can never allow one atom of it to take root in our beloved Transvaal lest it grows into the social cancer which has destroyed numerous nations before in its wake.
DE RUIJTERS: All Marxism is evil and must be destroyed. There are no "good" strains of socialism if that is the reference you are hoping for. I learnt that from fighting in the front lines during the St.Patrick's Day massacre last year, I never differentiated between the different types of communists we captured and had shot under my command. They were all faceless automatons of godless evil incarnate.
STATEMENT BY DEAR LEADER OF PDSAR: We support the fine JM Hertzog as the Comrade Leader of Transvaal for this elections. Although our past time and hobbies probably differ greatly, going by what I was told by the People's Voice when they questioned the candidates here....he is a good man and I can see he has done a lot for Transvaal and a lot was accomplished under his rule. And he's blue collar, so that always has a soft spot in this smoke infested heart.
RESONSE BY VAN MATTEUS TO PDSAR PEOPLE'S VOICE: I think most of us here in Transvaal just assume the HTF is part of PDSAR. The acronym PDSAR reminds many here of the acronym USSR and that the PDSAR has far more control over the Indian subcontinent than many are led to believe.
Regardless, Takku Sait is a menace and must be exterminated. If elected, I may consider sending the Transvaal Overseas Corps to the region and hunt down Sait if a means to transport them there can be found.
QUESTION FROM NEO JAPAN: To van Matteus: How old are you? You are the same Van Matteus that served with General Shikazo in Dun Carrig correct? If so, what will your military policy be? (army size, mobilization efforts, etc etc)
TELE-TRANSVAAL ANNOUNCEMENT
In response to the sudden foreign interest in Ms. van Matteus, Tele-Transvaal will tonight broadcast for its overseas viewers the A&E Biography episode on Annetjie van Matteus.
This episode is currently unavailable in Transvaal and has never been broadcast there.
QUESTION FROM ROYAL REPUBLIC OF DISPLACED CALVINISTS: Roland LeBlanc, water industry tycoon and minority leader of Displaced Calvinists' Capitalisme Maintenant! Party, has a question for the candidates for Paramount Chief and African Affairs Minister.
"Mr Mauntang and Mr Baako, please explain to me what plans you may have for the industrial and economic development on the African Continent? What are your policy views toward colonial African nations such as Displaced Calvinists, Belgian Congo, and the PDSAR's outpost in Matadi? And what will you do to further the stabilization of the continent and ensure continued economic growth?"
APRIL 16, 2008
QUESTION BY PDSAR PEOPLE'S VOICE: To quench my thirsts, has Ms. Matteus done a caravan raid in the "old days?" This is just for personal interest and nothing more.
VAN MATTEUS' RESPONSE TO PDSAR PEOPLE'S VOICE: No, I have never gone caravan raiding - although when I grew up on our farm I used to ride around on my father's old oxcart wagon.
QUESTION FROM LORD FROST FROM NEO-JAPAN: How old are you? You are the same Van Matteus that served with General Shikazo in Dun Carrig correct? if so, what will your military policy be?
VAN MATTEUS' RESPONSE TO LORD FROST: First off, I don't tell people my age - there is no need for anyone to know. Yes I am the same Colonel van Matteus who served along with General Shikazo in Dun Carrig. Unfortunately domestic concerns resulted in my repatriation home prior to the completion of our mission. If elected, I would like to see the Transvaal Krygsmagte have a full compliment of barracks. As well I would maintain the government's constant policy to maintain a full military during peacetime.
I believe Transvaal can take a more active military role overseas to assist our allies although we are limited to operation radius due to our geographical location. If anything, we can be active in all African conflicts. That said, but I am not an imperialist - I believe our Federal Republic is about a realisticly large as it can become. I personally would like to see us relinquish our Angolan holdings, but whether I would unilateraly withdrew from Angola without a local administration in place, I am not sure at this time.
QUESTION FROM SHELDOMAR OF DISPLACED CALVINISTS: "Mr Mauntang and Mr Baako, please explain to me what plans you may have for the industrial and economic development on the African Continent? What are your policy views toward colonial African nations such as Displaced Calvinists, Belgian Congo, and the PDSAR's outpost in Matadi? And what will you do to further the stabilization of the continent and ensure continued economic growth?"
MAUNTANG'S RESPONSE TO SEHLDOMAR: The Federal Republic has a long legacy of sending foreign aid to South African nations. Cherokee Namibia is the most recent example of this but others include Boerlandia and Vereeniging. I would like to see this foreign aid expanded to cover distribution to other African nations outside of South Africa. I support good government so if the Displaced Calvinists and PDSAR are providing good administrations that benefit the people, then that is a progressive step in the right direction. Too many Africans live under the misguided rule of such despots like the former Congo-Katanga regime - which is an embarrassment for Africans everywhere.
BAAKO'S RESPONSE TO SHELDOMAR: I oppose colonialism by foreign powers in Africa. Belgian Congo is a mess except the PDSAR enclave doesn't seem to be causing anyone any trouble. As for the Displaced Calvinists, I would need to visit there to know exactly what kind of régime it is - whether it is a Black nation or a settler nation.
APRIL 17, 2008
Riaan van der Byl looks at aprehensivley at his watch and then gets up. "Excuse me, but I really must be getting back to Rhodesia" he says as he hurries out of the televsion studio. "It's been nice chatting with you all, but I have business to attend to back home."
QUESTION FROM CENTURIUS OF KANTEERO: The Empire of Kanteero is willing to know what each of the candidates think about improving relations between our two nations.
CANDIDATE RESPONSES TO CENTURIUS:
HERTZOG: Transvaal has always for new diplomacy relation be agree.
COETZEE: I cannot see any reason why diplomatic relations could not be established between our two nations.
VAN DE BYL: [absent]
VAN MATTEUS: I have to agree with Herr Hertzog and Herr Coetzee, I personally see no obstructions to establish relations and exchange ambassadors.
DE RUIJTERS: From what information I know about Kanteero, they seem to fit within the national specifications the Verwoerd Front would seek in diplomatic relations - namely a white Christian republic.
APRIL 18, 2008
LOOTING IN RHODESIA
We are now hearing reports from Salisbury that local government authorities under orders of Governor R. van der Byl raided the city museum and ran off with many of its priceless treasures and artwork.
The thieves, wearing Rhodesian police uniforms, made no attempt whatsoever to disguise themselves and drove off towards Salisbury's airport and boarded a waiting Air Rhodesia Boeing 707 jetliner. The 707 has been parked at the airport for the past 36 hours waiting on the tarmac with its engines running most of the time except when undergoing refueling.
There have also been unconfirmed reports of a bank robbery and moving vans were spotted outside the government offices this morning, leading observers to believe that Governor van der Byl is planning to flee the country in the face of his weak standing in the National Election next week.
RIAAN VAN DER BYL RESIGNS - FLEES RHODESIA INTO EXILE
Salisbury, RHODESIA: Rhodesian Protectorate Governor Riaan van der Byl has apparently fled Rhodesia for exile in Spain. He was spotted boarding an unmarked Boeing 707 an hour ago waiting at Salisbury International Airport which then immediately took off. Intercepted communications between the aircraft and the control tower indicate that Van der Byl was heading toward Madrid, where he keeps an penthouse apartment from his first exile there last year.
Along with Mr. van der Byl, on the aircraft were his immediate business associates, security guards, and the notorious warlord François Kananga. Earlier in the morning, a parade of moving trucks were seen driving up to the aircraft and their cargo loaded on board.
Unconfirmed police reports say that the Rhodesian treasury was emptied and the Salisbury Museum completely looted.
QUESTION FROM SAMUEL BLACKHAWK FROM CHEROKEE NAMIBIA: Transvaal has been instrumental in the ongoing development of Cherokee Namibia. I ask all those respectfully gathered here of what future plans Transvaal might have for their small and developing neighbor.
CANDIDATE RESPONSES TO SAMUEL BLACKHAWK:
HERTZOG: A Transvaal government under the National Party would Cherokee Namibia continue support. If re-elected shall I more foreign aid money to Cherokee Namibia contribute.
COETZEE: I too support more foreign aid spending for Cherokee Namibian development. The more stronger we can build our neighbours, then less threat there is of them later becoming regional problem areas.
VAN MATTEUS: As the Governor of Northern Namibia, I know full well that Cherokee Namibia is grossly underdeveloped. It would be beneficial for Transvaal to invest in its neighbour as we are fortunate to have such as stable neighbour on our borders. To allow Cherokee Namibia to sink further into poverty bears no benefit to our Federal Republic.
DE RUIJTERS: The current government gave up our land to some bunch of injun rabble - those traitors in Pretoria should never have done that because it puts whites on an equal footing with non-whites, something we staunchly oppose. A Verwoerd Front government would do everything in its power to see this land fumigated of its current non-white inhabitants and returned to Transvaal.
QUESTION FROM LORD FROST FROM NEO-JAPAN: To those running for Paramount Chief: Any plans to push to allow African-Transvalers to run for Prime minister?
MAUNTANG'S RESPONSE TO LORD FROST: [nervously and cautiously] That is... how shall I put it... a rather... delicate issue... which would require some drastically fundimental changes... to nature the Federal Republic. I am not sure how that... would be... persued... without provoking widesperad violence as Transvaal is by its very nature first and foremost... an Afrikaner homeland. We are one of the most stable and prosperous nations in Africa... the question begs whether there is enough desire to potentially bite the hands that feeds us. If anything it could fuel the white supremacists and start... a race war.
BAAKO'S RESPONSE TO LORD FROST: I don't see that happening. I never see a non-white leading this nation as it current exists. The Afrikaners and their English sidekicks would simply cast off the protectorates and renounce major territorial claims before I see them - and by them' I mean white society - accepting a non-white as prime minister. I mean, listen to the Verwored racists, they'd cut us loose given the chance.
QUESTION FROM GREG BURDETTE FROM PROCINCTIA: Ms. Van Matteus you have been considered a criminal in the past and you are currently considered a criminal by several states, will this be a factor in the election or you potential administration?
VAN MATTEUS' RESPOSNSE TO GREG BURDETTE: Where am I a criminal? I know of nowhere that regards me as a criminal. I tell you, in some countries I am regarded as a hero. Besides whatever regrettable I did in the past, I served my time.
QUESTION FROM GREG BURDETTE FROM PROCINCTIA: Do any of you have a plan for Zombies?
CANDIDATE RESPONSES TO GREG BURDETTE:
HERTZOG: What are these sombies that you of it speak?
COETZEE: Zombies - are you mad? There are no such things as zombies!
VAN MATTEUS: [looks around, laughes] Hmm... I don't see any Haitian flags here, must mean we don't have any zombies. What exact is in those Procinctian cigars...?
DE RUIJTERS: Zombies are the figment of the primative negroid mind... nothing more.
APRIL 19, 2008
QUESTION FROM EMPEROR MUDD OF TAHOE: How do the candidates feel about the spread of communism? What are they willing to do to combat this threat, if at all, and how far would they be willing to work with other anti-communist nations, Tahoe in particular, to deal with a communist threat?
CANDIDATE RESPONSES TO EMPEROR MUDD:
HERTZOG: Communism in not threat longer in Transvaal not, not since LSF War of October and move to Oranje-team.
COETZEE: The communist threat to Transvaal in practically non-existant now. What few marxist groups there are in Southern Africa are small and insignificant - such as the handful of guerillas which overthrew Kananga. And it is questionable whether Kananga's ineptness did him in and not the guerillas. As for overseas assistance, that would be rendered on a case-by-case basis. International communism has become soft in ideology, the main threat we see in the world is on a domestic level like what happened in Tahoe and Dun Carrig. These were domestic conflicts, not some coordinated mass rising of socialists like we used to see a year ago.
VAN MATTEUS: I agree that communism at present is a dead ideology in Transvaal, even amongst the Africans there is little appetite for rebellion. However our security forces need to remain vigilant so it doesn't return and take root.
DE RUIJTERS: Verwoerd Front supports the complete eradication of the social cancer known as the Red Menace. When elected, a VF Government will be constructing slave labour camps in Mozambique where we will imprision all the unwanted communist prisoners of the world, shipped to Transvaal, and working them into the ground. Not only will Transvaal's infrastructure benefit greatly from this pool of free labour, but we would be providing a helpful service to the free world by gladly taking their prison populations off their hands.
QUESTION FROM BARON UBERSTEIN FROM UBERSTEIN EMPIRE:
How does each canidate respond to this statement: The Uberstein Empire will no longer recognise Transvaal if the following are sanctioned by the Transvaal government: Genocide; Class-based Massacre; Ideology-based Massacre; Religion-based Massacre.
We fully recognise the right of the State to crush revolts, rebellions, and so forth, and to keep certain things out of public domain and government areas. However, senseless killing on non-violent, generalised civilians/citizens will not be accepted and lead to non-recognision.
APRIL 21, 2008
CANDIDATE RESPONSES TO BARON UBERSTEIN:
HERTZOG: The National Party government not any this in Transvaal makes not.
COETZEE: This is a non-issue, let's be frank here the military would probably step in before any of these sorts of "policies" were actually attempted, let alone voiced.
VAN MATTEUS: During wartime sometimes harsh defensive measures must be taken against internal ideological threats, I know that from firsthand experience, however I really don't see any National Party member advocating what you're stating - certainly as it pertains to race or religion.
DE RUIJTERS: The Verwoerd Front believes in strict racial segregation to prevent the tinder box of genocide from occurring in Transvaal. Only with segregation can there be peace.
QUESTIONS FROM ARCADIAN EMPIRE TO DAKARI BAAKO:
1. Do you miss competing in International Football?; 2. Please comment on the recent Liga Mundo, Transvaal World Cup and UCFA Champions League (the current season); 3. Comment on Transvaal's recent form. 4. Transvaal's been drawn against Laputa in the UCFA Champions League Quarter Final...what advice would you give the team to get past Laputa in this stage? 5. Do you think Transvaal has what it takes to win the World Title this season?; 6. As African Affairs Minister and Paramount Chief (if you succeed), will you use football as a way of 'connecting' to your people?; 7. Why do you think, honestly, you are leading the polls thus far?; 8. Do you think you are leading because of the Springbok's performance in October's Champions League?
BAAKO'S RESPONSE TO ARCADIAN EMPIRE: [Laughs] Oh man, that's a lot of questions... where to begin? Yes I do miss playing competitive football but obviously I won't be able to mix politics and sport. If not elected, then I will need to look at my career and whether football is still an option. Regarding the Springboks, their Liga Mundo and UCFA Cup results last season were probably their best showings however the reality is Transvaal is still a second-tier football nation at best. That fact came out during the Transvaal World Cup where the finish was disappointing. Now for your serious questions, I believe I already am connected to my people - more so than Mr. Mauntang who many perceive to be a party bureaucrat. I grew up in the townships, but Mr. Mauntang grew up in privilege. I'm honestly surprised that I am leading in the polls, I think probably because people want to see some change - and not because of my soccer career. [laughs] Oh, and lastly to all my fans in Glanj, I will try to make an official visit if elected.
QUESTION FROM PDSAR PEOPLE'S VOICE: Do you see any venues for greater bilateral cooperation, on a non political / non ideological / non social, strictly- business to business level- in our operation in Matadi?
CANDIDATE RESPONSES TO PDSAR PEOPLE'S VOICE:
HERTZOG: I do not see more or less change with our policy towards Matadi not.
COETZEE: I would actually say less, because we haven't really had much dealings specifically in regards to Matadi - and I as prime minister would like to rollback some of our involvement in Tropical Africa, such as find an Angolan solution, lest we be branded white imperialists, which we are not.
VAN MATTEUS: I don't really have an opinion on Matadi. It's really a non-factor in the greater scheme of Africa's continental economy.
DE RUIJTERS: No, Verwoerd Front has no interest in dealings with native Africans and communists, both which are a lot of those in Red Matadi. We would like to see Belgium re-assert its control over the Congo because its obvious from such despots as François Kananga that Africans are incapable of managing government on their own with European assistance.
APRIL 24, 2008
Recent population statistics announced in Pretoria reveal that on April 22, more than one-half of all civilians were born or immigrated since Transvaal switched to Orange and joined IRON in November 2007.
50.23% of all civilians have only knowledge of Orange and IRON and have no experience of life under Maroon and the Nordland. Of the remaining Maroon minority, 29.16% were born under Norden Verein, 11.59% were born under Nordreich, and 9.02% under Sons of Muspel.
Of the 34,507 civilians residing in the Federal Republic, 27,606 are classified as African ancestry while 3,796 are Afrikaners. The remaining 3,106 are English-speaking whites.
The Federal Government does not release racial statistics regarding the 27,250 members of Transvaal's military, although it is known that 250 are foreign volunteers in the Transvaal Overseas Corps. It is believed by observers that the Krygsmagte uses a 50-50 racial mix in 27,000 regular ground troops while tank and aircraft crews are exclusively white.
MAY 1, 2008
As the final day of voting arrives in the Transvaal Federal Elections, it appears that Prime Minister Jakob Hertzog's National Party government has scored a decisive victory against the Verwoerd Front challengers lead by Uys Rooyan de Ruijters - with the National Party so far securing 30 electoral districts to 12 won by the VF.
Jakob Hertzog failed to win 50% of the electoral vote outright, so he will require a coalition of National Party supporters to form his government; Willem Coetzee and Annetjie van Matteus have already pledged their support of Hertzog's government. It is expected that van der Byl's supporters will sit as independents in the wake of the Rhodesian governer's flight from Salisbury last week in the face of embarressing defeat.
Hertzog has announced he will name Ms. van Matteus the new Deputy Prime Minister while Willem Coetzee will be assigned the new Rhodesian Governor so as to sort out the social turmoil created there by van der Byl's kleptocratic misrule.
"The people, they wanted stability and prosperity" commented Hertzog through a translator, "and the Verwoerd Front was not going to provide that aspect - only the promise of turmoil and diplomatic ostracisation."
Darakai Baako looks posed to replace Goven L. Mauntang as paramount chief of Transvaal's African citizens, gaining 24 electoral disticts compared to 18 for Mauntang.
Govan Mauntang was appointed as Minister of African Affairs one year ago to this very day when Transvaal's government established local autonomy for African territories in the wake of sudden expansion as a result of the Third Great War.
MAY 2, 2008
At a few minutes after midnight, it was the duty of Minister of Interior Willem Coetzee to announce the official results in the national elections:
PRIME MINISTER
National Party (NP) - 30 electoral districts
Verwoerd Front (VF) - 12 electoral districts
HERTZOG (NP) - 14 electoral districts; DE RUIJTERS (VF) - 12 electoral districts; VAN MATTEUS (NP) - 9 electoral districts; VAN DER BYL (NP) - 4 electoral districts; COETZEE (NP) - 3 electoral districts
PARAMOUNT CHIEF & AFRICAN AFFAIRS MINISTER
BAAKO (ind) - 24 electoral districts; MAUNTANG (NP) - 18 electoral districts
The results confirm that the National Party with Jakob Hertzog at the helm has won re-election for another six-month term. In the surprise of the elections, African voters opted for change as independent candidate Dakarai Baako un-seated longtime African minister Govan Mauntang. In conceding defeat, Mr. Mauntang put a brave face on the situation that he was pleased that such a vote could now take place as African voters participated in their first ballot since Transvaal gained independence one and a half years ago.
Field Marshal Paul Cruywagen, regarded as the moderate voice of Transvaal, commented that he was pleased with the results and that white voters had wisely opted for stability and peace over that of blind hatred. Twice the military has had to step in to sort out the mess from instringent government crises, and Cruywagen stated that 'it appears that finally Transvaal has joined the membership of democratic nations'. The Marshal would not confirm nor deny that the military had contingency plans should the Verwoerd Front have won the election, all he would say was "I never doubted the voters..."
Annetjie van Matteus returned to the government spotlight when she was appointed Deputy Prime Minister. "I spoke with Prime Minister Hertzog about possible deals to secure my support for his government, but I did not expect that I would be named deputy prime minister". Many believe that Ms. van Matteus had her eyes on the Interior or Foreign Affairs Ministries - however Mr. Hertzog was firm about retaining Willem Coetzee in that post.
Mr. Coetzee was also appointed the new Governor of Rhodesia. "We need a calm, clear mind in that troubled region to fully uncover and repair the damage caused by the previous governor" stated Hertzog through his English translator, alluding to the notorious mis-rule of Riaan van der Byl.
The former governor looted Salisbury before he fled last week as it became clear he would not gain enough votes to retain his post. Mr. van der Byl was last seen in Madrid and has refused interviews with the media.
Hertzog's second term
Edit
MAY 3, 2008
Prime Minister Jakob Hertzog has announced a major restructuing of the internal divisions within the Federal Republic of Transvaal.
The Occupied Economic Zone of Mozambique, Northern Rhodesia, and Nyasaland have been re-classified as African Protectorates while Northern Namibia has been placed under white protectorate rule along with the remainder of (southern) Rhodesia.
The re-division of land amongst Whites and Africans was discussed with and met the approval of Staatspresident Botha and Paramount Chief Darakai Baako. The Federal Republic of Transvaal now consists of 10 constituent regions:
TRANSVAAL REPUBLIC (South Africa)
WHITE-RULED AUTONOMOUS PROTECTORATES: Rhodesia; Northern Namibia
AFRICAN PROTECTORATES: Sotho African Protectorate; Swazi African Protectorate; Tswana African Protectorate; North Rhodesian Protectorate; Nyasaland Protectorate; Mozambique Protectorate
OCCUPIED ECONOMIC ZONE: Southern Angola
Federal Republic before redivision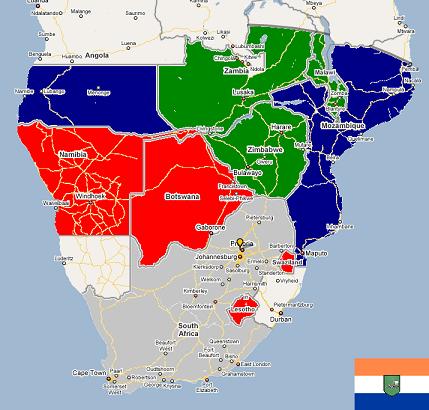 Federal Republic after redivision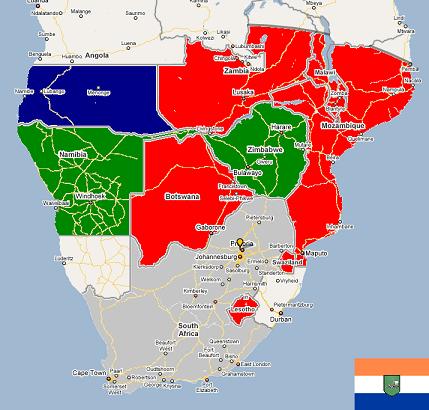 MAY 27, 2008
RIAAN VAN DER BYL ASSASSINATED!
The Federal Government of Transvaal has just confirmed that former Transvaler prime minister and Rhodesian governor Riaan van der Byl was assassinated outside his apartment in Madrid one hour ago.
Van der Byl's death comes on this, the one-year anniversary of the overthrow of his government which collapsed into anarchy and rioting as a result of the Krygsmagte's heavy losses suffered at the hands of the Zulus of Natal during the South African War.
The war was started by van der Byl trying to appease his far-right supporters to "keep the hated Zulus in their place."
Due to his blundering, Transvaal was then forced to the negotiation table with Natal and their allies two days later – the Afrikaner homeland humiliated and forced to recognize Natal's formal independence from Transvaal territorial claims.
Originally the brainchild of Transvaal's early economic expansion, van der Byl was famous for his playboy lifestyle, hard drinking, and love of fast cars and fast women – however he soon fell afoul of the National Party and later become known for his kleptocractic misrule as the Governor of Rhodesia Protectorate. He stood for election in the May 1 polls but fled Rhodesia a week before when his defeat was inevitable and his powerbase in Salisbury severely threatened - looting the Protectorate treasury and Salisbury museum in the process.
The Federal Government has no leads on there whereabouts of the assassin, or assassins, who fled the scene in a black BMW. Van der Byl was taken to hospital but pronounced dead on arrival.
Governor Willem Coetzee, van der Byl's replacement in white Rhodesia, declared a temporary curfew and state of martial law in Rhodesia to prevent violent outbursts and rioting during the night as van der Byl's death was met with jubilation throughout the Rhodesian Protectorate.
Despite his disgracement by the Federal Government, van der Byl's body will nevertheless be flown to Pretoria for a state funeral and burial with all the official honours accorded to a former prime minister.
MAY 28, 2008
RADIO-TRANSVAAL BROADCAST: Former Prime Minister Riaan van der Byl was a controversial figure in Transvaal. His debut on the national scene as the nation's second prime minister started out with good intentions as he quickly re-built the economy in the wake of the three-week Klingen Occupation which re-established National Party rule in Transvaal.
After the uncertainties and chaos arising in February 2007 from the disputes with the neighbouring white supremacist Boer Staat under High Chancellor Dr. Hendrik von Kruger and black ANC-ruled South Africa under a pre-rogue Nelson Mandela, the vibrant Riaan van der Byl was seen as a fresh new beginning when Staatspresident Botha appointed him prime minister on March 16, four days after Klingen troops departed.
War soon quickly returned to Transvaal however when Van der Byl found himself leading the nation through the Second Maroon War and Third Great War. Transvaal emerged victorious and stronger after those two conflicts subsided.
However now free to pursue his own foreign policies, the true nature of Van der Byl began to emerge.
A vengeful bigot towards blacks, he decided to backstab Nelson Mandela (who had provided refuge for Botha during the Boer Staat crisis and Klingen Occupation) by hiring two mercenaries to take down the ANC leader and destroy his nation of South Africa - although at the time the action was hailed by many as fitting justice for the rogue Mandela's oft-buffoonish indeptitude.
With one South African black leader out of the way, he next declared war on the Republic of Congo. After scoring quick success, his greed got the better of him as turned his attention southwards on the small, neighbouring Zulu nation of Natal. Smelling blood, he started a second front and declared war on the apparently unaligned Natal - only to find Transvaal drawn into the quagmire of a five-nation conflict when Natal called on the help of three hidden allies.
After four days of fierce fighting, the Afrikaner homeland was humiliated from its losses and forced to accept Natal independence and guarantee non-interference by Transvaal and its Norden Verein allies Dresden. By this time van der Byl had been deposed when riots broke out and the military moved in to set up a junta lead by General Paul Cruywagen.
Van der Byl fled into exile and took up residence in Madrid - but he returned home in early August when he stood for election for prime minister. He was soundly defeated in the popular ballot and gained only 4 electoral districts - however these 4 districts still gave him the balance of power and in return for supporting the National Party government, he accepted the post of Governor of Rhodesia a few months later in October 2007. Rhodesia soon became Van der Byl's private estate as he began to monopolise all business and plunder the economy.
His last escapade involved the creation of a puppet government in the southern Congo province of Katanga to create fear-mongering amongst the White Rhodesians to prop up his own rule. The Katanga debacle resulted in countless and untold suffering for its inhabitants.
MAY 30, 2008
The state funeral [for Riaan van der Byl] will be tomorrow (Saturday) in Pretoria.
The government has so far had no leads yet on his assassin(s). Due to his reputation, there could be numerous individuals and political groups inside and outside Transvaal that may have wanted to see him killed.
If it was indeed planned by Transvalers, then the Government suspects it was either 1) white supremacists angered with his embarressing performance during the Zulu conflict with Natal last year, or 2) it was Africans from Rhodesia simply out for revenge.
Despite his contributions in defeating the SWF menace in Southern Africa when he was prime minister, we do not suspect it was the work of communists simply for the fact we have seen no organised communist activity of any sort in the Federal Republic since October.
PROTESTS IN RHODESIA: Protesters in Salisbury and Bulawayo took to the streets tonight to protest the state funeral of Riaan van der Byl, the former Transvaal prime minister and later Rhodesian governor assassinated this week in Madrid.
In perhaps the worst civil violence seen since the establishment of the Federal Republic, Rhodesian Protectorate police stood by and watched the rioters - mostly African blacks - rampage through shantytowns in the Harare neighbourhood. They only took forceful action and made arrests when it looked like the rioters were trying to move outside the townships.
It is reported that at least two dozen have been killed so far in the violence but it is unknown if the casualties are innocent bystanders or perpetrators of the unrest.
JUNE 2, 2008
Riaan van der Byl was laid to rest this weekend during the state funeral held for him in Pretoria. Archbishop Cornelius Hoof presided over the memorial service at Pretoria Katedraal in which a small number of invited guests and foreign dignitaries from Tahoe, Novus Niciae, and Kanteero were in attendance. Both Prime Minister Hertzog and Deputy Prime Minister Annetjie van Matteus were noticeably absent while the eulogy was given by Staatspresident Botha himself.
"The man was a steadfast rock against the communist threat back then which our young nation faced and stood up to. He also was responsible for getting our nation back on its economic feet during the Klingen occupation" said the Staatspresident – who ignored commenting on van der Byl's blunders in the traumatic South African War against Natal or his later misrule over Rhodesia.
With flags at half-mast and the downtown thoroughfare closed off, the gun carriage carrying van der Byl's coffin proceeded quietly and without public disturbance from Government House, where a brief lying-in-state was held, to the cathedral.
The government has been unable to locate any leads on van der Byl's assassin - nor has any political group claimed responsibility.
JUNE 17, 2008
Peter Morcambe and four other Transvaler exiles met together in Joysey today to proclaim the formation of the Communist Party of Transvaal-South Africa (CPTSA). Admitting that the nascent party, consisting of 5 members, had absolutely no presence within the Federal Republic, General Secretary Morcambe stated that the CPTSA nevertheless would be a first-step towards sparking the creation of a working class and non-racial opposition to right-wing hegemony in Transvaal. Morcambe thanked his Joysey comrades for providing guidance and facilities to hold the party's inaugural meeting.
The news went officially unreported in the Transvaal media, although rumours leaked out when the Ministry of Interior issued a brief statement through Transvaal's embassies and overseas delegations that the new party was deemed illegal under the Suppression of Communism Act (March 16, 2007) and its members subject to a minimum of 10-years imprisonment should they be apprehended and arrested on Federal Republic soil.
The National Party of Transvaal so far has said nothing, preferring to simply ignore Morcambe as being nothing more than "demagogue rabblerouser", to quote one unnamed member of the Federal Government - while the white supremacist Verwoerd Front Party responded to the news by offering a R$1,000,000 rand bounty for the assassination of Peter Morcambe and his four other "comrades".
JULY 2, 2008
The Federal Government of Transvaal gave official sanction to the Dutch Reformed Church (Nederduits Gereformeerde Kerk - NGK) of Transvaal this morning. The Reverend Erasmus Du Toit of Pretoria, a vocal supporter of the white supremacist Verwoerd Front Party, was elected by his parishioners to the position of church Elder.
The state recognition of the Dutch Reformed Church came after almost a year of waiting for the largest Christian congregation in Transvaal. Prime Minister Jakob Hertzog stated that "it was time that we acknowledged the social position and place of the NGK in our nation."
Reverend Du Toit was quick to condemn the federal government for its tardiness, stating that "it was blasphemy that the by far largest Christian group in our nation was kept on the outside of national awareness by the government especially since the English invaders and the Roman papists had their own churches before us! A national disgrace, I say!"
An unidentified member of the Federal Government stated in response to international concerns that: "Du Toit's election as Elder came after the government recognised the status of the NGK. Also, Du Toit's background and position of Elder bears no ideological reflection on the NGK or its congregation as a whole. Based on the Nation Election results of May 2008, it was only a matter of time before someone associated with the Verwoerd Front acheived some sort of prominence within general mainstream society."
In a joint statement this evening, Archbishop Hoof of Pretoria (Anglican) and Bishop Van Bruggen of Johannesburg (Roman Catholic) acknowledged the election of Reverend Du Toit as Elder of the Nederduits Gereformeerde Kerk:
"It is unfortunate that our bretheren in the Reformed Church have been misunderstood by Elder Du Toit. The NGK has waited far too long for official representation and their own house of worship in this nation of us, and as a result of the Federal Government's apparent or neglegent indifference to the largest religious denomination in the Republic, many of its members have chosen to send a strong signal to Pretoria by selecting Elder Du Toit to represent them. It is the intention of the Anglican Communion of Transvaal and the Roman Catholic Church in Transvaal to progress towards mutual ecumenical contacts with Reverend Du Toit and the NGK to the extent of our theological limits"
JULY 3, 2008
STATEMENT FROM ARCHBISHOP HOOF OF PRETORIA: "As the head clergyman in Transvaal, we do not seek outside interference in our own domestic affairs."
"It is the opinion of myself and my Roman Catholic colleague that we feel to usurp the Reverend would cause more harm than good in the longterm. Whatever opinions one may hold about Reverend Erasmus Du Toit, the fact is the Lord indeed called upon him by speaking through his own congregation."
"The Dutch Reformed Churches are slated by the government to have two more churches built for them in the near future to reflect the majority nature of that particular congregation within our nation's borders."
"Perhaps the Lord will chose differently for those congregations when the time comes along to seek out new pastors for those flocks."
JULY 7, 2008
RADIO-TRANSVAAL NUUS - BULLETIN: In a brief statement issued from Government House this evening, Prime Minister Jakob Hertzog announced that Colonel Annetjie van Matteus had been removed from her position as Minister of Interior & State Security. The reason for her sudden demotion was not given but had possibly originated from within the military - a department which she had tense relations with throughout her career.
Her replacement as the new Minister is Gert Boersma, a deputy government official from the Ministry of Labour & Industry.
Ms. van Matteus refused to speak directly with the media as she made her way to her private residence in Walvis Bay in the North Nambian Protectorate but her press secretary stated that "she was now looking for possible options outside the National Party as Annetjie felt she had been stabbed in the back by her colleagues."
Her demotion comes one day after the one-year anniversary of the military coup led by Field Marshal Paul Cruywagen which deposed Van Matteus as Prime Minister of Transvaal.
JULY 18, 2008
DISASTER IN BLOEMFONTIEN: Minister of Labour & Industry Herrman Steyn went on national radio a few minutes ago to confirm reports of a massive toxic chemical leakage near Bloemfontien which has resulted in the tragic death of 1,351 citizens.
To fully clean up the mess, a nearby national forest will need to be destroyed in the process and the environment in the region has been severely damaged. Minister Steyn believes that it will take around one month for the spill to be fully cleaned up and the recovery process completed.
JULY 18, 2008
Minister of Interior & State Security Gert Boersma has stated that preliminary investigations have revealed that the explosion at the Bloemfontien chemical plant was not accidental.
"We do not have any leads at the moment, but we found the remains of a crude detonation device which indicates to us terrorism was most likely responsible" said Boersma.
In related news, Prime Minister Jakob Hertzog thanked the international community for their various condolences. Minister of Labour & Industry Herrman Steyn said that clean up would commence as soon as the Ministry of Interior & State Security had finished its investigation.
The Ministry of Interior & State Security has released a satellite photograph showing the toxic cloud floating over northeastern Bloemfontien.
The exact details of the explosion are still a mystery, but unconfirmed reports are saying that the chemical factory which blew up produced rocket fuel for Transvaal's V-2 rockets and other rumours are saying that communist terrorists were also responsible. The local medical clinic has said that many of the casualties showed evidence of mustard gas.
JULY 20, 2008
COMMUNISTS BLAMED FOR BLOEMFONTIEN TERROR ATTACKS!
PRETORIA, TRANSVAAL - Interior Minister Gert Boersma has confirmed that the charred remains of two known communists were located in the debris of the factory explosion in Bloemfontien.
"They were identified by their dental work" explained Boersma. "That was pretty much all that was left of them. Our investigation has not yet been completed, but we are starting to think that these terrorists were killed accidently by their own crude bomb detonating prematurely. We believe they were trying to take out our V-2 missile production facilities but the bomb went off early during transport and somehow triggered one of our chemical storage facilities to ignite. While they may not have reached their intended target, the effects of the explosion resulted in much more damage as it released toxic chemicals into the air."
The whereabouts of remaining three members of the Communist Party of Transvaal-South Africa are currently unknown, but it is believed that their leader Peter Morcambe is hiding somewhere overseas. The Ministries of Foreign Affairs and Interior have issued arrest warrants for Morcambe through Transvaal's embassies.
"We wish to speak with this Peter Morcambe to find out his invovlement in this act of mass murder" stated Interior Minister Boersma.
JULY 20, 2008
Transvaler communist chairman Peter Morcambe has surrendered himself peacefully to Kanteero Imperial Police.
Claiming communist involvement in the Bloemfontien disaster as "completely baseless", Morcambe has decided that by surrendering to Kanteero authorities - who are almost assuredly expected to extradite him back to Transvaal - he can expose the true nature of the terrorist attack on the joint missile/chemical factory.
"My conscious is absolutely clear on this matter, and the Federal authorities in Pretoria have no evidence to lay blame on communists. Let them make me a rallying point, I will welcome it."
RESPONSE FROM TAHOE: Tahoe's famed hunter-killer units have been activated across the world, to try and find the remaining Transvaal communists. Any information we get will immediately be transfered to Transvaal's government.
JULY 21, 2008
Transvaal's Minister of Interior Gert Boersma is flying to Kanteero to formally arrest and transport Peter Morcambe back to Pretoria for trial.
RESPONSE FROM TAHOE: A Tahoe Intelligence special agent had Morcambe in the sights of his high powered sniper rifle soon after he was arrested in Kanteero. He was waiting for confirmation of a kill order Tahoe's government had in place for all communist leaders worldwide.
JULY 23, 2008
The Federal Government of Transvaal announced this morning that since the Bloemfontien disaster, an additional 605 citizens have died as a result of their injuries caused by the chemical explosion six days ago.
RESPONSE FROM KANTEERO: Morcambe has been moved to the Police Office in Zagreb awaiting the Transvaal officials. As soon as they arrive at the police office the prisoner will be escorted to the airport to be sure he doesn't escape.
Interior Minister Gert Boersma will be arriving in Zagreb in around three hours to take custody of the prisoner. Our government appreciates your co-operation in the arrest.
JULY 23, 2008
ASSASSINATION IN KANTEERO! Transvaler communist leader gunned down
Peter Morcambe, the leader of the Communist Party of Transvaal-South Africa, has been assassinated. His death occurred an hour ago while being handed over for extradition to Transvaal's Minister of Interior Gert Boersma at the Zagreb Airport in Kanteero.
The assassin, or assassins, escaped from the scene and the precision of the shots exhibits evidence of a professional hit squad. Interior Minister Gert Boersma suffered light injuries in the attack as one of the three shots deflected and then grazed his shoulder.
With the death of three of its five known members during the past week, it is believed the nascent communist movement in Transvaal has been now rendered stillborn.
RESPONSE FROM KANTEERO: Kanteerian authorities have commenced an investigation and the Interior Minister of Transvaal has been borught to the nearest hospital. For his safety when he returns to Transvaal a marine eEscort will accompany him to protect him.
RESPONSE FROM TAHOE: Tahoe's Embassy in Kanteero submitted the flight plan of a small charter plane to Kanteeran aviation authorities. The plane, owned by a German corporation departed Zagreb International Airport and landed in Berlin, Deutschland. The passengers on the plane are unknown, and the purpose for its flight has gotten a surprising amount of media attention in Kanteero.
In addition, a package was sent to the Transvaal embassy, rumored to contain a videotape of the footage of the assassination of communist leader Peter Morcambe.
A crowd has also been seen gathering outside Tahoe's embassy in Kanteero bearning signs with slogans like "Tahoe imperialists out of Kanteero", "Murder is not a political tool", "All People have rights", and "No more violating Kanteero's sovereignty".
JULY 24, 2008
RESPONSE FROM TAHOE: In response to the demonstrations: "Tahoe has never done anything to us the passengers have not been revealed as they are a matter of National Security. There is no evidence linking Tahoe to the assasination". If demonstrations don't stop quickly police will respond.
MEANWHILE IN PRETORIA: In response to the assasination of Peter Morcambe, a cheque for R$1,000,000 rand has been deposited by the white supremacist Verwoerd Front Party in a trust account make out in the Government of Tahoe's name.
"We applaude the death of this marxist scoundrel and traitor, and we have inside information that the assassins are of Tahoe nationality. Therefore in response to our earlier announcement to offer a one-million rand reward for the assassination of Peter Morcambe, I have personally made out a cheque in the hopes that it is ultimately forwarded on to the unidentifed Tahoemans in our joyful and heartfelt gratitude" said a beaming Uys Royyan de Ruijters, the Verwoerd Front leader.
JULY 28, 2008
Reverend Erasmus Du Toit has been named the new Partysleier (party leader) of the white supremacist party Verwoerd Front in place of Uys Rooyan de Ruijters, who has fled the country after being implicated by the government in the wake of the Bloemfontien chemical explosion disaster.
A longtime advocate for the re-introduction of racial segegration in Transvaal, Reverend Du Toit was elected unanimously by the party membership.
In response to De Ruijters' criminal activities, Du Toit commented that "The unfortunate events in Bloemfontien were the direct result of unbashed godlessness. The victims were selected by God to suffer for their sins while De Ruijters' atheism answered the call of Satan."
Du Toit stated that if elected in the next federal election (to be held in November), a VF government would change the national motto to "God met Ons" (God with Us), re-introduce racial segregation, race laws, and capital punishment on a widely-applied basis and purge the military of its "liberal elements" - a veiled reference to Field Marshal Paul Cruywagen.
In response, Marshal Cruywagen publicly stated that the military would never tolerate a Verwoerd Front government and would take due action should Du Toit ever be elected to power.
The Verwoerd Front is named after Dr. H.F. Verwoerd, the architect of apartheid in Transvaal during the 1950s and 1960s.
The African Gulag
Edit
JUNE 11, 2008
The Federal Government of Transvaal today publicly revealed the existence of its new forced labour camp system located in Mozambique
Also coinciding with the revelation was the announcement from the prime minister's office that Willem Coetzee and Annetjie van Matteus have been re-assigned to each other's government posting.
Willem Coetzee was appointed Deputy Prime Minister, a post he previously held from mid-November 2007 until the national elections of May 1, while Annetjie van Matteus has been named Minister of Interior - which amongst other duties manages Transvaal's prison system.
Construction on the labour camps in Mozambique, dubbed the African Gulag by its detractors, quietly commenced in late April and was completed around a week ago. The camp locations are believed to be located in the vicinities of Maputo, Inhambane, Beira, Quelimane, and Nacala.
Minister of Interior Ms. van Matteus explained to the attenative press that the five camps would be used to house "all the undesirable social and criminal elements within the country - murderers, terrorists, communists, religious and anti-government dissenters, prisoners-of-war, and such ilk... people who one way or another will still be made to contribute to the continued welfare and prosperity of this nation. One camp will house communists, another prisoners-of-war, and so on."
SLAVORUSSIAN GOVERNMENT RESPONSE: Slavorussia feels this is another step backward for Transvaal. Murderers and terrorists are should be imprisoned, but communists as well? We also dislike seeing Annetjie van Matteus in office again. Seeing as Transvaal has withdrawn it's representative in Moscow over the Sahrani incident we see no reason to pursue any further diplomatic relations with Transvaal for the time being. Our ambassador will depart later today.
THE UNITED NATION GOVERNMENT RESPONSE: The United Nation supports Transvaal in this move. Communist, terrorist, murders ect. diserve to be in labor camps serving their country.
GHOST IN A SHELL GOVERNMENT RESPONSE: Ghost In A Shell doesnt fully agree with labour camps and instead either puts criminals away fo a length of time or executes them for their crimes however, we do not judge others. It is your country to run government of Transvaal and as such we hope for the best of luck with it.
TRANSVAAL GOVERNMENT RESPONSE TO SLAVORUSSIA: It is more of a demotion as van Matteus was Deputy Prime Minister until today. However she has always had her sights on the Interior Ministry. Prime Minister Hertzog is unsure if he will run for a third term in office next November so he is probably grooming Willem Coetzee to be his replacement instead of Van Matteus.
Granted Transvaal downgraded its representation in Moscow over the Sahranian question, however since that dipsute has been resolved our Foreign Office has no qualms about reinstation of ambassadors. Slavorussia is free to withdraw their representation from Pretoria as they so choose however until actually ordered out of the country we shall maintain our embassy in Moscow.
JOYSEY GOVERNMENT RESPONSE: Joysey strongly condemns Transvaal for taking political prisoners, and using them for forced labor. This violates the basic human rights which all people should be granted.
TAHOE GOVERNMENT RESPONSE: Tahoe has had labor camps for some time now, many located in the Great Salt Lake valley. We have found it serves as a much more positive environment for prisoners than a simple jail, as this way they are outside and being productive. Camps exist for both undesirables (murderers, terrorists, rapists, communists, ect.) and for lesser criminals. Obviously the lesser criminal camps are much nicer and are more agriculture or industry oreinted than mindless hard labor.
ISHIOPIA GOVERNMENT RESPONSE: Ishiopia condemns the oppression of all but the most radical and destabilizing leftists, and express's its displeasure that political prisoners are being sent to such camps. However, as we are in no position to make Transvaal change, we merely request that human rights groups be allowed to station monitors at the camps and to ensure that punishments are severe, but not violations of basic inalienable rights and dignities. We also request that the Red Cross and other such organizations be allowed in, both as a cost saving measure (lower fees for medical stuff, plus more labor can be extracted from prisoners this way) and so that the prisoners can have some small measure of comfort.
TRANSVAAL GOVERNMENT RESPONSE TO ISHIOPIA: Request denied for the time being although at a later date we might permit some foreign observors originating from friendly nations to visit the camps; Request denied - Transvaal's own healthcare system and infrastructure will suffice. [signed] Colonel A. van Matteus, Minister of Interior.
ISHIOPIA GOVERNMENT RESPONSE: Does Transvaal not have its own human rights organizations? Or does it consider those to be dangerous to the well being of the State?
JOYSEY GOVERNMENT RESPONSE: In response to Transvaal's reluctance to permit international observers into the political prison system, the Joysey Assembly has passed a bill barring all trade between Joysey and its corporations with Transvaal and its corporations. Speaker of the Assembly John Love called the emergency assembly to vote on the bill in order to "demonstrate Joysey's outrage with Transvaal's flaunting of basic human rights. I call on all nations with a sense of dignity to join us in showing there still is a sense of moral outrage for gulags and political oppression." The bill passed 41-12, with 27 abstaining. It must still pass the Senate, the upper level of the Legislature, and be signed by the governor before becoming binding.
TRANSVAAL GOVERNMENT RESPONSE TO JOYSEY: "Unless Joysey imports from Transvaal a lot of biltong (beef jerky), boerewors (farmers sausage), rugby balls, Afrikaans phrase books, or rooibos tea, these sanctions probably won't harm us too much." Marthinus Hofmeyr - Minister of Finance, Trade & Education.
TAHOE GOVERNMENT RESPONSE TO JOYSEY: In response to these sanctions against our ally, Transvaal, all trade between Tahoe and Joysey has been stopped. Futhermore, Tahoe offers to inspect Transvaal's labor camps.
ISHIOPIA GOVERNMENT RESPONSE TO TAHOE: Ishiopia applauds Tahoe for agreeing to ensure the human rights and dignities of the prisoners. We do however suggest that the observers be as independent as possible. While we understand you would not like to have a condemnation of your ally, we do request that the reports from the observers be released to other international human rights NGOs as soon as possible. This way we can ensure that the reports are as accurate as possible. While we do not want to make it seem as if the honourable government of Tahoe is dishonest and certainly would not like to believe that Tahoe would do such a thing, we do want to make sure that the reports are not falsified by sympathetic factions (symapthetic to Transvaal or the prisoners, so that reports are fair and unbiased) within the Tahoe government.
GHOST IN A SHELL GOVERNMENT RESPONSE: We would just like to inform you that the government of Ghost In A Shell is willing to increase trade with the government of Transvaal if they find any decrease due to any country placing sactions on them. We find that it is wrong for other countries to criticise any other country than their own. It is their country so they can run it as they want even if you don't agree with it. - Empress Kusangi
PDSAR GOVERNMENT RESPONSE: Officially, the PDSAR maintains no gulags, and official reports indicate recent PoWs taken up by the PDSAR Armed Forces have been treated well. So, in the light of those human rights record, we are not able to support labour camps in Transvaal. However, it is their country, not ours.
DUN CARRIG GOVERNMENT RESPONSE: We are disappointed that Transvaal would used forced labour camps for political prisoners. All in all we find forced labour camps a good idea though.
RESPONSE FROM PROMISED LAND: We pretty much echo the sentiment expressed by the nation of Dun Carrig. While we ourselves often use criminals for forced labor, we do NOT take people prisoner simply for having their political beliefs, believing it a violation of basic human rights. Any nation with free speech should undertand this. We condemn the act of taking political prisoners no matter where we find it - especially since we have honerable allies of many different goveernment types. However, this does not mean we will tolerate it if such people attempt to persuade others through violence, or if they promote the overthrow of the government.
RESPONSE FROM KAISER MARTENS OF DEUTSCHLAND: I find it rather irritating and nosy how random improvised nations would appear to raise out of nowhere to criticize the acts of another, sovereign nation's inner policies. The criticizm is an attempt to undermine Transvaal as a whole, which will fail. As for the labor facilities, I respect this nation too much to give an opinion for or against. It's noone's place to judge these people.
ANNETJIE VAN MATTEUS' RESPONSE TO ISHIOPIA: Human rights as perceived by the nation's Christian-Nationalist ideology and as guaranteed under Transvaler law are monitored and managed by the state. At some point convenient to both governments, we shall permit inspection of our camps by our trusted ally Tahoe - a nation whose word is golden and means no ill-will to our people.
ANNETJIE VAN MATTEUS' RESPONSE TO GHOST IN A SHELL: The Federal Government of Transvaal applaudes this show of support from the nation of Ghost In A Shell.
ANNETJIE VAN MATTEUS' RESPONSE TO DUN CARRIG: Your statement here is contradictory. You are both disappointed yet think this is a good idea? Transvaal has no political prisoners and contrary to imagined rumours started by others, our government does not go out looking to fill our camps. In fact our labour camps are not expected to be at capacity levels. They are there to maintain law and order and reinforce a state of social unity.
ANNETJIE VAN MATTEUS' RESPONSE TO KAISER MARTENS: The Kaiser's words ring true. It brings tears to my eyes to hear these kind, supportive words spoken by a man still revered by some sectors of Transvaler society old enough to recall his paternalistic interest in our nation during our turbulent birth and battle to secure our independence.
JUNE 12, 2008
In reaction to international concerns, Foreign Minister Peter Stellenbosch issued the following blanket statement this morning from Transvaal's embassies:
The Federal Government of Transvaal wishes to clarify the nature of our new prison system. Contrary to foreign propaganda, our government has no plans to actively suppress our population through forced labour.
Acknowledged that our breadth of human rights may not be as liberal or expansive as found in other nations, but only those persons who vocally and actively participate in activities which deviate from the accepted social norms of our nation would be liable to imprisonment.
Where said persons do participate in proscribed social activities - such as the public and active support in a communist party or banned religion, for example - only those individuals who intentionally provoke and make a social disturbance would be considered for such imprisonment. Those individuals who publicly conform to the social norms and keep their personal deviant business to themselves will generally be left alone unless reasons deem otherwise.
I wish to point out that our government has never prohibited those residents who socially oppose our nation and its state ideology to emmigrate from our borders. Therefore were are only targeting those intentional troublemakers who choose to remain within the Federal Republic.
As for prisoners-of-war, Transvaal has never signed and shall not sign any agreements dealing with the protection of prisoners-of-war as they are regarded as being part of the spoils of war. - [signed] Peter Stellenbosch, Foreign Minister of Transvaal
RESPONSE FROM JOYSEY: From the Joysey Journal: John Love spent the day circulating amongst the senate members to gather support for his bill to sanction Transvaal that the Assembly passed in an emergency meeting. The bill is currently under consideration in the Senate Foreign Affairs and International Trade committee, which consists of five members: Peter Rastalfsky, Melissa Myander, John McFadden, Steven Elfonzo and is chaired by Angelica Love (no relation to John Love). The bill requires a majority of support in the committee to be moved to the floor for a full vote. Meanwhile, Love issued a statement "In response to criticism that nations should mind their own business, we ask said nations to mind their own business."
TRANSVAAL RESPONSE TO JOYSEY: In response to Joysey protests and interference in domestic affairs, Marthinus Hofmeyr, Transvaal's Minister of Finance, Trade & Education, announced this afternoon that Transvaal will counter sanctions with sanctions and use its considerable diplomatic support and leverage towards the enforcement and implimentation of sanctions against Joysey.
"By their actions they've proven themselves to be in league with the communists" stated Hofmeyr. "We will therefore unite the whole block of anti-communist nations behind us and harm Joysey in their pocketbook much worse than they can do to us. We have close allies in the New World which Joysey probably trades with - negating that trade will hurt them a lot more than anything Joysey can do to us."
Trade between the two nations is non-existant so independent observers in Pretoria view the exchange of words between the two governments to be little more than empty posturing.
RESPONSE FROM ARCTICA: Arctica has no official comment at this time but wishes for Transvaal to describe its laws regarding public assemblies and protests against the government and its policies, and precisely when a protest is legally considered to be a riot.
RESPOSNE FROM TAHOE: An inspection team will be assembled and made availible at Transvaal's convenience. Furthermore, we remind the world that sanctions have already been emplaced by Tahoe's government against the hostile nation of Joysey, and urge all peace loving nations to do the same.
RESPONSE FROM ARCTICA: Arctica doesn't trade with Joysey in the first place, but we question Tahoe's choice of words as we fail to see how "peace-loving" is directly related to "anti-Joysey." The only hostile thing Joysey has done so far is enact foolishly impractical economic sanctions against a much larger country half the world away. Even if they were openly and militarily hostile to anyone, we fail to see how their technology level would allow them to undermine world peace; their air force consists of propeller planes.
RESPONSE FROM TAHOE: Causing international showdowns is not the action of a peaceful government. Can they militarily cause problems? Not likely, but the diplomatic problems they are causing are sufficient enough to be condemned.
TRANSVAAL RESPONSE TO ARCTICA: A protest is generally regarded to be a riot by our police forces when the protest is detrimined to be distinctly anti-government in nature and context and in turn refuses to disperse when ordered or warned by police. Protests are generally ignored and left alone by police if they have a valid permit (issued by the local police station) to publically assemble.
It pleases our Government that Arctica one of our closest neighbours has made positive signals of support. If escapes become a problem, then we may wish to sign an extradiction treaty with Arctica in case escapees make for Madagascar across the Mozambique Channel in rafts or stolen boats. All our labour camps are located on or near the coast and it is possible some foolhardy souls may see Arctica as a viable escape location.
RESPONSE FROM PROMISED LAND: So you don't allow your citizens free speech when it comes to the government? No offense meant, but that's not very smart. The more you suppress your people, the worse the baclash is when it comes. We have learned this the hard way. Besides, if you don't actually forbid a political (or religious, for that matter) organization, it is easier to keep tabs on the ones who subsrribe to it. And for the record, we will not support sanctions against either party in this matter.
RESPONSE FROM NOVUS NICIAE: I agree that Transvaal has the right to enact whatever laws they see fit to ensure peace and stability in their sovereign nation. And the nation of Joysey has the right to express whatever opinion they choose about this as another sovereign nation. So Novus Niciae is not imposing sanctions on anyone.
RESPONSE FROM ARCTICA: Arctica accepts immigrants and refugees from most countries as long as they follow our laws and the immigration process. This includes citizens of Transvaal that may be dissatisfied with the current administration. Convicted criminals are unwelcome and will be dealt with. If Transvaal has a prison breakout or otherwise loses prisoners that you believe are likely to make a run for Madagascar, and if Transvaal's own security forces are unable to handle the problem, we've given you the appropriate contact information. Just send to the contact the name and latest photograph of the offender, as well as their psychological profile and any relevant data. We'll try to have them returned to you, but due to the violent nature of some of their crimes, we can't guarantee their safety. If the individual violently resists arrest, government employees are authorized to use lethal force which may or may not leave the body intact for return to Transvaal.
RESPONSE FROM JOYSEY: Governor Kornaki released a statement today: "A lot of nations seem not to realize that Joysey has not yet barred any trade between Joysey and Transvaal yet, and the bill has only passed the Assembly and is now stuck in a committee in the Senate. Transvaal seems not to care for the distinction, and, as we have come to expect from them, has lashed out to pre-emptively strike at anyone not supporting them. While we understand other nations may not wish to bar trading with Transvaal themselves, sanctioning Joysey in response to this bill is nothing short of a vote for tyranny and oppression."
RESPONSE FROM ISHIOPIA: Ishiopia has little trade with Transvaal; their anti-communist laws and the general socialistic qualities of our society make that difficult if not possible to do. We do believe that forming a sanctions bloc on a nation for something they have not even done yet is, foolish. What happens if the sanctions do not pass the Senate? You will end up looking foolish. I say, rather than forming anti-communist blocs against non-communist governments (believe us, we've tried to set up a proxy party there once, no one was interested in the slightest), you make some other, less drastic measures until such a time as the sanctions bill either passes or fails. Our public opinion of almost all nations involved in this anti-Joysey block has dropped several points (4-8%, 9% for Transvaal, but that's just because the Communist Party got its activists riled up), as the national opinion on this matter has been determined to be best described by an exasperated, somewhat disgusted, shaking of the head. We will not sanction either country, as this affair is purely between the two, (the national opinion on the escalation of the dispute is a pointed rather stern stare at both nations) and we shake our fists like angry squirrels at the nations who have sided before the actual enactment of sanctions
TRANSVAAL RESPONSE TO PROMISED LAND: Who said that we needed to suppress our citizens? We are not talking a huge amount of dissenters here.
The fact of the matter is the vast majority (estimated at around 80%) of White Transvalers active and eagerly support our government - while Black African support is no surprise much lower, our Government is also much more leniant towards Black Africans and their political opposition (when it does occur, which is a rare occurance).
The majority of Africans residing in the Federal Republic are neutral towards the government because while it promotes an Afrikaner-first mentality (we are an Afrikaner homeland, after all), its has also countered that menatlity by constantly striving to provide one of the highest standard of living and income for Africans on the continent as well as maintaining African autonomy within the Republic and integrating them into all sectors of our economy.
There is very little actual active or open opposition in the Federal Republic. Our course of action is why expose one's citizens harmful beliefs in the first place if you don't have to?
RESPONSE FROM BARON UBERSTEIN: "Hmm, while I disagree about political prisoners, I just love the idea of labor camps. Put those prisoners to good use."
RESPONSE FROM EMPIRE OF ARIZONA: Official Statement: The Empire of Arizona will support the Government of Transvaal under the condition that the people in question are treated equally and humanly, and prosecuted in a fair trial and found guilty under a court of law. We find it unusual however that civilian criminals would be mixed with prisoners of war. And the term religious being undefined. (are we talking religious extremists or just simple god believing people.)
JUNE 13, 2008
TRANSVAAL RESPONSE TO EMPIRE OF ARIZONA: Actually it refers to those who actively resist identification and affiliation with the state-sanctioned churches - which are specifically Dutch Reformed, Anglican, or Roman Catholic.
Jewish people are exempted (officially) due to their Abrahamic biblical ties to Christianity (as well as for unofficial political/historical reasons) - but as Transvaal is a Christian-Nationalist nation, all white citizens are by law expected to attend at least one church service per year and each house must contain a minimum of one bible. Africans have the option of conforming to Christianity or their own local tribal beliefs.
That all said... but, these laws are not generally enforced out of indifference and more so laziness on the part of local authorities - and if they are, it's generally Afrikaners who are specifically targeted. The Government is mainly concerned with those who activity proselytise for "alien, cultist, satanic, and non-Afrikaner religions" whose practise is prohibited within the Federal Republic. - as conveyed by an anonymous government official in the Ministry of Religious Affairs
EMPIRE OF ARIZONA RESPONSE: Enlightened by this new information the RPA would like to retract its support and criticizes your policy regarding the religious code. Since a lack of enforcement is in place the RPA will not emplace sanctions. The Empire of Arizona does not endorse nor recognize any Theocracy which enforces its religion upon others. Actions speak louder then words, which means we will remain neutral.
TRANSVAAL RESPONSE TO EMPIRE OF ARIZONA: Anyone who has visited Transvaal would probably disagree that the nation is a "theocracy" regards whatever laws there may be on the books and the general popular desires of a staunchy social conservative people (at least the desires of the ruling class).
In related news, despite the opposition of his Interior Minister, Prime Minister Hertzog will permit representives from Tahoe and Arctica access to inspect the five labour camps this weekend.
Minister of Interior & State Security Colonel Annetjie van Matteus voiced her objections this morning during a government cabinet meeting for Transvaal "...caving in to the ungrounded hysterics and squawking of athiest hippies and international communism" - but she was ignored by the Prime Minister, who retorted that "...we really have nothing to hide in Mozambique, so we shall permit inspectors from two trusted and socially wholesome nations access to the new labour camps to see for themselves.
According to official government releases issued after today's cabinet meeting, Transvaal's prison population is estimated to number around 40 (0.5% of the population) with approximently half that number imprisoned for violent crimes.
RESPONSE FROM BARON UBERSTEIN: In Botha's defence, Uberstein, who has visited Transvaal, stated that, "It's not a Theocracy, the religious fools certainly arn't incharge. They simply have had much influence in the creation of the Transvaal state. It's an interesting culture for sure, not one I agree with 100% of the time, but quite interesting."
RESPONSE FROM OKTAVIA: Oktav Samaf, chairperson of the Socialist Unity Party of Oktavia, publicly criticized Transvaal for their imprisonment of communist revolutionaries, whom he referred to as "comrades", for simply expressing their political beliefs.
"Oktavia demands the release of any political prisoners held in Transvaal atrocious labor camps with standards below that of international law. The citizens of Transvaal should rise up and rally against this oppressive regime," Oktav commented.
RESPONSE FROM TAHOE: A Tahoe government aircraft departed from Aerfort na Cruachan (Cruachan International Airport) early today, bound for Transvaal with a joint team to inspect the controversial Transvaal labor camps. The team of 6 includes members of Tahoe's Ministry of Foreign Affairs, Ministry of State (internal affairs), and the Tahoe Military.
TAHOE DELEGATION'S INTINERY FROM TRANSVAAL GOVERNMENT: The Tahoe delegation has been instructed to fly into our international airport located in Johannesburg from whence they will be taken to our capital Pretoria to meet up with the Minister of Interior & State Security. The delegation will have the opportunity to question the Minister before they shall proceed by automobile to Maputo in Mozambique Protectorate to examine the first camp. The delegation with then proceed up the Mozambican coast by boat stopping in at the four other camps along the way. If Arctica wishes to send a delegation, then we suggest they just take a ship from Madagascar directly to Maputo.
RESPONSE FROM KANTEERO: The Kanteerian Government applauds this decision of Transvaal to allow foreign council to us that is enough prove to show Transvaal isn't breaking any rights.
RESPONSE FROM ARCTICA: While Arctica didn't specifically request for permission to inspect the labor camps, we thank Transvaal for their offer. A group of seven observers will be sent by plane soon. They've been instructed not to interfere in the running of the camps during their short stay.
RESPONSE FROM PROMISED LAND: So, you don't trust your own citizens' intelligence enough to let them make their own decisions? If they're intelligent, they won't want to overtrhrow you anyway.
TRANSVAAL GOVERNMENT REPLY TO ARCTICA: Arctica is our most active neighbouring African nation on the forums, plus we anticipate many escapees would try to make their way across the Mozambique Channel to your nation. Therefore because our labour camps may indirectly affect you from time to time, our Government feels that it just makes sense to permit Arctica to inspect the camps as well.
Since your delegates have chosen to fly to Transvaal, the Tahoe delegate will wait for the Arctican delegates in Pretoria and then both groups may proceed to Maputo together as one group.
In other news, Finance Minister Marthinus Hofmeyr has decided to put on hold any counter-sanctions against Joysey until that nation's own actions have been decided. While trade between our nations is almost nil, the Transvaal Government has decided that there is no need to instigate needless hostilities towards Joysey until there is ample reason to do so
TRANSVAAL GOVERNMENT REPLY TO PROMISED LAND: It is not so much as distrust rather than the vast majority of Afrikaner citizens in our nation willing subscribe to the accepted national social norms, therefore the Government has shaped its laws to reflect that. While the Government may indeed wish to insulate our people from harmful or detrimental alien beliefs, keep in mind our people (at least the Afrikaners) are a rather insular race of people - even within Transvaal social life. Many want public reinforcement of the general, accepted social norms.
JUNE 14, 2008
Hours before the Senate Foreign Affairs and International Trade Committee was to meet to vote on the Assembly bill to ban trade with Transvaal, Steven Elfonzo was murdered in his house. It is unknown if the killing was related to the vote, but the Committee ended up with an unprecedented 2-2 split. The current Senate regulations require a strict majority to either send a bill back to the Assembly or to move it to the full Senate, so it has been tabled until a fifth member is appointed to the committee by the President of the Senate, Richard Mendelin. Most political experts expect the bill to remain tabled until the end of session for the Senate.
Meanwhile, the Communist Party staged a protest in Trenton claiming Transvaal was enacting its communist genocide inside Joysey's borders, and full military action should be taken against Transvaal. Governor Kornaki dismissed the claims as "ludicrous" but promised a full investigation into the incident.
TAHOE DELEGATION ARRIVAL IN PRETORIA
The plane carrying the delegation from the Tahoe Republic landed at Johannesburg International Airport. The door opened and six men quickly walked down the steps towards the waiting Transvalers and a car from the Tahoe Embassy. All were easily over six feet, four inches tall and all but one had red or blond hair. They definately would stand out.
The leader, Daniel Conway, was a senior member of the Ministry of State Security. He stepped forward and introduced himself in Afrikaans and proceeded to introduce the rest of the delegation. Almost seven feet tall, he wore the black uniform of State Security.
"John MacAllister, with the Ministry of Foreign Affairs." An older man, clearly an administrator type stepped forward. He was one of the two Afrikaans speakers in the party.
"Captain Peter Skerrett, Tahoe Army"
"Thomas Kiely, Ministry of State. He is our labor camp specialist"
"Dara Collins, also with the Ministry of State."
"Lieutenant Gaul Ó Donnchú, Tahoe Military Intelligence" A truly massive man, well over seven feet tall with very broad shoulders and dirty blond hair, he towered over everybody present and made even his very tall fellow Tahoemen look short by comparison.
A man stepped out of the car from the Tahoe Embassy and walked over towards the Tahoe Delegation. He had been ordered by the Embassy to join the delegation. He was the leading expert on African languages, speaking numerous African languages and Afrikaans fluenty.
ARCTICAN DELEGATION ARRIVAL IN PRETORIA
Miroslav stepped off the plane and set foot on Transvaal soil. He looked around at the city for a moment; then, apparently satisfied, he waved his companions forward. Six others stepped off the plane. There was a middle-aged woman and five men of varying background. Most notable was a black man standing well over six feet. The man looked to be in his mid to late forties and wore the uniform of the Arctic Diplomatic Security Service. No one brought any weapons, but the guard definitely looked like he didn't need any to do his job. Many scars decorated his face, some marked with a bright-colored, but faded paint.
The head of the group straightened his jacket and went to meet with the Transvalers, his guard silent and vigilant. The other members of the group talked amongst themselves.
JUNE 15, 2008
An officer in the uniform of the Transvaal Krygsmagte stepped forward to introduce himself to Miroslav.
"Welcome to Transvaal, my name is Major Curren." After giving the Arctican a brisk salute, he then said "Please, if you will follow me into the terminal here, I'll take you to where the others are waiting."
Major Edwin Curren led the Arctican delegation down a set of stairs, into an elevator, and then through the labyrinth underground beneath the airport. At one point a tremendous roar followed by a load thud was heard, shaking the hallway. Major Curren motioned to the ceiling, and once the noise had subsided remarked "We're underneath the runway right now, but we haven't got much further to go."
After about five minutes, the hallway ended with a heavy door. Major Curren inserted a passcard into the keyswipe, and the door lurched open upwards. The major stepped through and led the Arcticans into a waiting lounge. In there was the delegation from Tahoe which had arrived earlier in the day and were having lunch and light drinks served by their hosts.
Once the Arcticans had sat down and introduced themselves to the Tahoe delegates, the foreigners began to talk amongst themselves and failed to notice the burly man in his late-fifties making his way into the room.
Major Curren coughed twice to gain the attention of the delegates, who all stopped to look up at him.
"Esteemed delegates from Arctica and Tahoe, I wish to present to you Mr. Willem Coetzee, Deputy Prime Minister of Transvaal".
Willem Coetzee stepped forwarded and looked around the room. His first impression was how monstrously tall these foreigners were and he made a note to himself to make sure that future transport for them would not be too crammed and uncomfortable. But for now, the government's Mercedes motorcade would have to do.
Coetzee walked to the centre of the room so he was in the middle of the group. "Ladies, gentlemans, on behalf of the Staatspresident, Prime Minister, and the government of Transvaal I bid you welcome to our nation. I apologise for the current nature of your accommodations but your visit here is classified top secret, therefore we could not have you arriving through the public sectors of the airport. This is one of the airport bunkers which are used by members of our government during wartime."
"Come, if you will follow me through this door" motioned Coetzee, "then we shall be on our way to Pretoria." The deputy prime minister led the two delegations into an underground parking lot where three black Mercedes limousines were waiting.
"The Tahoe delegation will take this one, the Arcticans this one, and myself and Major Curren will lead in this one here. All the automobiles are linked by closed-circuit intercoms, so if you wish to discuss anything between yourself as well as ask me any questions during our drive to Pretoria, then you are able to do so."
Once inside the limousines, Gaul Ó Donnchú noticed that the windows had been blacked out - not only from outside but from inside. Coetzee's voiced crackled over the intercom as the vehicles started moving. "In case you are wondering, the exact location of this installation is a national secret. That explains why you cannot look outside your automobiles right now. As soon as we are about five minutes away from the airport and outside, the shutters will be opened."
The automobiles drove in what felt like the endless pitch black night, occasionally making sharp but controlled tight turns and even at one time an upwards movement which felt like from an underground elevator. Then what seemed like half an hour or more, the brilliant bright sunshine of a balmy autumn day began to shine and illuminate the insides of automobiles as the black-smoked window shutters were raised.
Peering through the window, Gaul Ó Donnchú looked across the scrubland and scenery quickly passing by. There was very little traffic on the road this day. His eyes then narrowed and zoomed in on a road sign rapidly approaching: "Kaiser Martens Snelweg - Pretoria 55 km" John MacAllister noticed it too, and he said to the other Tahoeans, "This must be the Kaiser Martens Expressway, it's the main thoroughfare between Johannesburg and Pretoria."
Coetzee's voice was heard over the intercom: "We are taking you to your hotels in Pretoria. Once you have relaxed and refreshed yourselves a little, then a meeting with Interior Minister van Matteus will be arranged."
THE TAHOE DELEGATES
"Mr. Conway, I am Brendan Kenny, with the Embassy." a short (by Tahoe standards) dark haired man said leaning over the seat.
"Ah yes, you must be our African expert."
"You could say that, although I am much more a Transvaal expert than anything. Hell, I've been in this country so long I think in Afrikaans sometimes, and my youngest daughter doesn't remember Tahoe at all. My two older children go to a school in Pretoria. Last month one of them announced he wanted to join the Army when he grew up. We thought that was a splendid idea until he revealed the army he was talking about was the Transvaal Army."
That got a chorus of laughter from around car.
Daniel Conway turned around in his seat so he could see the rest of the Tahoe delegation. "As you heard, we are going to be meeting with van Matteus. She is the one who lead the Transvaal Overseas Corps in Tahoe during the Socialist Incident, and was awarded the Order of Cuchulainn by the Taoiseach himself. Show her all the respect you would give to An Taoiseach, or you may just find yourself left behind in one of the camps we're going to be visiting. No, in all seriousness though, act like you know you should."
Gaul snorted at that, "Sheesh Conway, what are we, children? Lecturing us on how to behave. Besides, why should we be respectful. Torturing foreign guests by cramming them into tiny cars isn't the nicest thing to do."
That brought another chorus of laughter.
THE ARCTICAN DELEGATES
The group from Arctica followed the Transvalers into the bunker. As they introduced themselves, one thing became evident. They weren't all from the government.
The head of the group, a smaller (5'7) man, Mr. Miroslav Stojanovic, was with the Foreign Affairs department.
His taller companion, the dark-skinned Kobina Jelani, was with the agency tasked with protecting people like Mr. Stojanovic. From the faint highlights of the scars it can be assumed that he's had some experience with the Arctic military; in addition to receiving medals, active-duty soldiers are regularly tattooed as they perform well in battle. Two of the other four men were representatives of the Coast Guard. Another was an official in Arctica's own penal system, there to take notes, and the last one was the assistant to the most notable member of the delegation, Ms. Arcelia Fisher.
She was a representative of one of Arctica's human rights groups. The middle-aged woman was the least friendly of the bunch and the entire time she whispered to her assistant. The poor guy had to listen to her make snide remarks about anything and everything, including the stature of the Tahoe delegation, the necessity for the airport bunkers, Mr. Coetzee's moustache... the last thing she got to was the need for secrecy in the trip before Miroslav told her to silence herself and behave; her incessant whispering (while he didn't exactly hear it, he could tell she wasn't discussing the weather) wasn't helping. While she was obviously displeased, Arcelia stopped. She turned to look out the window when she noticed there was nothing to see and sighed.
The rest of the delegation was more comfortable with the drive; they understood the need for security and were used to traveling like this. They talked casually amongst themselves, and everyone in the group seemed more relieved when the shutters opened, letting in the sunlight.
Arcelia stiffened visibly at the mention of van Matteus. She shot Miroslav a look that seemed to say am I going to have to talk to that !@#$%*? but she soon relaxed. She was out here doing her job. All she had to do was inspect the living conditions in the prison and report back home when it was over. No more, no less.
THE DELEGATES ARRIVE IN PRETORIA
The three black limousines wound their way through downtown Pretoria towards Government House. One thing the foreign delegations noticed as they progressed through the Transvaal capital was the distinct contrasts everywhere - European and African, white and black, old style architecture and new modernist, wealth and poverty. It seemed that everywhere an overlapping duality existed throughout the country - sometimes broken down racial lines but sometimes not. At the same time it felt like both a first-world and third-world country. And ever since entering the city there was a disturbing, foreboding sensation of underlying tension.
As the limousines pulled to a stop in front of Government House, Coetzee commented over the intercom "This is Government House, our parliament and governmental nerve centre of the Federal Republic. It represents and functions as our legislative, executive, and judicial departments of our state government."
"If you look over towards that window..." said Coetzee, as if he were pointing out although unseen from within his vehicle for the benefit of the visitors, "that is Staatspresident Botha's own working office. Over there is the headquarters for the Transvaal Krygsmagte, our armed forces, while across the street there is the Ministry of the Interior, where you will meet shortly with Colonel van Matteus."
JUNE 16, 2008
KING JOSEPH III OF SAHRANI - HIS SPEECH IN SUPPORT OF TRANSVAAL
I wish to refer to some issues and speak to the injustices against the Federal Republic of Transvaal.
Transvaal is a respected and honourable member of the international community. All their activities are transparent, peaceful and under the watchful eyes of their allies. Why then are there objections to the legally recognized leadership of the Government? Which governments object to these rights? Some governments have used the international community as a shield to crush growing and developing countries and abused the word "sanction" for non-peaceful purposes, and some even have a bleak record of using nuclear weapons and napalm bombs on civilians, or threatened to do so - but when the "great democratic and peaceful countries" were needed, the weak people were left behind in the face of their destiny.
Which organization or Council should address these injustices against Transvaal? Is the International Community in a position to address them? Can it stop violations of the inalienable rights of Transvaal? Can it prevent certain powers from impeding social and political progress of other countries? The abuse of the International Community and trade embargo, as an instrument of threat and coercion, is indeed a source of grave concern.
THE TAHOE DELEGATES
Tahoe's delegation was excitedly pointing things out to each other from the back of their limousine. Brendan Kenny supplemented Coetzee's commentary, acting as a sort of tour guide, as well as giving the people a first hand account of what he had experienced in Transvaal so far, and on Transvaal mannerisms and customs.
In the back, John MacAllister was rapidly talking in Irish on his cell phone, apparently with the Foreign Ministry back in Tahoe.
THE INTERVIEW WITH VAN MATTEUS
After the deputy prime minister had taken the Tahoeans and Arcticans on a walking tour of Government House, Willem Coetzee escorted them across the street to the Ministry of Interior & State Security.
Daniel Conway thought to himself how light the overall security was in the governmental district of the city. As they had walked across the street, Conway was amused how here was the third most powerful figure in Transvaal's government walking around in public unnoticed and unmolested by passers-by.
The delegates were led into the Interior Ministry, a rather drab stone and mortar building which might have been a bank in a previous life.
Major Curren from the airport was in the main lobby to greet them. Mr. Coetzee shook everyone's hands in departure before taking his leave out the front door.
"Colonel van Matteus will see you now!" said Curren as he ushered the visiting guests through an oaken door into a dusty office which felt more like a school professor's office than that of a government minister.
There were spartan yet sturdy seats placed in a semi-circle around van Matteus' desk. As they waited for Annetjie van Matteus to make her arrival, Daniel Conway noticed on the wall in front of them van Matteus' framed Order of Cuchulainn hung between portraits of Staatspresident Botha and - strangely enough, Kaiser Martens of all people. On the opposite wall, placed alone as if intentionally sending a sign of disrespect was a portrait of Jakob Hertzog, the prime minister of Transvaal.
Conway studied the photographs across from where he sat, the only sign of decoration in the otherwise sterile office, as the rest spoke amongst themselves in hushed tones. Suddenly the room went silent as a door off to the side could be heard opening. Conway glanced around just in time to see Colonel Annetjie van Matteus make her entrance and sit down at her desk. Some of the delegation, unsure of protocol, stood up out of respect but van Matteus seemed not to notice nor show concern for her visitors.
"My name is Annetjie van Matteus, Minister of Interior & State Security of the Federal Republic of Transvaal, Commander of the Transvaal Overseas Corps, and Governor of Northern Namibia" she stated decisively in her clear yet strangely accented English. Conway knew enough Afrikaans to recognize her accent as not totally being native to Transvaal, as if she spoke almost with a Scandinavian or German accent even though the Tahoe official knew from his earlier briefings that van Matteus was a native Afrikaner.
The colonel continued on in an almost condescending drone, "I understand that you have some questions which your governments wish to ask me regarding our penal labour camps and the policies surrounding them, ja?"
Conway was one of those who stood up, although he intended it as more a sign of respect to a fellow fascist than honoring the position van Matteus held. Besides, he knew from reading her profile that she was not one to care about such trivialities.
"Madame van Matteus, it is an honor to finally meet you. As you know, the international community has been in some uproar over your development of labor camps," he glanced at the Arctican delegates before continuing in a lower voice "and while my government may indeed support the construction of such camps and indeed not care at all if you are mistreating the prisoners, it isn't like they haven't earned it, this was a wonderful opportunity to share information on the issue as well as make both Tahoe and Transvaal look better."
He continued in an even lower voice, "We would like to share information with you, but would prefer not to discuss such things in the present company." Another glance at the Arctican delegates. "As for the rest, well, my people here will thoroughly inspect your camps and undoubtably issue a favorable report, as we are sure there is no need for the uproar in the first place." He grinned, and thoroughly hoped van Matteus had caught his meaning.
Colonel van Matteus leaned forward in her desk so she could discretely listen to the Tahoe representitive.
Nodding, she replied "Well of course, Meneer Conway there will be time enough for private, off the record discussion after we have boarded the train from Pretoria which will take us to Maputo - and failing that, on the steamer which will take our party up the Mozambican coast to the camps."
Glacing at the others, who were not paying attention to the brief dialogue at hand, she motioned for Conway to take his seat and said "Mind you between us I am not too worried about what will be found at the camps."
Van Matteus smiled approvingly, and then leaned back upright in her black leather chair so that she could better pay attention to what the other delegate were discussing amongst themselves.
JUNE 17, 2008
Tahoe's delegation finished their interview with van Matteus and waited patiently while the Arctican delegates spent some time speaking with the Minister.
Back in Tahoe, the Government of the Tahoe Republic issued a statement condemning the Communist Party of Transvaal, calling it a "threat to international peace, democracy and all mankind."
STATEMENT FROM ISHIOPIA: Ishiopia believes that while the banning of the Transvaal Communist Party is/was is an unjust action on Transvaal's part, it does not excuse violent struggle or terrorism. While we support the underground Party for the moment, should it be found to be responsible for violent or terroristic actions, we will be among the first to condemn it as a detrimental influence on leftism everywhere. We encourage our comrades in Transvaal to work peacefully for proletarian liberation, and to peacefully campaign for justice.
COMMUNIST PARTY OF TRANSVAAL-SOUTH AFRICA: Peter Morcambe met with Comrade Zvalter Gabriel this afternoon to discuss planning and a course of revolutionary action in Transvaal - explaining that the five CPTSA members were planning to return secretly to Transvaal in the next week or so and begin recruitment and agitation there.
"We need to gauge the level of popular proletarian support in the Federal Republic to ascertain our future as a party and liberation movement. We do not expect peace means will get far so at some point, an armed struggle must commence" explained General Secretary Morcambe.
Meanwhile in Transvaal, National Party activists and pro-government supporters were seen plastering anti-communist posters in Pretoria, Johannesburg, and Bloemfontien and denounced the "treasonous acts" of Peter Morcambe and his small band of supporters.
"While the threat of the communist red menace is very real, this Morcambe character sounds like he is just a troublemaker looking to brew up some attention. No one here will ever support him," commented a passerby interviewed on the street in Pretoria. "He is a joke."
VAN MATTEUS' LETTER TO JOYSEY GOVERNMENT:
Addressed to the Government of Joysey:
On behalf of the Federal Republic of Transvaal, I am writing to the Government of Joysey and its representitives to formally request the arrest and extradition of Peter Morcambe and his immediate return into Transvaler custody.
Peter Morcambe is a terrorist and criminal fugitive guilty of committing crimes and evading the laws passed by our elected government. In return for your co-operation, my government will pay your government the reward of R$1,000,000 rand.
[signed] Col. Annetjie van Matteus; Minister of Interior & State Security; Federal Republic of Transvaal
JOYSEY GOVERNMENT RESPONSE TO VAN MATTEUS: Col. Annetjie van Matteus,
I must apologize, but your request cannot be fulfilled at this time. Joysey has no extradition treaty with Transvaal, and hence it would be illegal to arrest him even, as he has committed no crime on Joysey soil, and he entered the country legally. I apologize for this, and understand your plight regarding the situation. Let me know if there's anything else I can do to help you.
Joysey Secretary of State, Nina Mitchell Wells
ZVALTER GABRIEL'S REPLY TO PETER MORCAMBE: "Perhaps it is better if you send more anonymous front-men first to get the grass roots campaign started, as otherwise the government will have the opportunity to cut your attempt off before it even starts." Gabriel replied
JUNE 18-22, 2008
THE MAPUTO EXPRESS
Finally losing her patience with the Arcticans ignoring her, Colonel van Matteus stood up and said "Come everyone, we are wasting time sitting here! Our train for Maputo departs shortly, so let's make haste for the Pretoria Central Station. If any of you need to discuss anything further with me, then it can be done during the leisure of our train trip."
Van Matteus stormed out of her office through the door she had entered from. Major Edwin Curren entered the office immediately after she had left, gave everyone in the room a sympathetic glance, before escorting the delegations back down to the waiting motorcade.
As the three black Mercedes sped through downtown Pretoria, Major Curren explained the upcoming itinery over the intercom linking the three government vehicles:
"We shall be boarding one of the Red Devil express trains here and make our way back to Johannesburg before changing lines for Maputo in Mozambique. After spending the night there, we shall board a coastal steamer which will take us up the coast to the labour facilities. Mozambique's road infrastructure is not very developed so the only way to the camps is by boat."
The group of visiting foreigners and their Transvaler escort arrived at Pretoria Central. As he climbed out of the automobile, Daniel Conway could hear the "whooo" whistling and the chugging of wheels from the engines in the trainyard.
Gaul Ó Donnchú could hear it too. "What on god's earth is that sound?" asked the Tahoe lieutenant.
"Hmm, that must be one of their trains we shall be taking" replied Conway. "Unlike much of the rest of the world, Transvaal still uses steam engines for its railroads."
As Colonel van Matteus re-appeared at the station's entrance and then led everyone through the terminal, Lieutenant Ó Donnchú suddenly laid eyes on their waiting red locomotive bedecked with the flags of Transvaal, Tahoe, and Arctica... he felt like he had stepped back in time by 60 years.
"Ah yes, I remember reading about that once. Some politician talking about how there was no need to upgrade our train system. One of his arguements was about how Transvaal still used steam locomotives and since they showed no interest or need to upgrade, we shouldn't either. Naturally he didn't mention that our trains were exploding and breaking down every three miles. Typical socialist." Ó Donnchú explained .
"I feel like I'm back home where I was raised. It feels like time stopped in the 1800's. I missed it once I went away to Cruachan and all its modern convenience."
Major Curren overheard the discussion and looked up from his magazine to interject into the conversation: "Steam may be old technology but our engines are all fairly new."
"The Red Devil locomotives were first built in the late 1970s and early 1980s and are actually more environmentally sound than many North American diesel electrics. And for Transvaal, with our supply of water and an abundance of cheap coal from Kadath, steam power is more economical for us than diesel engines."
Van Matteus then joined in. "Unlike many modern nations, we prefer the usage of simpler yet proven and solid technology. For example, our cruise missiles are dependable V2-designs we acquired from Deutschland. Despite their simplicity and perceived antiquity, they still do as much damage as most modern missile systems."
"Ah yes. We in Tahoe have an interesting balance between the old and new. Some industries are extremely high tech, while others are straight out of the 19th century, and often older. Most outsiders find it strange, but then again, most outsiders find almost all aspects of Tahoe society to be strange. A train may be steam powered, like what you have here, but have the most modern communication and control systems availible. People drive old cars, or even ride horses in the countryside, but come home to a house with digital communication, internet and self sufficient power, yet still do their cooking on a wood burning stove."
The train finally pulled into the station at Maputo, the Federal Republic's eastern port city located in the Mozambique Protectorate.
Disembarking the train, the Tahoe and Arctican delegates felt like they were in a different country from Transvaal. Instead of Afrikaans and English plastered up everywhere, Portuguese was seen and heard even though that language had no status within the Federal Republic.
Colonel van Matteus led the delegates into the waiting government vehicles, shiny black BMWs which stood out from the rest of the dilapidated automobiles which puttered along the narrow streets of the city.
Daniel Conway peered out the window and thought to himself 'huh, it really feels like we're in Brazil right now'. At traffic lights when the motorcade came to a stop, curious African children would come up to the vehicles and peer in for a look at the strange foreigners.
Finally they arrived at a secluded wharf off Delagoa Bay and pulled up infront of the SS Mpulungu Liemba, a rather well-used steamer which would take them up the coast.
JULY 1-3, 2008
After what seemed like a week or more, the SS Mpulungu Liemba finally made landfall at the town of Inhambane on the Mozambican coast. The rickety steamer docked and the visiting delegations were shown to some waiting jeeps. Colonel van Matteus took the lead jeep as the convoy of about a dozen vehicles waited no time to make their journey along a dusty dirt road cut through the thick jungle.
After around half-an-hour, they arrived in a clearing and the Inhambane Prison Camp could be seen.
The jeeps came to a stop and Van Matteus stood up in hers so the rest behind her could hear. "This is the Inhambane Corrective Labour Camp, where we house all those people who have been charged for practicing a banned or proscribed religion. Under armed guard, you will be free to examine the premises."
The jeep convoy continued down the hillside towards the front gate. Guard towers with armed soldiers were noticeable around the perimeter of the facility. The jeeps pulled up to the gate and Annetjie van Matteus got out to speak with the guards, who snapped to attention as soon as they saw the colonel. The gates swung open and van Matteus walked through, with the remainder of the jeeps following in behind her. The jeeps pulled to a stop in front of one of the barracks, where 4 prisoners had been lined up for inspection.
Van Matteus then looked towards the visiting Tahoe and Arcticans, nodding at them with an expression of 'so this is what you can here for, so now get on with it...'
The delegation from Arctica hopped out of their jeeps upon arrival and split up, each going off with their Transvaler escorts to a point of interest. The woman went to the group of prisoners on display, asking them whatever the guards would allow them to answer: their crimes, the living conditions here, their emotional and physical state, and such things, all the while paying attention to their eyes and body language to try to determine if they were under pressure to lie.
Her assistant headed off with a notepad into one of the barracks to examine the living conditions, and to ask the prisoners there similar questions. His superior suspected that whatever prisoners were on display were given incentives not to bad-mouth the camp. One of the coast guard representatives looked for the highest-ranking guard (not van Matteus) in the immediate area and struck up a conversation, discussing the security measures, possibility of escape, and resources which might be available to a prisoner should they escape; once finished, he would walk over to the prisoners on display and try to visually determine whether they were capable of escaping. The other went to inspect the layout of the camp.
The head of the delegation watched the woman's assistant go. He turned to his bodyguard, "Go in there, keep an eye on him." The black man nodded and off he went. Miroslav himself didn't do much except watch their progress. He made sure to keep close to the woman in case she decided to be a problem to the Transvalers.
Each of the four prisoners had serial numbers embossed on their matching pink prison jumpsuits. They were prohibited due to Interior Ministry regulations to give their names.
Prisoner #A001, a white male in his 30s: "I am an athiest and my crime is violating the manditory annual requirement to attend church."
Prisoner #A002, a black african man in his 40s: "My crime according to the state is practising a prohibited religion. I am not permitted to say which religion."
Prisoner #A003, a white female in her late 20s or early 30s: "I too have been charged for practising a prohibited religion. I am not permitted to say which religion but I am kept separated from the rest of the males in the camp for my own safety."
Prisoner #A004, a black make in his 50s: "I am here for trying to burn down a church, which is deemed an anti-religious and anti-state terrorist action. I could have been sent to a camp for violent offenders but due to the nature of my crime, I was given the option to be sent here instead. I chose to be a heretic than an arsonist" laughed #A004.
The barracks were pristine, brand new and spotless - albeit very spartan in furnishings... but there appeared to be no other prisoners whatsoever within the entire camp except the four souls lined up for inspection.
"We are fairly isolated here, any escaping prisoner would have to brave the wilds of the jungle before even reaching the coast" explained the captain of the guard, offering a cigarette to the Arctican. "It's quite reasonable if the predators and swarms of insects in the jungle didn't get them, then the local natives who've been paid to keep an eye on the area would find them. Failing that there is always the maleria and other unplesant diseases which could finish them off. Our guards and the neighbouring natives have the authority to shoot-to-kill if anyone escapes beyond the perimeter. In other words, what is out beyond there is a lot more deadly than what is found in here."
Tahoe's delegation, after inspecting the camps and meeting the prisoners, has given the first of the Transvaler labor camps full marks in all categories.
Daniel Conway had only one thing to say after meeting with the four prisoners. "Scum"
The Arctican woman made notes of their responses. "And the duration of your stay here? Both the sentence and time already served, please, if you're allowed to state it."
One of the coast guard representatives thanked the captain for his offer but declined the cigarette. He nodded, and as he finished recording his results, the other rep returned from his visual examination and the two compared notes. They were evidently not allowed to comment on anything but their designated area of inspection, and the one which conversed with the captain gave him a nod. The camp seemed quite secure to them. "Thank you for your cooperation." They returned to the head of the delegation to make their report.
The younger man from the human rights group, who had been inspecting the barracks, felt something wasn't right here. He asked one of the Transvalers escorting him, a bit uneasily, "Why are there no prisoners here aside from the ones on display?"
Van Matteus replied "Err, that is all the prisoners here at this particular camp, which is for religious offenders. We have a grand total of four prisoners charged under proscribed religion offenses, and even then our authorities are pretty lenient. These are people who specifically chose to resist the laws of the land, if they only just showed up in church once a year and and nodded along with the rest and went through the motions, we'd have left them alone. Their crimes of social resistance to conformity are tantamount to outright rebelllion."
The lone woman prisoner spoke up to answer the Arctican: "Our sentence is for one year after we agree to submit to the annual religious attendance requirement."
The captain of the guard then answered the question addressed to him, "Well, there are probably only 35 to 40 prisoners in the entire Federal Republic right now, our government is actually quite lenient against most religious offenders. To get into this particular camp takes some creativity or persistant opposition. When we go to the labour camp for communists and violent offenders, there should be more prisoners there I believe."
The young Arctican man blinks a few times. "Well, alright then." He notes this and walks back outside. A few minutes later the entire group is finished with their inspection and heads back to their jeeps. The head of the group informs van Matteus that they're done.
"You know..." lectured Colonel van Matteus to the visiting delegates, "I am simply amazed that there are some nations which get themselves all upset because of 35 to 40 prisoners in our nation. What did they expect - that there were countless hordes of people in our labour camps? Transvaal's entire prison count numbers one-tenth of 1% of our civilian population! They are being absurd!"
As she led the Tahoeman and Arctican delegates out of the camp and back to the waiting jeeps, Colonel van Matteus stopped in her tracks suddenly, turned around and confronted the delegates:
"Look here, as you can see we have nothing to hide in our labour camps. Here is a prisoner list of all those currently within our prison labour system:"
MINISTRY OF INTERIOR & STATE SECURITY - PRISONER ROLL
Maputo (Civil Crimes & Violent Offenders) - 20 prisoners
Inhambane (Religious Offenders) - 4 prisoners
Beira (Communist and Anti-Government Offenders) - 15 prisoners
Quelimane (Prisoners-of-War) - 0 prisoners
Nacala (Social Deviance Offenders) - 1 prisoner
"Why not we... uh, just call it straight here... and make our way back to Maputo?" said the Colonel as she deftly knodded towards two metal suitcases sitting in one of the jeeps, both clearly marked Nasionale Bank van Transvaal. "Surely you cannot be enjoying yoruselves in this forsaken place"
RESPONSE FROM THE TAHOE DELEGATION: "To be perfectly honest Madame Colonel, the only reason our government sent us here is so we could give a favorable report for you. We don't care if you torture, cook and eat the prisoners here, the world wanted to know what your labor camps were like, showing clear hostility to you, so we offered to help you out. Besides, with the recent tensions back home we are being recalled anyway. We are going to fill our camps after we're done with the communist scum. Farewell."
VAN MATTEUS' REPLY TO THE TAHOE DELEGATION: VAN MATTEUS: "As always, I personally appreciate your government's constant support. You may wish to check your bank account when you get home..."
JULY 5-12, 2008
VAN MATTEUS VS. THE ARCTICAN DELEGATION
The head of the delegation from Arctica glanced inside the jeeps. His bodyguard tensed a bit, looking around.
Miroslav smirked. He bowed to the Interior Minister. "You are a gracious host, Ms. van Matteus. Arctica thanks you for the gift. Now, how long should it take to travel to the next camp?" He did a very good job at keeping a straight face.
Looking preplexed, van Matteus said "Uh, well... I suppose we should now let's make our way back to the steamer. But we'll head all the way back to Maputo first to drop off the Tahomeans so that they can return home."
"That seems a bit unnecessary, Colonel. Surely some of us could continue in the jeeps while the steamer takes the Tahoemeans to Maputo. Another round trip would unnecessarily extend the duration of our visit here, whereas if the Arctican delegation continues along now, we'd have to spend a lot less time in this jungle. I agree with you; it's not too pleasant of a place."
He scanned her face for any subtle reactions. Her eagerness to convince the delegation to leave was notable, as was the assertiveness with which she performed it. Add that on top of the isolated nature of the place, suddenly he didn't feel entirely safe around van Matteus.
Annetjie van Matteus was now becoming quite perturbed. She could always do business with the Tahoemans, but these Arcticans were starting to prove rather meddlesome and annoying. Then an idea struck her:
"There are no roads connecting the camps, so the only means of transport is therefore steamer. So you have two choices: you can return to Maputo with the rest of us so we can drop off the Tahoemans, or you can stay here until we come back and pick you up on our return trip up the coast."
She then glanced around the camp and its immediate environs to accent the isolation of the complex.
She then ominously asked, in Afrikaans to highlight her obvious irritation: "So... wat sal dit met julle wees?" [So what will is be with you?]
Miroslav thought this over for a moment, then nodded. "Very well then, Colonel, I'll take your suggestion. We've completed our inspection of the Transvaal labor camp system."
"But-" began the woman from the human rights group before she was cut off abruply with a dirty look from Miroslav.
"Idemo," he said in Croatian, something to the effect of "we're going." She said nothing further and he turned back to van Matteus. The two men from the coast guard glanced at each other but said nothing. Nobody else reacted. The black man looked around, memorizing the faces and rank insignia of every Transvaler present.
The civilians had their eyes towards the ground while the military and diplomatic personnel appeared quite calm, as if nothing had just happened.
Miroslav Stojanovic and the rest of the Arcticans decided their best, safest option was to remain with the rest of the group and return to the waiting steamer. As the party is driving back to the wharf, Colonel Annetjie van Matteus' cellphone rung. Stojanovic happened to be accompanying in the same jeep as Van Matteus, sitting in the seat behind her after some confusion when the Transvalers tried to get everyone to quickly return to the jeeps. He tried his best to overhear the conversation without being noticed by Van Matteus or her driver.
- Van Matteus speaking
- What? Who is responsible? Who or what is this Merat?
- Communists? Ach!
- Contact the foreign office, tell them to inform these Merati terrorists that they have just condemned their comrades. Don't give any details.
- No, I'm not going to kill them - but they don't know that.
Van Matteus angrily hungs up and then dialed a number.
- Van Matteus here, ja I'm still at Inhambane but we are leaving and will return to Maputo shortly.
- No, no... the Tahoemans need to return home, so the visit has been suspended.
- The payments went through? Excellent, very good. Listen, contact Maputo installation and tell them to start beating the prisoners, the communist ones. I want it all on film.
- Of course I am serious, just do it! That's an order!
She snapped her phone shut. The jeep bumped along the dirt road, the driver - a Krygsmagte corporal - barrelling along the dust track at breakneck speed. Colonel van Matteus stared ahead into the dust for about a minute, before lifting her head suddenly, as if she just realized that she wasn't the only passenger in the jostling vehicle. The Colonel slowly turned her head to shoot a glance at Miroslav Stojanovic, her eyes narrowing in a sinister expression of 'don't mess with me' before she turned back around.
Miroslav wasn't even looking at her when she turned back. He was watching the trees fly by, which meant he didn't hear or he didn't care. To anyone with any intelligence, it meant he didn't think it needed to be addressed right now. The only thing that would have made him flinch is if he was looking at her when she turned back after ordering the prisoners to be crucified or burned alive.
No, this didn't complicate things. In fact, it made them a little better for his plan. He wasn't going to try to free the prisoners or anything crazy like that; no, if all went well, nobody would find out until it was too late. If they did, there were few things they could do. For now, he just wanted to get out of this country, and more specifically this jungle. I guess if he wanted to be really specific, he wanted to get away from this jeep with van Matteus in it. But his mind was wandering so he stopped thinking about it and started to tap his fingers on the suitcase.
As the convoy of jeeps pulled out of the maze of jungle vegetation and approached the wharf, two Lugmag helicopters appeared over the treetops and decended down in front of the dock - blocking access to the steamer.
Van Matteus's jeep screeched to a stop. The Colonel got out and marched over to the waiting soldiers who had deployed from the helicopters and lined up in two files.
"What is going on here?" she barked at the major in command. The officer stood motionless and ignored her.
"You are returning to Pretoria with me" said a grave, deep voice from the shadows inside the helicopter. Van Matteus froze on recognition of the voice.
Field Marshal Paul Cruywagen stepped out of the helicopter, looked around at the motley group of foreigners, and then said to Van Matteus. "Effective immediately, you have been relieved of your post as Minister of Interior. Prime Minister Hertzog has deemed you an embarressing liability to the Federal Government's image overseas. Your work here is finished!"
Van Matteus yelled back "How dare you! I will go straight to the Staatspresident himself and protest this!"
"Then you shall be wasting your time, as Staatspresident Botha signed off on the government request" answered Cruywagen, as the field marshal motioned towards the soldiers.
The squad of troops immediately surrounded the stunned colonel. They forcefully escorted her into one of the waiting helicopters, which fired up its engine and took off. Cruywagen watched the helicopter skim over the trees and out of sight before curtly nodding to the watching delegation of Tahoemans and Arcticans.
"Good day!" he saluted as he climbed back onboard his transport and the engines began their whine as the rotors started up.
After the marshal's own helicopter had left the scene, Major Curran looked around and said "Well, that was quite odd... I suppose we should get out of this horrible place and back on the boat to civilisation. I hope they have some beer on board, after all this I could use a drink!"
After the...interesting event, Miroslav and the others met near van Matteus' jeep and began to make their way towards the boat. The head of the delegation was carrying the clearly marked suitcase, and while he wasn't volunteering anything, he would explain himself if confronted about it. He just needed to get the money to a safe place first, and he wasn't going to trust anyone just yet, even if they did just drag away van Matteus.
"Hello, Major. May I ask what just happened?" he said in a slightly confused tone of voice. But he knew perfectly well what had just happened, and why.
"Officially or off the record?" replied Major Curran.
"Officially I don't know, but unofficially I'm guessing that the military's patience with Van Matteus wore thin.
"Marshal Cruywagen and Annetjie van Matteus don't like each other, while the Marshal is a staunch supporter of Prime Minister Hertzog. Van Matteus dislikes Hertzog, views him as a moronic country bumpkin, which is strange because Van Matteus herself is also a boer in the truest sense of the word. While Hertzog is ambivalent towards Van Matteus, and appreciates her usefulness, it appears that her usefulness has just ran out."
"Come, give me the honour of buying you a drink onboard" said the Major as he ushered the Arctican towards the gangplank.
"Of course, Major. I need to talk to you about something anyway." Miroslav gestured for the rest of the group to follow him. With a last look at the jungle, they boarded the steamer.
"Yes, Herr Miroslav... of course. What is it?" asked Major Curran.
"I'd like to talk to you about van Matteus. What are your thoughts on the recent events?"
Major Edwin Curran looked around the bar on the steamer, and seeing it too full and congested for comfort, nodded at Miroslav and then towards the door. Curran grabbed their drinks and the two men got up and walked outside on to the deck.
The Major walked up the railing of the antiquated ship, leaned on it and lit up a cigar. He sipped from his gin and tonic and then pulled a long drag off the corona he was smoking.
"Van Matteus? Well, I work... err, worked - I guess - for her at the Ministry of Interior. Mostly mid-level administration stuff and protocol. Nothing exciting or unusual. I'm not privy to any secrets or anything."
Miroslav was intrigued by the major. He was no Afrikaner, like many of the whites in the Transvaal government he had met. Curran was English and had a strange colonial personality about him.
"I met with her every day during the course of my tasks. She's a very ambitious and driven woman, although I'm not too sure what drives her. A real loner, no close friends or confidants that I am aware of. She has a daughter, about 5 or 6 years-old I think although it amazes me that she is a mother in the first place, it's impossible to think that woman can have any feelings for anyone. No idea who the father is - which is strange - really strange - in that almost all the government figures, include the Staatspresident himself have incredbly stable family lives although one never sees their spouces at official functions. A "normal" family life is almost expected from the high-ups in our governent. Van Matteus, as far as anyone inside the Ministry of Interior knows... and we keep tabs on everyone, including our own boss, has never been associated with anyone in their, err... private life."
"She is very intelligent, I'd say more intelligent than many in our government and an excellent administrator. Which is why she has so many enemies, beacuse she hold almost everyone in contempt as being an idiot."
"Yet..." Curran paused, finished up his gin and took another puff before continuing. "It's obvious that she seeks... craves power... but for all her intelligence, she, more than anyone else in this country who's had any government power, finds ways to shoot herself in her foot - so to speak - in her attempts to retain what she's got once she's worked herself into any sort of authority position."
Curran looked around but the deck was empty.
"This whole labour camp business, you know, I'll tell you, she stole that idea off the Verwoerd Front. If elected they wanted to built slave labour camps and import other nations' unwanted people. Can you believe that? Concentration camps for rent to the dictatorships of the world! It's absolutely absurd and no one in the international community would stand for such actions, yet she still tried to go ahead with it - and was able to keep Pretoria out of the loop to their true intentions... I guess until the military caught wind and figured it out.
Cruywagen, the marshal we saw at the dock, he's the one person in Transvaal who doesn't want to lead the country yet we've always had our best governments when his military juntas have been in power. He sees through Van Matteus' schemes everytime."
Major Curran looked at his empty glass, threw his smoldering cigar overboard and muttered to himself "Hmm, I just don't get her."
Miroslav listened quietly to what the major had to say. He was paying so much attention, in fact, that he barely even touched his own drink.
Major Curran's description of van Matteus mostly matched what little Miroslav knew about the woman. His opinion of her, as well as the opinions of most people who didn't work with her, he assumed, mostly revolved around last year's highly publicized event. Now he had a slightly deeper insight into her life, though that still didn't change his opinion. He was watching the landscape pass by slowly when his bodyguard emerged from the interior of the steamer, holding the suitcase which had been under close watch since their departure from the Inhambane camp.
Miroslav looked at Major Curran. "The woman doesn't seem to be a good thing for your government from what I've seen and heard. What would you say if I told you I could give you some information which might hurt her a bit?"
Major Curran did not look surprised at Miroslav's question - but thought for about a minute before responding:
"Any information given to me would be a dead-end, I don't have any influence even within my own department."
"Also, depending on what its nature is, there is no question if the government would act on it. She's done stuff which would have got her killed off in other nations, yet she somehow manages to return like the phoenix."
"Your best bet would be to arrange a meeting with Deputy Prime Minister Coetzee, you met him on your arrival here. He's a good man, and was also our Interior Minister before Van Matteus took over the position, so he'd know better than anyone, except perhaps Marshal Cruywagen, if your information was valid and useful."
Miroslav nodded. "Thank you, Major. When we get back to Maputo I'll need to arrange for safe transport back to Arctica. Even though van Matteus is no longer in her office, I get the feeling that might not be important to some."
He smiled, then turned back to go inside the steamer, handing his drink to his bodyguard, who hesitated but followed.
Invasion of Namibia & Comoros
Edit
JULY 23, 2008
With the border nation of Cherokee Namibia now in a state of inactivity for 20 days, the Government of Transvaal has drafted up plans for an invasion of that nation should deletion occur.
Foreign Minister Peter Stellenbosch issued a document through Transvaal's embassies this morning stating that Staatspresident Botha has authorised the annexation of Cherokee Namibian territory back into the Federal Republic should that nation lapse into a state of lawlessness (i.e. deletion)
Colonel Annetjie van Matteus, Governor of Northern Namibia Protectorate and comander of the Transvaal Overseas Corps has been placed in command of the invasion force, numbering 250 soldiers from the Overseas Corps.
The Federal Republic of Transvaal granted full independence to Cherokee Namibia on March 3.
JULY 24, 2008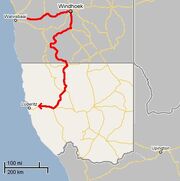 LIBERATION OF NAMIBIA: Cherokee Namibia ceases to exist
At eighteen minutes past midnight Transvaal Krygsmagte forces rolled across the windswept border between the Federal Republic and Cherokee Namibia as that now-former nation was re-annexed into the Federal Republic.
"We received word from Pretoria a few minutes after midnight that confirmed the collapse of Cherokee Namibia as a sovreign entity" explained Colonel Annetjie van Matteus, commander of the 250-strong invasion force.
"There has been no resistance as our forces peacefully re-occupied the territory which was formerly part of our Federal Republic. The re-occupation and re-annexation should be completed by daybreak but all former Cherokee Namibian authorties have submitted their resignation."
Out of respect to the former nation which had been granted full independence from Transvaal last spring, Krygsmagte troops have been ordered not to remove any Cherokee Namibian flags. "It is our intention as a sign of peaceful respect for the former regime to leave all its flags flying until the flags themselves have deteriated from weathering and fading" said Colonel van Matteus. "We harbour no ill-will to the former regieme."
The Federal Government has a meeting scheduled for noon to formally approve the re-annexation of Cherokee Namibian territory into the Namibian Protectorate.
AUGUST 7, 2008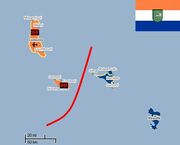 Within twenty-four hours, Southern Africa witness two re-adjustments of the political landscape when the Federal Republic of Transvaal relinquished all control over Southern Angola and withdrew its occupation forces from the territory while annexing two of the four islands in the Comoros chain.
The evacuation of Southern Angola just after midnight on August 6 coincided with a similiar action in Northern Angola by The United Nation. Angola has now been re-united and placed under the collective trusteeship of the Pan-African Coalition (PAC) pending future territorial claims by interested nations wishing to relocate to the region.
The departure of Transvaal military forces was met with widspread joy and jubilation as the Federal Republic never bothered to invest any finances in maintaining the poverty-stricken territory.
One unnamed foreign diplomat in Pretoria explained that "Transvaal never wanted Angolan territory, they just occupied the southern portion as a buffer against the anarchy and lawlessness of it being an unclaimed region. The situation which has been allowed to develop there since January is quite tragic - while I wouldn't say it is a famine situation, the Transvalers only spent the bare minimum to keep the residents there alive. The area was never part of the Federal Republic - it was called a 'special economic zone' or something like that, essentially a fancy name for a colony."
Then buttressed with PAC support from Resolution #3, Transvaal ground and airforces landed this afternoon to commence their annexation of Grande Comore and Mohéli in the Comoros Islands. The two other main islands have been assigned by the PAC to neighbouring Arctica.
The Federal Government in Pretoria has yet to announce what Northern Comoros' polictical status within the Federal Republic shall be, although it is known the military plans to use the islands as a naval staging point into the Indian Ocean once Transvaal's Seemag (navy) is constructed during the spring in September.
SEPTEMBER 14, 2008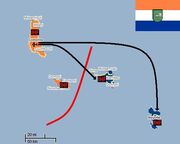 Krygsmagte troops landed on the Comoran islands of Anjouan and Mayotte as Transvaal officially annexed them into the Federal Republic this morning.
Since August 7, the islands had previously been split between Transvaler and Arctican rule - however since the recent violent political upheavel in its island neighbour, Pretoria has recently re-acted forcefully to deal with any potential power vacuums which may erupt in the region.
Two days ago, the Transvaler Krygsmagte proclaimed its authority over the majority of Madagascar, leaving a rump Arctican state in the north-east corner of the island. With Arctica unable to exert its authority over Anjouan and Mayotte, the two islands were re-united today with Grande Comore and Mohéli.
Unlike the semi-automonous Madagaskar Vrystaat (Madagascar Free State) regime which Pretoria has established to govern in the absense of Arctican jurisdiction being exerted over much of Madagascar, the Arctican Comoran Islands have been directly annexed outright and incorporated into the Federal Republic.
"This occupation is permanent" said an unnamed major invloved with the invasion force, "we are here to stay in the Comoros."
OFFICIAL ARCTICAN STATEMENT REGARDING COMOROS
An official from an intact government building in Oceana gave a statement.
"The Comoros were never an essential part of Arctica, and were in anarchy when an agreement approved by the Pan-African Coalition established that the four major islands were to be divided between this country and our neighbors in Transvaal. Our interests there were to build a naval and air base. After the recent conflict left Arctica in ruins, our assets on the Comoros were needed in the mainland. The PAC-supervised agreement stated that if Arctica was unwilling or unable to control the Comoros, Transvaal would annex the entirety of the island chain. Their actions are perfectly legal."
The official then took questions, but made it clear that they were to pertain directly to the annexation of the Comoros and not Madagascar.
Invasion of Arctica & Madagaskar Vrystaat
Edit
AUGUST 25, 2008
STATEMENT TO ARCTICA: The Federal Republic of Transvaal is quite alarmed at the instability of its neighbour across the Mozambique Channel. If this violence and instability is allowed to continue, then Transvaal may need to invade Madagascar to restore order. For the time being, we are mobilising our Seemag fleet to commence patrols and manoevres in the Mozambique Channel.
REPLY TO REBEL ARMY: We can quarantine Arctica if requested - however our government is fearing a massive refugee crisis.
The military leadership has been given orders to draft up an invasion plan to seize and occupy the southern portion of the island so as to establish some semblance of peace and order - and thus deflect refugees from fleeing the island for the shores of Transvaal.
Our government acknowledges Franzharia support, we might require your assistance as a refuelling port for operations on the eastern coast of Madagascar.
STATEMENT TO ARCTICA: The Federal Republic of Tranvsaal does not recognise the so-called Arctican Provisional Government; our treaty and territorial agreements are with the lawful Arctican government.
Therefore Transvaal is exercising our sphere-of-influence claim over southern Madagascar on behalf of the legal Arctican government. We are encouraging all friendly Arcticans to make their way to the south to assist the Tranvsaler Krygsmagte with the occupation and expulsion of the Provisional Rebels in the southern zone.
The invasion, codenamed Operasie Vrynoordië (Operation Free-Arctica) shall commence sometime in the next 3 to 4 hours. Our fleet task force of the 8 ships listed below is mustering at Maputo.
TRANSVALER SEEMAG - OPERASIE VRYNOORDIË
1 Destroyer (Iroquois class): SAS-07 Cetshwayo
1 Frigate (Valour class): SAS-01 Spionkop
1 Cruiser (Ticonderoga class): SAS-09 Vereeniging
1 Battleship (Iowa class): SAS-10 Staatspresident Botha
3 x Landing ships SAS-03 East London, SAS-04 Port Elizabeth, SAS-05 Simonstown
1 x Corvette (Braunschweig class) SAS-14 Maputo
MADAGASCAR DIVIDED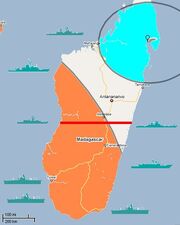 With the Transvaler Seemag deployed around Madagascar, the Federal Republic of Transvaal announced that Operasie Vrynoordië was underway and that Krygsmagte troops were landing in southern Arctica to re-establish Vedran Loyalists to power.
Marshal Cruywagen then explained the map to the news media in the audience:
The Orange sector is that part of Madagascar which Transvaal is aiming to occupy and or operate our troops in the coming days (OOC represents our in-game sphere of influence) while the Aqua sector represents that extent of Arctican rebel government control. The white area in between is in anarchy and subject to civil instability and rioting.
The red line - the 20th parallel - divides the island into two political entities, the southern portion is where we shall establish a Loyalist Government in support of Vedran while north of the 20th we are leaving temporarally to the Provisional Rebel Government.
We expect the bulk of rebel opposition to our forces will occur in the Orange Sector north of the 20th parallel.
The Goverment of Transvaal supports the re-installation of Sovereign Vedran to power over all of Arctica - however our military capacity prevents us from carrying out a full occupation of the entire island. We ask that all loyalist supporters to Vedran make their way to the Orange Sector and accept the temporary occupation of the island by Transvaler forces as a step towards the restoration of normality over all Arctica.
This is not an invasion of conquest - but one of humanitarian aid and support for the sole, legal government and ruler of all Arctica: Vedran
Long live Loyalist Arctica!
INVASION OF ARCTICA
The port cities of Tulear, Ambovombe, and Tolanero in Southern Madagascar have been secured by Transvaler Krygsmagte troops.
Commander-in-Chief of the Krygsmagte, Field Marshal Paul Cruywagen has set up his military HQ in Tulear. A Loyalist Government of Arctica is being set up in Tulear and Vedean has been proclaimed Sovereign of the Loyalist Government.
In other news, the Arctican Comoros islands have also been occupied as a precaution since they are located just miles away from the Transvaler Comoros islands.
AUGUST 27, 2008
HEAVY RESISTANCE AND BLOODSHED IN ARCTICA: Transvaler Krygsmagte troops found themselves engaged in full-blown combat today against forces of the Provisional Rebels. 20,800 Transvaler soldiers were killed and 557 tanks were lost in the intensive and bitter firefight which broke out along the frontline straddling the 20th Parallel across the island of Madagascar. Rebel loses amounted to 16,443 casualties as the Transvalers were unable to advance northwards of Antisirabe during their offensive against rebel forces.
AUGUST 28, 2008
RIVERS OF BLOOD FLOW IN ARCTICA AS RIOTS ERUPT IN JO'BURG: In a second day of ferocious fighting along the 20th Parallel, Transvaler Krygsmagte troops secured the central highland stronghold of Antisirabe after taking over 13,000 casualties and over 1,400 tanks destroyed. Provisional rebel losses were about half that number but it appears the main contingent of regular troops under rebel control have been smashed.
"It appears the heaviest fighting is now over" commented Field Marshal Paul Cruywagen. "all that is left is to mop up in some irregulars in the villages, we now have the 'provos' routed and fleeing for the hills and their homes."
However, back home opposition to the war is growing by leaps and bounds. The effects of a a stalled economy and simmering antagonism between Afrikaners and Anglo-Transvalers boiled over this afternoon in what local authorities are calling "ethnic disturbances" in the suburbs of Johannesburg.
Said one unidentified policeman: "This is something our nation has never seen before, white on white ethnic violence. It appears the English have had enough being deemed 'disenfranchised whites'."
Said one Mrs. Van der Meeve when interviewed in front of her barricaded home, "This is not good at all, we whites must keep the face of unity for the sake of appearances lest our black masses take advantage of our predicament – I'm worried if the Africans see whites squabbling with whites that the government's aauthority will slip. I'm worried for my family".
However as one Anglo protester said to our reporters, "We have less political rights than the blacks" as he helped torch an overturned police vehicle.
AUGUST 30, 2008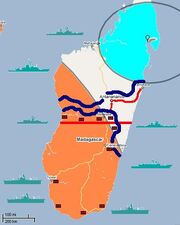 Field Marshal Paul Cruywagen today declared a unilateral ceasefire in its conflict with rebels in Arctica.
"Enough blood has been shed by both sides. It is now time to sit down and discuss a peaceful solution. We have shown the provisional rebels that they will not be tolerated in Southern Africa. The time is now to work towards a solution to re-establish Vedranian sovereign rule over the whole of Madagascar".
Krygsmagte advance on Antananarivo and Tamatave
The largest city on Madagascar was occupied peacefully by Transvaal forces operating in Arctica. A last push was made late in the day for Tamatave, which also peacefully surrendered just before nightfall.
"Our frontline has now met up with where the last vestiges of Loyalist control in the north was located, so hopefully we can make contact with any Loyalist government figures hiding out there under cover," said Marshal Cruywagen.
SEPTEMBER 2, 2008
Transvaler Lugmag aircraft have been dropping the following leaflets across rebel-held Arctica:
ATTENTION PROVISIONAL REBELS OF ARCTICA!
This is your last chance to surrender peacefully. You have until 10:00PM tonight (OOC: Transvaal's update time) to lay down your arms and surrender to Loyalist Arctican forces or the Transvaal Military Authority in Arctica.
Failure to comply will result in the commencement of air strikes with our heavy bombers until you surrender or have been eliminated.
SURRENDER NOW! ALL HAIL VEDRAN AND THE LOYALISTS!
SEPTEMBER 9, 2008
The Government of Transvaal contacted Vedran in Cyprus and suggested that he makes a stop over in Pretoria during his trip home so that proper arrangements and preparations can be made to discuss the handover of power from the Transvaler Krygsmagte military authority to the legal loyalist government.
The remaining Herons would not have to wait for long for their fate... as the Transvaler Lugmag soon unleashed its strategic bombers against those last diehards who refused the offer to surrender.
Marshal Cruywagen then went on Arctican radio to broadcast the news that the Provisional Rebel regime was proclaimed overthrown and the victory of the loyalists. He then announced the formation of a temporary Transvaler Protectorate over Arctica which would remain in force until Vedran had returned and felt secure to resume full sovereignty over Madagascar.
SEPTEMBER 10, 2008
Its passenger onboard, the RA jet takes off and lands at Johannesburg International Airport some time later.
Vedran is met at Johannesburg International Airport by Deputy Prime Minister Willem Coetzee (as the prime minister is currently in Franzharia) with the full honours befitting a head-of-state. He is then taken by motorcade along the Kaiser Martens Snelweg (highway) for the 55 km drive to Pretoria.
It is now nighfall in Pretoria when they arrive at Government House.
"Please wait in here" says Coetzee as he quietly ushers the Arctican ruler into Staatspresident Botha's private office. "He will be with you shortly."
Vedran is only able to have a quick glance around to study the office before he hears the door re-open. Botha walks in and immediately walks over to the Arctican to greet him.
"I trust you had a safe joueney?" asks the Staatspresident, who gives his important guest a welcoming hug. "I was most pleased to hear from Marshal Cruywagen that resistance had collapsed. You must be homesick to return, no?"
"I must ask you how long do you think our troops will need to remain in your country before the situation is back to normal?"
After they exchanged greetings, Vedran said, "The situation won't be returning to normal any time soon, Staatspresident. From what I'm told, a large portion of Arctica's population has been killed. Most likely we'll have to abandon most of southern Madagascar. This rebellion has caused damage that will take a long time to repair." He took a moment to see if Botha had anything to add before continuing.
"Drastic measures will have to be taken in the coming months, but I don't think we'll require any military aid." Oceana was the center of population, government, and commerce for Arctica. The tower was the military and government headquarters for the nation. Both were in ruins, just like the functions they governed. They would have to be rebuilt. The Staatspresident probably realized that this was a severe blow to Arctica, and things might never be the same in their lifetimes.
"We understand. Things like this will take much time" said the Staatspresident in a calm and collected tone.
"Our prime concern, from a Transvaler perspective, is how stable is Arctica's territorial integrity? Obviously with our two nations being such close neighbours we have our own security concerns should your loyalist government be unable to govern the whole of Madagascar. Do you feel that you can maintain authority over the whole island - or should we be looking more towards a longterm military commitment? Our government fears a division of your island, that is why we stepped in with military force."
As Botha and Vedran were talking, a rather stern-looking black man entered the room. He was carrying a serving tray with a tea pot and two cups, although Vedran's impression of the man was that he really wasn't there to serve tea.
After gently laying down the tea pot and pouring out the hot rooibos tea that Botha so loved, he gave each of the men a cup. The "butler", if he could be called that, then leaned over to the sitting Botha and whispered something in his ear.
Botha nodded and the said "Excuse me for one moment, it seems that the Franzharian chancellor is trying to get ahold of me". He then directed towards the butler: "Please, bring us both some light sandwiches. I'm sure our guest is a little hungry from his long journey."
Botha walked over to his desk and picked up the phone receiver.
"Ja, this is Botha here... yes, greetings chancellor..."
Vedran was about to speak before the man entered, then decided to hold that thought. He waited patiently for Botha to return.
"Greetings, Staatspresident. I hate to bother you, and even moreso for the news I bring. I'm not sure if Hertzog or Kruger ever got the news to you, but an attempt was made on my life at the Funeral. With our Coalition's victories in Arctica, I've had to recall some of my troops home to keep things from getting out of control."
"Wild rumors were spread, despite my Media blackout. We had a few small riots in the capital, but nothing major."
"No, I have not been in contact with Hertzog nor Kruger. This is news to me. Yes, it appears that everything is under reasonable control in Arctica, so if you need to withdraw troops then I'll instruct Marshal Cruywagen to make the necessary transfers to take up your vacated positions."
"By the way, I'm currently speaking with Vedran, trying to find out what his longterm prognosis is regarding Arctica's stability in the coming months."
"Is there anything else? Do you require any assistance from us? But I don't wish to keep Vedran waiting too long as he still has a long journey to continue home."
"I believe that is about it. Only half my forces, roughly 8,000 out of the 16,000 have been recalled. Do give Vedran my regards, if you please. If anything else comes up, I'll be sure to stay in touch."
"Excellent, I shall gladly pass on your greetings to him. Hopefully he can get his government back on its feet and they won't require our interference."
Vedran sipped some of the tea as he studied the office's decorations as he was facing away from the telephone and desk. Still, he overheard some of the conversation, just enough to know that there might have been an assassination and some kind of withdrawal.
When he heard the phone receiver drop, he turned back around to continue his conversation with Botha right where they left off. He wouldn't mention the phone call unless the Staatspresident did.
"I feel that the best course of action to preserve Arctica is to divide the island. What happens to the large portion that won't be part of Arctica? I think I'll let the PAC decide." As he spoke, he took a small electronic device from a pocket and entered some commands, then moved his finger across the touch pad. Vedran turned the device around to show Botha. It was a map of the northern half of Madagascar with a crude line drawn over part of the map; an approximation of Arctica's sphere of influence.
"Most of the land north of that will be retained. However, this is just a guess. I'll have to see how bad the damage is before making any decisions. Though...Arctica's share of the Comoros will probably have to be abandoned. We need those resources down in the mainland."
Botha studied the map intensely for a couple of minutes. He then took off his glasses and sat back. He collected his words carefully before continuing on:
"If Arctica must abandon their portion of the Comoros, then we shall most likely annex them outright because our refueling depot on Grande Comore would be left quite vulnerable."
"As for Southern Madagascar, as you know our own sphere on influence has buttressed Arctica's own claim on the portions of the island outside your sphere of influence. Opening the island up to potential outside, hostile forces would have dire implications over our sea-lanes out of the port of Maputo."
Botha paused to allow this to sink in.
"If Arctica is unable... to exert its own authority over southern Madagascar, then... we would have to do so unilaterally... to prevent either a power vacuum, or worse... a hostile regime staking a claim over that part of the island."
"Ideally, we want to see you continue to rule over the whole island as you have been a good friend to our people and nation. Even if it were done in your name only, we would be willing to provide a southern administration - essentially a federal protectorate over the portions you cannot control and hold this in trust until your government is strong enough again to better administer the whole island."
"I do not want this to sound like a land grab, because it is not. We had the opportunity in the past to excercise our sphere of influence over Madagascar and we chose instead to support your claims. We just want to maintain friendly rule over the whole of the island. Better a friendly foreign government than us, but better us than no one at all - or worse, communists taking up roost there."
"Of course. The issue of the Comoros was decided by both of our nations some time ago, and as soon as our soldiers are ready to leave, Transvaal is free to claim the islands as its own.
Excellent, then we shall annex them as soon as your administration and forces have evacuated the two of your Comoran islands.
"Your offer concerning Madagascar is acceptable, and I'll keep it it mind when I discuss with the PAC the best choice for the prosperity of Arctica and the rest of the Coalition."
Botha's brow frowned somewhat. He looked troubled. "I am pleased to hear this, although we suspect the PAC would be more inclined to administer Southern Madagascar directly like Arenellia and Angola instead of placing the territory under a Transvaler trust mandate. This may prove to be unacceptable to us as we see this as a potential backdoor for communist infiltration into Southern Africa. It is common knowledge that the international marxist conspiracy in conjunction with freemasonry would love nothing more than to set up shop right on our borders or where they can harrass and interdict our shipping lanes."
"So... until the situation is clarified between Arctica, Transvaal, and the rest of the PAC, I'm going to insist that Marshal Cruywagen continues with his military occupation of Southern Arctica."
Vedran, unable to keep a straight face, just smiled. "Marshal Cruywagen is free to continue administering the South until this issue can be taken care of. The North is stable by now, and military assistance there is not necessary."
"As for your...concerns...we still have a portion of our air force remaining and new warships will be built as soon as the situation improves. When this meeting is over, I will travel to New Cheydinhal to meet with the PAC."
"Are there any other concerns you wish to address, Staatspresident?"
Botha noticed the smirk but chose to ignore it. He continued on:
"The this is what I propose as the division of Madagascar" as he handed a ready-made map which he pulled from his desk. "The aqua area is the region remaining under your government's direct control, whilst the orange will constitute the Madagascar Protectorate under our authority held as a trust territory."
"Once Arctica is in a position to reassert authority over the trust territory, then we shall relinquish it. Shall I contact Marshal Cruywagen to inform him that you agree?"
Vedran looks at the map. He considers it, a troubled look in his eyes, then nods slowly. "So long as you also relay to the Marshal that the change of power might be more temporary than expected. I have not changed my decision to travel to New Cheydinhal. Not only does the issue of Madagascar need to be addressed there, but I feel that my ambassador's signature on the charter has gone unaccompanied for too long. The two likely outcomes of my meeting with the PAC are either that our temporary agreement," he gestured to the map, "becomes a more permanent one, or the region is turned into another Coalition-administered 'white area'. Either outcome is acceptable to Arctica's interests.
Perhaps once you return to Arctica, you should meet with Marshal Cruywagen and discuss this in person. He is a good professional, career soldier with little desire for politcial ambition. That is why I put him in charge of the operation - he is probably the one military officer of ours that the rest of Planet Bob can trust to do the best for Arctica and not for his own personal nor political gain."
SEPTEMBER 11, 2008
Field Marshal Paul Cruywagen, Commander-in-Chief of the Transvaler Krygsmagte and miltary governor of occupied Arctica made his way to the port of Tamatave to thank Commander Johnanthan Deteeoven and the departing Franzharian contingent of forces.
DETEEOVEN's REPLY TO CRUYWAGEN: "It was an honor serving alongside your forces, sir. May our three great nations forevermore live together in peace."
SEPTEMBER 12, 2008
PROCLAMATION OF TRANSVALER MADAGASKAR VRYSTAAT Prime Minister Jakob Hertzog visited the devasted city of Antananarivo in occupied Arctica this evening as Field Marshal Paul Cruywagen was sworn in as the Governor of the Transvaler Madagaskar Vrystaat (Madagascar Free State).
Citing the increasing inactivity of the PAC, Marshal Cruywagen said the people of Arctica could not wait any longer as the Transvaler Kygsmagte unilaterally proclaimed its new administration over most of Madagascar. Sovereign Vedran is expected to return shortly to the rump Arctican nation remaining in the north of the island.
"We are not here out of conquest, but out of humanitarian concern. Until your sovereign is once again able to resume his governance over the whole of the island, this Madagascar Free State adimistation will govern in his absense until such a time that this occupation can be withdrawn peacefully and you can be re-united with your breathern in the North. Our aim is to work hand-in-hand with the native inhabitants as we provide the stability and security for them to go on about their daily lives."
Transvaal currently has 10,000 soldiers and 1,000 tanks deployed in the occupation force.
OCTOBER 3, 2008
BOUNDARY RE-ADJUSTMENT IN MADAGASCAR
Field Marshal Paul Cruywagen, the Governor of the Madagaskar Vrystaat, announced this afternoon that the central portion of Madagascar was being returned to Arctica immediately on account of that nation's strengthened economic and political position.
The new boundary between independent Arctica in the north and the Transvaler administration in the south is now the 20th parallel.
STATEMENT FROM ARCTICA: This move was met with great joy by people living near the previous division. Pan-Madagascar, a group of citizens in the north protesting the Transvaler occupation, has announced their support for the move, while some denounce the Arctican government as being too passive in their surrender of the land in August. Things appear to be working well for Arctica, and reports say that the Sovereign will meet soon with Governor Cruywagen to discuss the division of the island.
REPSONSE FROM TRANSVAAL: Marshal Cruywagen is willing to meet the Sovereign - either at an Arctican or Vrystaat location. For the record, the decision to relinquish central Madagascar came from the Vrystaat administration and not from Pretoria.
REPLY FROM ARCTICA: This has been noted. The Sovereign is boarding a plane for the Vrystaat now.
REPLY FROM TRANSVAAL: Marshal Cruywagen shall be waiting for you at Tulear, the capital of his administration.
THE MEETING BETWEEN VEDRAN AND CRUYWAGEN
Hours later, the plane arrives at the city's small airport. After a check of the vehicles, Vedran and six men piled in and began driving toward the governor's office.
Vedran looked out of the window, watching his citizens move about their daily business. When they arrived, they stepped out of the vehicles and entered the building, leaving one man by the door.
As the automobile carrying Sovereign Verdan pulled up in front of government headquarters for the Vrystaat administration, Field Marshal Paul Cruywagen stepped down from the doorway and made his way towards the automobile.
"Greetings Your Excellency," he said while giving a brisk salute to the sovereign. Cruywagen motioned towards the entrance way and led the Arctican contingent inside to his office.
As Cruywagen made his way to sit down at his oaken desk, Vedran noted the presence of his own royal portrait on the wall behind the Marshal as well as the Arctican flag draped to his left; the striped Transvaler flag taking up a position on the opposite side.
"I am pleased that you could make this journey to visit me. I would very much like to hear what you have to say and your concerns."
The men with Vedran were the same ones that had accompanied him on the submarine trip to Egypt a month ago. All of them mimicked Vedran as he returned the Marshal's salute and entered his office, taking some time to admire the furnishings.
Again, a man was left to stand outside the door. The remaining four stood casually near the walls of the room as Vedran spoke with Cruywagen.
"Thank you, Marshal, for taking the time," he said, seating himself. "I don't know much about you apart from a brief look at your history and from what Staatspresident Botha told me. From that information, you seem like the right man for the job."
"I would like to know how my people are being treated, but that can wait - right now I need to ask you about the message I received before coming here. Is there pressure from Pretoria after you returned central Madagascar to us?" Vedran knew that the Marshal had 'acted on his own' several times before, and wanted to know if something similar was happening here.
First off, Your Excellency, it has been my primary concern to ensure the well-being of your countrymen during this difficult time. I know full well - and frankly, I am embarrassed at times - by the previous record my nation has had for administrating colonies or whatever you want to call it. How we ran Angola into the ground and the neglect in Boereguay... that shall not be repeated here!
As to any pressure I may be under, there is none. I alone made the decision that it was time to scale back the Vrystaat's territory in your favour. My nation's government was informed of my decision and they agreed - or at least went along with it. One thing I was instructed when first appointed governor of the Vrystaat was that this was an autonomous state not officially part of the Federal Republic. As far as Pretoria is concerned, I am ruling a government sovereign from that. So today I decided to act in a sovereign manner [laughs]
I will tell you now what I know and what I have heard regarding the Vrystaat:
I believe it is the intention of the current government to progressively scale back and reduce in size the Transvaler administration so long as your Arctican government is able to maintain its authority over the territory. However they will not tolerate any sort of neutral protectorate under the PAC nor another foreign or independent claiming Madagascar territory. Pretoria views you as friendly and within their orbit - but would excercise territory claims over Madagascar should your nation fall.
Now that's the National Party... as for the white supremacists, if they had their way they'd abandon this place as soon as they could because they don't see the value in investing time, money, and resources into African - and by that I mean, non-white - states. I disagree with that, obviously, if for no other reason than I do not believe that southern Madagascar can survive at present on its own without either Arctican or Transvaler governance.
One last thing, as the Vrystaat gets progressively reduced in size, don't be surprised if some within the Federal Government approach you about retaining an enclave based in this town. That is a rumour I have heard going around. Not all in the National Party feel that way, but there is some factionalism brewing within the party and one of the faction leaders wants us to retain a toe-hold in Madagascar lest we have to intervene in the future for similar reasons as recently occurred.
Marshal Cruywagen paused to allow all of this sink in with Vedran.
Anything else I can help you with, Your Excellency?
Vedran was relieved to hear this. He was well aware of Transvaal's reputation with Angola and also vaguely remembered reading something in a report that said Arcticans were coerced into cutting short an inspection of Transvaal's labor camp system.
Then it seems you were the right choice for the job, Marshal. I was worried this would turn out to be another Angola. It's comforting to know that Arctica's citizens are in good hands while the nation is getting back on its feet. We'll take our time in rebuilding; full control over the island will come slowly, but when it does, it will stay.
I'll tell my man in New Cheydinhal that we favor the existence of the Free State. The Coalition has its hands full with governing Arenellia, Angola, and Ethiopia, and with this military buildup in South America they shouldn't have to worry themselves with something that's already being handled well. If the Nationalists stay in power, the south won't have to become another Angola.
Good luck to you, Marshal Cruywagen. Vedran stood up. If there's any concerns you need addressed, tell them to me now. Otherwise, I must be returning to Oceana.
Marshall Cruywagen stood up. "None at all sir. I am pleased that you are satisfied with my work here. We shall of course keep in touch, next time I shall make the visit north. I wish you godpseed and safe journey home." He saluted and then saw the Sovereign off on his way.
Colonisation of Paraguay
Edit
AUGUST 28, 2008
The Federal Republic of Transvaal's Ministry of Foreign Affairs officially announced its intention to colonise the South American territory of Paraguay.
Map and Flag of Transvaal's new colony in the New World
Officially named Transvaler Suid-Amerika (Transvaler South America), the territory has already been nicknamed Boereguay by its detracters back home in Southern Africa. Coincidently enough, the capital city formerly called Asunción has been renamed Boereguay.
"Our government was looking at the map of Planet Bob one day and noticed that no one wanted Paraguay – so we decided to take it over ourselves to administer" said Foreign Minister Peter Stellenbosch.
Opponents of the colonization scheme have low hopes for Boereguay. "Anyone can look at Transvaal's previous track record of overseas expansion and foreign administration and see the dismal results, the most recent tragedy being Angola where not a rand was invested in local infrastructure. Great, now we have yet another piece of meaningless territory on our hands to abuse and maladministate" said an unnamed minister in the Federal Government.
Government critics have been unable to pin exactly who decided that colonizing Paraguay was a smart idea. As Minister of Finance Marthinus Hofmeyr explained: "The Staatspresident is pointing to the Prime Minsiter, and the Prime Minister is point to his cabinet, and the cabinet is trying to point back to the Staatspresident."
"If it is indeed the Prime Minister, then I believe PM Jakob Hertzog is starting to lose grip on reality in this country. Only a few days ago we blundered ourselves into a pointless and costly conflict in Arctica" said Minister Hofmeyr. "And it's landlocked to boot".
Verwoerd Front leader, Erasmus Du Toit stated his opinions in his characteristic blunt way: "Now we will see more ethnic dilution of our European population, as we all know as soon as the economy bottoms out in Paraguay that all the undesirables will make their way to our shores."
Once her whereabouts can be located, the Federal Government has said that Ms. Annetjie van Matteus will be assigned Governor of Transvaler Suid-Amerika.
NEW POLITICAL PARTY FORMED: In response to discontent with recent questionable decisions by the ruling National Party, civilian supporters of Field Marshal Paul Cruywagen have established the Demokratiese Barakke Party (DBP - Democratic Drillhall Party).
Marshal Cruywagen has occupied the post of Prime Minister twice in Transvaal's history after leading military coups against previous corrupt and dictatorial government. Both times he has willingly relinquished power to civilian rule, however his admirers are now demanding that the progressive Marshal re-enter the political arena as an election candidate in November's federal election.
"Marshal Cruywagen has constantly proven time and time to be our nation's lone progressive voice of reason – we believe that only he can lead our nation away from senseless violence and social strife. We do not need more mayhem from Du Toit, De Ruijters, or Annetjie van Matteus, we need more stable leadership and a clear conscious. We have formed the DBP in the hopes that we can convince the Marshal to run for the office of Prime Minister" proclaimed an official party press release.
Cruywagen has refused to respond to any enquiries from the media.
SEPTEMBER 1, 2008
Transvaal Prime Minister Jakob M Hertzog made a surprise visit yesterday to Boereguay, the capital of Transvaler Suid-Amerika.
The trip abroad caught most Transvaal observers off-guard as this was Hertzog's first trip ever outside the confines of the Federal Republic. The nature of his visit is unknown, although one disgrunted government minister quipped that "it was actually the cabinet that made him take the trip to South America. We wanted to prove to him that the world is in fact round and not flat."
Foreign policy is seen to be a noticeble weakness of Hertzog - and the recent colonisation of Paraguay has been the latest questionable foreign policy decision which the prime minister has come under fire for.
While local support within Boereguay for Transvaler colonial rule is hovering around a respectable 60%, discontent at home is noticeble. Even within the National Party, some goverment ministers are openingly questioning whether Hertzog should lead the party into the November Federal Elections - especially now that a third political party, the DBP (Demokratiese Barakke Party) has made its appearance on the national stage which could steal liberal votes away from the National Party.
Hertzog's supporters however defend the embattled prime minister. As Minister Coetzee explained: "Mr.Hertzog is our nation's most stable and fair civilian prime minister we've had, he extracted us from the downward spiral of Norden Verein and since taking office last November our nation's growth under his rule has been phenominal... yet he has faced more scorn and criticism at home than anyone else. How soon people forget that at one time we had the likes of Van der Byl and Annetjie van Matteus running this place - and a lot of good they did for us."
However, off record Mr. Coetzee agreed that Boereguay will likely be an election issue which decides Hertzog's fate at the polls in November.
Formation of the Nationalist Axis
Edit
SEPTEMBER 10, 2008
PROCLAMATION BY THE FEDERAL REPUBLIC OF TRANSVAAL: The Federal Republic of Transvaal would like to host a conference in Pretoria to find common ground amongst self-proclaimed Nationalist states to establish an anti-communist information network between our respective security forces and organisations.
RESPONSE FROM PROMISED LAND: Promised Land, while very obviously not a communist-controlled state, will not attend this conference. We believe each person has the right to their own opinion, whether or not it agrees with the government's stance.
RESPONSE FROM TAHOE: Naturally the Tahoe Republic will attend this conference. We are excited to establish a formal working network between Nationalist states for the purposes of defending against communist and leftists around the world.
RESPONSE FROM JEDCJT OF TURKEY: We second this [in agreement with Promised Land]. The Republic of Turkey will not attend this conference, mainly because we do tolerate (but NOT condone) Communism and we are quite a bit busy at the moment (the Transcaucasus and Colstream summits, and the recent earthquake in Thrace City).
RESPONSE FROM NEO JAPAN: Once again we find ourselves wondering if Transvaal even WANTS relations with the Empire.
RESPONSE FROM FRANZHARIA: Franzharia cannot attend at this time. With the Socialists as the primary opposition in our senate, we wouldn't want to cause any MORE turmoil here. Though neither the Socialists nor my Reformists have no real love for hardcore extremism.
RESPONSE FROM NEDLAND: Nedland seconds this [in agreement with Promised Land]. While not Communist, we have a pro-Communist foreign policy, and generally believe all people are entitled to their own opinions.
RESPONSE FROM THE CONFEDERATION: The Confederation will not attend. As a Monarchy and a Republic, we believe that nations should rule as they see fit, if communism is what the people or rulers want, more power to them.
REPLY BY TRANSVAAL TO TAHOE: This is excellent news as Tahoe is one of the bulwark nations against internationalism communism. Our government plans to draft up a proposed treaty pact (the Condor Pact) which would strengthen the bonds between intelligence departments and information sharing as well as expedite the bureaucratic formalities in extradition cases.
RESPONSE FROM SOUSUKE SAGARA OF KUSHAN: The glorious leader of the Democratic Peoples Republic of Kushan has released the following statement with the backing of the ruling Sagarian Politik Party. Our Great nation condemns this so called "Anti-Communist Information Network", as a belligerent action and direction for any nation that dares to take part. We view this network as a danger to socialism, and the DPRK's national security. We ask that this program be halted, and those nations that oppose such a move to make a public stand against it.
RESPONSE FROM IMPERIAL WELLINGTON: Imperial Wellington will attend. People have the right to think what ever they like, unless it is commie. Then we shall remove all doubt about what is going through their minds. To be precise, a .45 hollowpoint, entering the forehead.
REPLY BY TAHOE TO TRANSVAAL: We certainly support this proposed treaty. As always, our good friends in Imperial Wellington put our mutual feelings in a most eloquent manner. Due to the great importance of this conference, Taoiseach O Deaghaidh himself will make a rare trip overseas to meet in Pretoria with the other heads of state of attending nations.
RESPONE FROM ILE DE NOIR: While Promised Land pretty much sums up the way we feel as well, I have to ask what the point really is? All of the nations who are likely to attend and agree with this conference's goals would be more likely to imprison or kill any "communists" they find in their country themselves, so there is not point to any extradition treaties. That sort of thing would be of more use with nations who aren't at this conference, no? So long as you are limiting this to cooperation among your own nations I have no problems with this but if this extends into a communist witch hunt in other countries I assure you I will take a dim view of it. If this conference could do one useful thing it would be to come up with a definition of a communist according to you because there really is no consensus as to what one is.
RESPONSE FROM FRANZHARIA: The esteemed leader of Ile de Noir makes an excellent point. I admit to having slightly leftist leanings. Would I consider myself a communist? No. I should think the Socialists, and even the ne'er radical Eastern Bloc members of my government would feel the same.
RESPONE FROM HIGHBUZZ OF REPUBLIC OF WAR: Republic of War will attend as well.
RESPONSE FROM KIELMOG OF LAND OF 1000 SWORDS: While not a total nationalist state, the Land of 1000 Swords' views towards communism, socialism, and similar political policies have soured as of lately and we would like to request permission to attend this conference. Since we moved to a totalitarian state, our nation's strength, as well as economic output and general population happiness has increased in leaps and bounds. We wish to see communism removed as it is now classified as a cultist ideology in our nation and we feel we could be a great help towards the removal of this blight.
RESPONSE FROM THE WILSON EMPIRE: The Wilson Empire will be sending a delegate. We view communism as a plague that must be stopped. The Wilson Empire, by joining this conference, will be dedicated to stopping communism from spreading to other nations.
RESPONSE FROM VINILAND: While we frankly don't care whether if someone is Communist or not (if they are it's their loss either way), those nations have a tendency of causing trouble. And the ruling Monarchist party is quite nationalistic, so Viniland would like to attend the conference.
STATEMENT FROM TRANSVAAL: The following freedom-loving nations have indicated their attendance: The Wilson Empire, Viniland, Land of 1000 Swords, Republic of War, Imperial Wellington, Tahoe, and Transvaal
What this conference will strive to do is create a united anti-communist axis and strengthen the bonds between our nations in combating and eradicating the social cancer of marxism within our nations.
We shall give another 24 hours or so before officially declaring the conference open. Security will be tight and the location of the conference kept secret from outsiders. Your embassies (or charge d'affairs, if you don't have an embassy in Pretoria) have been given the necessary instructions. On your arrival at the designated airforce base in Transvaal, we shall provide ground transportation to the secret location.
COMMENT FROM THE PROMISED LAND: Isn't forming a coalition concerning eliminating Communism in your own nations a bit redundant? You have all already dealt with this so-called 'threat' in your own ways.
COMMENT FROM NEO JAPAN: This is disgustingly hypocritical. Once again Transvaal has proven just how far they have fallen.
STATEMENT BY RAYA KREZNEV OF FRANZHARIAN SOCIALIST PARTY: I must state that we are very concerned about these events. We watch with a cautious eye.
COMMENT BY JEDCJT OF TURKEY IN AGREEMENT WITH NEO JAPAN: This is certainly interesting...if not contradictory.
STATEMENT BY THE PROMISED LAND: Promised Land hates to take any drastic steps, but we will seriously consider withdrawing any embassies we have within nations that sign any anti-communist treaty coming out of this summit, and expelling any embassies they have within our borders.
RESPONSE BY TAHOE: A formal treaty is very much welcomed, mostly because it cuts the red tape and due deliberation in a legislative body that invariably comes with such issues. Assistance between the respective nations attending this conference have always been rather haphazard, and smoothing the process will help a great deal, we think.
RESPONSE BY KIELMOG TO THE PROMISED LAND: So, the idea of me personally executing my entire legislature way back when... fine. Promoting international cooperation against communism inside our nations... not fine...?
REPLY BY THE PROMISED LAND TO KIELMOG: There is a difference between petty bureaucrats and simple common folk who have the misfortune to have political beliefs the government does not like. The beaurocrats were hindering your nation's progress. Those common folk who profess to be communist are not.
RESPONSE BY REPUBLIC OF WAR TO THE PROMISED LAND: Lies. All Communist lies.
REPLY BY KIELMOG TO THE PROMISED LAND: You're right, randomly attacking common folk would be a poor use of my political power. However, attacking the demagogues who spew this sort of nonsense before it spreads into the "common folk" is a good use of my power. These false orators are no better than the bureaucrats that I had executed and, since both groups are guilty of the same crime (high treason), they shall receive the same punishment. Surely judicial equality should be something to strive for in a nation, with all being equal before the law. This conference is meant to cement relations between all of our fine nations and allow for a higher efficiency with regards to sharing intelligence and combating this dangerous cult mentality.
RESPONSE FROM DISTOPYA: Although strongly opposed to Communism, Distopya feels people have their own right to do as they please in their own nation. We will not ally ourselves with a nation that has openly committed genocide.
REPLY BY REPUBLIC OF WAR TO DISTOPYA: Removing a threatening link to our government, our people, and our society is not genocide.
TAHOE RESPONSE TO DISTOPYA: Genocide in the minds of anti-nationalist/pro-leftist nations, that is.
REPUBIC OF WAR RESPONSE TO TAHOE: I thank you for your support of my view on the matter.
RESPONSE FROM FRANZHARIA: While Franzharia believes that Tahoe and Republic of War are well within their right to secure their nations from threats both internal and external. We are a bit dismayed that Tahoe feels such bitter hatred of the left. Franzharia is a Reformist yet staunch anti-communist nation. We still do not feel inclined to attend, but we watch, and we wait.
NEO JAPAN RESPONSE TO FRANZHARIA: Finally, at least one anti-communist state that has retained a bit of their humanity.
TAHOE REPLY TO REPUBLIC OF WAR: Of course. It was due to communist and socialist uprisings in our nation that compelled you to deal with the internal threats in yours, and in the process protecting Tahoan interests around the world.
REPUBLIC OF WAR: I do not like Communists abroad, but I do tolerate them much more than Tahoe does. However, I am much for aggressive inside my own borders than any other nation with a stance against Communism. I don't encroach on your sovereignty, be glad.
REPUBLIC OF WAR REPLY TO TAHOE: I thank you for that as well. Now I have a stable country, except the racial issues, but those take time... or something else.
NEW CYMRU: New Cymru has no objections to communism in itself, however, the corruption that normally presents itself amongst the leaders of communist states is a cause for concern. We are in no way accusing any leaders of communist states on Planet Bob of being corrupt in any way shape or form.
ILE DE NOIR RESPONSE: I think Tahoe put it better but I do see the point of this conference now. Though I have to ask what makes you think anyone fortunate enough to escape your regime would choose to go to another nation that persecutes / prosecutes Communists when there are other nations where they would not suffer that fate. Also, cult mentality? I didn't realize that Communism was a religion now. I again ask the members of this conference to do everyone a favor and settle on a definition. To the Transvaal government: While I will not be as blunt as Neo Japan I can assure you that we are freedom-loving people as well.
LAND OF 1000 SWORDS RESPONSE TO ILE DE NOIR: Judicial equality means all people get judged equally according to our laws. Communists are people who are disobeying our laws, therefore they are people who will be prosecuted to the fullest extent of the law. A cult is alternatively defined as: "devoted attachment to, or extravagant admiration for, a person, principle, etc.". Please do not correct me on my own terms. Communism is not a religion and I never said it was such. Communism is the devoted attachment to an idea so radical that it must be quashed within our nations.
Finally, you assume people want to escape our "regimes" but why would they? We are not attacking the ordinary man or woman but political dissidents who endorse an idea dangerous to national security and stability. The ordinary man or woman who follows the law will not be "persecuted" and if Communists wish to flee my nation, they are more than welcome to, as they would no longer be a problem in MY nation. Truly, you must do the same things with terrorists and/or violent anarchists. We simply move these principles to communists as well. That is what this conference is about. The only point you got correct in all that is that Tahoe did state the purpose of the conference more succinctly and with more clarity than I did.
REPLY BY TRANSVAAL TO REPUBLIC OF WAR: This has generally been Transvaal's course of action. We are pragmatic in that we're open to having diplomatic relations even with nations whose ideology we profoundly dislike - however in most cases a mutual understanding of non-interference has been built. We have strong trade relations with a handful of communist countries and these are maintain due to us not interfering nor denouncing their internal politics while they do not criticise ours. They turn a blind eye and so do we and we're both better for it. We can do business with some communists on a diplomatic level yet crack their ideological skulls on a domestic level at home.
What we aim to do is suppress the export and proliferation of communism into our nation. If we can be of assistance to fellow nationalist regieme sharing a common front, then so be it. That is where we are coming from. It is standing up to those nations which try to export their foul and perverted ideology called marxism.
As for the those hecklers who do not see us as being freedom-loving, our nations are indeed freedom-loving because we strive to remove the social cancer which wants to make us all socially uniform.
THE WILSON EMPIRE: We await the information required to travel to this conference. Communism has been illegal in the Empire since its inception. Communism always ends in defeat.
TRANSVAAL REPLY TO THE WILSON EMPIRE: Attendees are to make their own way to Transvaal; our international airport is located in Johannesburg. From there we shall provide secure transport to the conference location. Deputy Prime Minister Willem Coetzee will be on hand at the airport to greet you and coordinate your motorcade arrangements. We look forward to everyone's attendance.
THE WILSON EMPIRE: Do you have a private terminal set aside for our delegates arrival? The Prince himself will be attending the conference as the Emperor is busy with other Foreign Affair matters to deal with.
PROMISED LAND RESPONSE TO REPUBLIC OF WAR: Actually, it is not. I am a capitalist, you see, and that was what I have observed in the world around me. Do your research before calling ME a communist. Indeed, at facve value your statement is true, but what you did far exceeded that. You didn't even consider the possibility that many of the tens of thousands you killed might have simply been lied to.
PROMISED LAND RESPONSE TO LAND OF 1000 SWORDS: Nonsense according to you. And how are these "false orators" inhibiting the advance of your nation in any way? If everyone was equal, there would be little to no poverty, for one thing. Communism has both its advantages and drawbacks, but everyone attending this conference seems to focus solely on the negative aspects.
What laws are they diobeying by believing all human beings can and should be equal? Is equality such a "radical" concept? Promised Land reiterates that any surviving, self-proclaimed Communist in any of these nations will be granted asylum here, provided they have not committed any violent crimes.
LAND OF 1000 SWORDS REPLY TO PROMISED LAND: By spreading falsehoods about the world based on a naive idealistic viewpoint, communists give the working class a sense of undeserved resentment about their position and try to subvert the nation's economy with these falsehoods, when, in reality, the system they purport is still class-based but lies about not being class-based. Deluding the people with hallucinations of how things should be thereby resulting in a reduction of work productivity and thus weakening our nation is the crime these false orators commit. They are no socratic or platonic philosophers but cult leaders who wish to amass a large section of our workforce to put THEM in power. This is unacceptable by our laws as I imagine it should be in your country.
Granting asylum to these Communists is fine by us, as we have said, but when they poison your nation with their cancerous ideology and create tensions and riots in the workplace, I would politely request that you do not come to us for aid, as we will respond with a polite: "We told you so."
PROMISED LAND REPLY TO LAND OF 1000 SWORDS: As if...if they do cause a disruption that slows productivity, the workers in question will simply be fired. If they can't work, they can't earn money, and can't eat, and the leaders will obviously be cut off from funding. It's as simple as that. Other workers will be hired to take their place
Falsehoods, you say? Who are we to say whether they are naive or simply optimistic? Is it a crime to be optimistic?
Any ideology that seeks to reform will obviously try to interfere, or unexpectedly impact society, to one degree or another, whether it be in the military, the government, or the economy. It's the point of reform to try and make changes that are beneficial, after all.
So, you say you do not perscute the followers, only the leaders. Are you aware of Highbuzz's history? He eradicated over 20 thousand people, most of which were common, every-day citizens. And you're considering an alliance with him? I know you can be ruthless and heartless when you need to be, but are you that ruthless?
NEDLAND RESPONSE TO PROMISED LAND: Nedland seconds this! Any Communists can be safe in Nedland!
REPUBLIC OF WAR REPLY TO PROMISED LAND: I never said you were a Communist, but those lines were a copy out of the typical Communist manifesto.
They shouldn't have been doing anything questionable. They were weak and I made an example out of them, my people will be stronger for it. My country will be stronger for it. I did not exceed anything.
RSSPONSE FROM BARON UBERSTEIN: We are sorry for our late reply. We will not reply, there is no communist menace inside our boundries.
REPLY BY PROMISED LAND TO REPUBLIC OF WAR: "I'd like to have a copy of that manifesto you refer to, as I've never seen it before in my life. I was not quoting anything, but making an unbiased statement.
They weren't doing anything questionable, other than applying a label to themselves. A label you seem to hate with unreasoning fury."
STATEMENT BY ROSSIYSKAYA: Announcement by the People's Commissariat for Foreign Affairs - Commissar Alexander Rutskoy: Rossiyskaya is not a communist state. We are a multiple state of political theories. Our central government, however, is based on Leninism. We also have no stance on this conference, and will also not be attending.
REPLY BY REPUBLIC OF WAR TO PROMISED LAND: Copies of Communist writings are banned here, you should know that. I'm sure you can go down to your book stores and pick one up yourselves. And they were doing questionable acts by donating or supporting a Communist movement in the Republic of War. That is a crime against the state and warrants execution. It is the law, after all.
REPLY BY PROMISED LAND TO REPUBLIC OF WAR: So, as an example of our argument, if they donate a few pennies (or whatever the smallest unit of your currency is) toward what they are told is a charitable organization, but turns out to be a violent rebellion, that automatically brands them as traitor, no matter that they had no idea what the funds would be used for? A person is not weak simply because they believe a lie, espcially if it is told by a person that has been trustworthy in the past. As for the manifesto, I'll need the name of the particular one you refer to...
REPLY BY REPUBLIC OF WAR TO PROMISED LAND: I said "a Communist manifesto", not by name, nor anything. It is a typical line spouted by them, any of them.
REPLY BY PROMISED LAND TO REPUBLIC OF WAR: I see. In answering that one, minor question, you failed to address anything else I said before...
RESPONSE BY LAND OF 1000 SWORDS: I will answer this point for point and then attend to the true purpose of this conference.
1) A slowdown in productivity by something that can be prevented is unacceptable. If the human capital is poisoned with half-truths and outright lies, then it could easily spread and soon I may be forced to do more than just hunt down the source of this spread. By taking the leaders down now, I prevent future crackdowns and future imprisonments and executions that could have been prevented by an earlier enforcement. An individual is capable of intelligent thought, but, as history has shown, people en masse are prone to panic, confusion, and being easily deluded by demagogues.
2) The government says what falsehoods are by showing its efficiency. My government has seen huge leaps and bounds across the board with regards to our nation strength. Who are these false orators to say I am handling my country wrongly when it is obvious I am doing no such thing? They seek to promote naive idealism in an attempt to coup my government and nothing else.
3) Ideas of reform with good intention are not enough if they would obviously have bad results. Intentions by themselves have never been enough throughout history. Reform is fine when done by the proper channels, not when it is done through violent protests and the threat of revolution at every turn.
4) We here are aware of Highbuzz's history. While we obviously do not condone unnecessary civilian casualties, we are also aware that different nations require different actions based on their political system and national culture. He did what he felt was right to resotre security and stability in his nation and while you may never see me doing such an action, we shall also not condemn a leader for restoring national stability.
SEPTEMBER 11, 2008 - THE CONFERENCE BEGINS:
Interior Minister Gert Boersma walked up to the podium in the hall. Behind him were portraits of Staatspresident Botha... and, oddly enough, Kaiser Martens.
Further inquiries would indicate that the resort in question is apparently owned and operated by one of the handful of Afrikaner direhards from Transvaal's Nordreich past - the owner refusing all requests to remove the portrait.
After tapping the microphone to test the sound as well as get everyone's attention, Boersma began:
"Gentleman, leaders of our freedom-loving nationalistic and democratic nations of the world, I bid you welcome to this conference. As you all know, international marxism in its various forms and disguises is a social cancer which plagues the weak. The aim of this conference is to reach a unified understanding and more so the common means to deal with this cancer and remove it from infiltrating and polluting our homelands."
"As many of you know, Transvaal does business with a handful of socialist states. We have always held the belief that so long as we mutual do not criticize another's internal ideology then we shall respect that and turn a blind eye so long as it is reciprocal."
"We do not propose some sort of anti-communist international crusade to be launched across Planet Bob - although I am sure many of you would welcome such action [Boersma laughs].
No, the nature of this meeting is defensive. Today we shall discuss the means to keep all our governments informed about the communist threats across the globe so we are prepared and ready to deal with them when they strike our borders"
"To get discussion going, in front of you is a dossier prepared by the Ministry of Interior & State Security of Transvaal."
In front of each leader is a tan, soft leather briefcase with the words "PROJEK: KONDOR" and a condor emblem embossed in gold.
"Please, everyone now open up the tan cases on the table in front of you."
"In it you will find photographs and detailed profiles of all known communists who claim Transvaler citizenship. Some of these individuals are presently imprisoned in one of our labour camps, while others are operating underground or abroad. Included in these profiles are also all those known members of the professed liberal intelligentsia, freemasons, and card-carrying union members – in other words, all potential recruits to the Marxist conspiracy against nationalist authority."
"The dossier also includes all known foreign communist agents which our Ministry has arrested, imprisoned, deported, apprehended, or gathered covert intelligence on. All of this information is included on the set of CD-ROMs which you will find included in the package."
"My Ministry now makes this information known to all of you so your nations and security apparatus are aware of these traitorous individuals. We shall maintain and provide through diplomatic pouches a regular weekly update in what we hope becomes a common database of exchanged, shared information of all suspects deemed subversive to our group of nations through their allegiance to marxism and anti-capitalism."
Gert Boersma then paused to see if there were any questions or comments.
The back door of the room opens slightly and the Prince of the Wilson Empire, James II sneaks into his chair. He goes through the packet.
"What do you plan to do with those who are not already in labor camps?" he asked.
Minister Boersma responded: "Those whose whereabouts within the Federal Republic are known to the Ministry of Interior, it depends on the depth of their complicity and whether they are more useful to us for observation if left alone to go about their business. Those who pose no threat are simply watched for new developments - although any who have had contact with an organisation deemed 'communist' by the government can be brought in at anytime should their actions cause enough alarm and charge them under the Supression of Communism Act (March 16, 2007)."
Pirate Vice-Chieftain and Supreme Admiral James McKean from Land of 1000 Swords stands up and asks a question: "First off, I would like to apologize for Chieftain Kielmog Anfilgud's absence because while he found this conference important enough for him to attend, he is currently busy administrating the refitting of the military with newly "acquired" technology. Secondly, what would be the best method for emergency alert should a communist or communist group be in the position to create an immediate problem in a given nation?"
RESPONSE TO KIELMOG'S QUESTION: An excellent question! That would be something we would need to discuss - although it shouldn't be too difficult to establish communication hotlines of some sort between the various security organisations. Also those of us which share embassies could have someone from their respective interior ministries stationed at the embassy as a point of contact. Having such a presence at a diplomatic level would help as that go-between officer could prohably utilise his nation's encoded diplomatic communication between embassy and home.
KIELMOG'S RESPONSE: Well, they would have to be on the most secure of lines and be accessible only by high-ranking government officials but this is one option. It would be easier to have diplomatic officials in each others' nations to establish contact through secure and secret means. Though I suppose that would be the purpose of this conference. My next question is: "To what extent would we have to trust the other nations involved with potential government secrets in order for this system to function effectively?"
SILVERHAWK OF CAVALIERE: My fellow Nationalists, I must inquire how I may be able to join this Anti-Socialist Axis?
TRANSVAAL REPLY TO KIELMOG OF LAND OF 1000 SWORDS: Our viewpoint is that the identification of potential and real marxist operatives would not be considered a government secret that could not be shared with other like-minded nations. Our own Government is willing to make all our anti-communist intelligence data available to all those who combat the spread of international communism.
TRANSVAAL REPLY TO JAMES WILSON: Yes, of course. Due to the covert nature of the meeting, we are making sure that all attendees are kept under a low profile so as not to attract oustide attention.
TRANSVAAL REPLY TO SILVERHAWK: Make your way to Transvaal and attend the conference (we can assume you'll arrive at some point).
IN ATTENDANCE: The Wilson Empire, Viniland, Land of 1000 Swords, Republic of War, Imperial Wellington, Tahoe, Transvaal, and Cavaliere
BOERSMA OF TRANSVAAL: Now... gentlemen, I have talked enough, it is now time for someone else to take the podium.
Highbuzz, while the war in Germany is going on, felt this conference was of much importance and flew out. He puts General Hans in charge of the war for now. Highbuzz's plane flew into Transvaal airspace and landed. He was taken by Transvaal escorts took him to the conference.
Highbuzz noticed the conference somewhat began and took his seat, hoping to get caught up.
Interior Minister Gert Boersma noticed the arrival of Highbuzz and gave him a friendly nod of acknowledgement. Many others in the conference turned around as well to witness Highbuzz's entrance.
Especially amongst the Transvalers in the conference hall, low murmurs could be heard. Much had been heard over the years about the exploits of this particular individual - now he was here in Transvaal in person.
STATEMENT FROM NEO TRIYUNICA: Neo Triyunica will not be formally attending the conference as a participant. However we support our friends in this conference and are sending observers to report back on the conference to the Emperor. We leave open the possibility that we may join this body in the future, and plan on working closely with this body even as a non-member. There are a few communists which are allowed to prosper in Neo Triyunica, but any attempt to support communist movements opposed to these nations in attendance is strictly not tolerated.
SEPTEMBER 12, 2008
The prince of the Wilson Empire stood up from his seat, and in respectto a member of the Royal Family of a respected nation, the convention fell silent. Communism has been banned inside my homeland for many years ever since a communist attempted to take my father's life in a failed coup. And thus, we pledge to any member of this pact, that should you have qa communist uprising on your hands, we will be one of the first to respond to you calls for help. The young man sat down in his seat and took a drink from the soft drink he had ordered.
Taoiseach O Deaghaidh of Tahoe stood up. He had read the proposal and found it satisfactory, and now it was time for him to make his case. The worlds most famous anti-communist, leader and proponent of Tahoe's international crusade against communism now held the world stage, nations friendly were in attendence, and many enemies looked on.
James McKean of Land of 1000 Swords, relatively new to the international political scene, decided quiet acknowledgement and rapt attention would be the best course of action as he was well aware of the current speaker's history and felt it would be better to take some notes than to interject or ask for his turn at the podium. He sensed the tension in the air from the unfriendly observers and shifted uncomfortably because of this. His diplomatic aide, a giant fan of Taoiseach O Deaghaidh's anti-communist policy, stood up to cheer, but was quickly silenced by Mr. McKean.
Highbuzz started to clap and smiled at Taoiseach as he made his way to the podium.
The entire Transvaler delegation erupted into a standing ovation once Taoiseach O Deaghaidh had made his presence known.
Interior Minister Gert Boersma thought to himself as he beemed smiling how blessed I am to be in the same hall as all these great, monumental foreign dignataries.
The Prince looked on wearily. Just days ago, he found himself angry at the nation of Tahoe for its uncivil seize of the Hawaiian Islands. However, he decided to give him the benefit of the doubt although he did not clap.
Victor Almeida, Viniland's Vice Prime Minister scanned the faces present in the conference. "Plenty of great men here, heh. Although some seems to take those loser Communists a tad too seriously...", he thought to himself. Despite an urge to address those within the room, he repositioned himself in his chair and eagerly awaited for the Taoiseach's speech.
SEPTEMBER 13, 2008
The Taoiseach slowly approached the podium, and once there, acknowledged the delegates of the nations represented in this most important conference. Clearing his throat, he began in a loud, clear voice:
The major problem confronting the people of the Tahoe Republic and free peoples everywhere in world is the threat to peace and freedom presented by the militant aggressiveness of international communism. A major weakness in this struggle is lack of adequate imderstanding of the character of the challenge which communism presents.
I am convinced that we are on the right side in this struggle and that we are well ahead now in its major aspects. But if we are to maintain our advantage and assure victory in the struggle, we must develop, not only among the leaders, but among the people of the free world a better understanding of the threat which confronts us.
The question is not one of being for or against communism. The time is long past when any significant number of people contend that communism is no particular concern of theirs. Few in our nations can still believe that communism is simply a curious and twisted philosophy which happens to appeal to a certain number of zealots but which constitutes no serious threat to the interests or ideals of free society.
The days of indifference are gone. The danger today in our attitude toward communism is of a very different kind. It lies in the fact that we have come to abhor communism so much that we no longer recognize the necessity of understanding it. We must realize that far to many nations protect either protect communists or espouse a philosophy so similar to communism that it essentially becomes a so called communist state.
We, however, see the obvious dangers. We recognize that we must retain our present military and economic advantage over the communists and their supporters, an advantage which deters a quick and deadly spread of communism across the world. Instead, the principle current threat comes not from the masses in a poor, underdeveloped third world nation but from an intellectual minority within our own borders who would delude and mislead the people of the world down the deadly path of leftism.
This battle, therefore, is just as much a battle of ideas as it is one of force of arms. We must recognize, and never forget, that communism denies God, enslaves the masses and destroys justice. We must counter it not only on the battlefield, but in the classroom, the courtroom and lawmakers office. We must promote our ideals: freedom, democracy, capitalism, nationalism.
We must recognize that capitalism and communism stand at opposite poles. Their essential difference is this: The communist, seeing the rich man and his fine home, says: 'No man should have so much.' The capitalist, seeing the same thing, says: 'All men should have as much.
We must coordinate our efforts, and fight it wherever it springs up. We must work together to combat international communism in every way can, and by adopting the proposals put forth by the government of Transvaal, we can do this even without having to take the extra step and fighting communism out of your own borders, as we do.
And with that, the Taoiseach took a step back and waited for the reaction from the crowd.
President James responds with enthuastic applause to Taoiseach's speech. He nods and shakes the hand of Taoiseach as he approaches the summit pulpit.
I concur with my fellow statemen's sentiments, we must prevent the corruption and loss of our greatest minds to the predator know as Communism. It stands in direct affront to proper nations' Meritocracy, in which a man shall be judged by his actions and his actions alone and not by the State!
My Nation stands ready to send whatever aid is needed in whatever form desired to prevent the spread and entrenchment of Communism and leftist thought in our respective countries. They have stolen the tenants of Liberalism for their own ends, twisting and perverting it beyond recognition!
We must not stand for this, my fellow leaders, we must not protect only protect ourselves, but our countrymen and allies! Thank you!
The hall erupted in waves of applause and ovation as the Taoiseach finished his speech. The Transvalers in the audience, both the government ministers which attended as well as various observers from the three major political parties (NP, VF, and DBP), were energised by the Taoiseach's words.
As the clapping in the hall began to subside, those in the audience noticed that one by one members of the large Transvaler delegation stood up as they looked towards the entrance into the main hall. Some of them began to sing Die Stem van Suid-Afrika, the Transvaler anthem on the sight of a recognisable figure who had been hitherto un-noticed as he stood in the doorway while the Taoiseach spoke. He now walked down the centre isle between the seating to join the rest of the conference delegates.
Staatspresident Botha himself had now arrived. He took his seat in near the podium, waved and apologised for his apparent interuption, and motioned for the discussion to carry on.
The Taoiseach beamed at the reception his speech had gotten. Hopefully it would inspire the world to combat socialism and communism. Then he noticed Staatspresident Botha, one of the Taoiseach's personal heroes, had arrived.
He walked over and shook Botha's hand. "It is an honor for me to be here in Transvaal at last. Out nations share so many similarities, it is a shame these meeting has been delayed so long."
Highbuzz walked up to the Taoiseach and grabbed his hand, "Fine speech! Though one thing, I'm an atheist and I defy your view of God most likely, don't think of us as the same as Communists!" Highbuzz laughed and patted the Taoiseach on the back. "No hard feelings, my friend!"
"No, none at all of course. I'd rather have an atheist nationalist than a religious communist...but I'd even more like a religious nationalist." the Taoiseach told his old friend with a grin. He laughed "I'm glad you liked the speech."
Staatspresident Botha was humbled by the Taoiseach's kind words. He clasped his hands and shook them as photographers lined up in front of the two leaders to take pictures.
The normally gruff Transvaler leader broke a smile and said "That was truly an inspiring speech which you made. I especially liked the part about the Rich Man and the irreconcilable differences between communism and capitalism. Very inspiring"
"As you may recall, your people were one of the first outside of Nordreich to show their support and encouragement to our people and the struggles we were enduring in our troubled early days. It is truly an honour for us to have you finally set foot in our beloved nation."
In the back of the hall, one could hear the chant of "Taoiseach! Taoiseach!" begin to echo above the general chatter of the attendees.
"Come, let us sit down and listen to what the others have to say."
"Likewise Transvaal was one of the first nations engaged with in a friendly manner since the end of our isolationist doctrine. Transvaal, without any precondition offered support to our government when faced with a dangerous insurrection that threatened the continuation of a Nationalist government. Nothing we do will ever repay Transvaal for that."
O Deaghaidh and Botha, shaking hands for the first time would appear on the front pages of every major Tahoe newspaper the following day. Waving to the crowd, he heard the crowd chanting "Taoiseach" which made him smile, but he turned back to Botha and said, "Truly, I don't deserve such ovation. We are all but humble soldiers in this great battle for God and country and no man is more important than another in that struggle."
SEPTEMBER 14, 2008
As those in attendance settled down from the euphoria caused by the Taoiseach's great speech, Victor Almeida of Viniland calmly stood up, adjusted his tie and spoke up:
I believe the Taoiseach has covered a lot with his speech. Indeed, the Communist ideology is a cancer that afflicts the world since the "Das Kapital" was published. As it is a cancer, it must be eradicated before it spreads without control, takes over the world and slowly damages it beyond repair. And as it is such a threat, all nations must combat at its best ability.
However, I must pose a question to those present: what if the cancer becomes benign or even does not resemble a tumor at all? Is there any need to do away with them?
I ask such question when bearing in mind the current ideological situation of my country, Viniland. While pretty much everyone there strongly opposed to anything close to Marxism, there is this ideology called "Social Democracy" by its adopters, and is predominant among a significant amount of people. Indeed, they draw quite a few influences from Socialism, yet they do not call for the submission of Capitalism. They say the Socialist influences is necessary to prevent injustices in the Capitalist system, they say.
Whatever, the ideology sounds like bollocks to me. Conservatism and Monarchism will not succumb to such nonsense. However, they have never posed any significant threat to our religion, traditions or integrity. Hence, they were always allowed to do as they please, as we traditionally support free speech.
My main point here is that, while we should actively prevent Communism, we ought to not go too far and get rid of anyone who bears a somewhat red flag, and not bother much with moderate forms of Socialism, specially those that includes plenty of Capitalist and traditional ideas. Naturally, keep an eye on them, though. You never know. I've said all of this because I know that some of the present guests felt like pulling out a gun when they heard the word "Socialism", when there's not really a need to do so.
And in regards to our membership in an official anti-Communist pact, we're considering such possibility, but even if we discard it, we will definitively support nations willing to sweep out the Hammer-and-Sickle threat. We're also welcome to offers of other kinds of treaties with the present nations. Obrigado.
Then, Victor proceeded to adjust his blazer and sat down, still with a serene face, albeit it had more blood running through it than before. Staring forward, he had a few thoughts: I'll likely get a mixed or indifferent reaction from the crowd, but I'm always in for a surprise. We'll see...
RANATHAR OF FRANZHARIA: Only his second trip outside of Franzharia, even with the heavily guarded Transvaler escorts, ever since he stepped out of the plane Chancellor Ranather was nervous. When the building came into view, he could feel his heart beating. He stuffed it all in as he was led to the room where the conference was taking place. Opening the door, Ranather made his way in. "I hope I didn't miss too much."
EMPEROR MUDD OF TAHOE: "I will attempt to assuage the fears from the honorable delegate from Viniland. I stress that this conference is primarily anti-communist, not anti-leftist in general. But I also mentioned that the primary struggle we are facing is one of ideas. By opposing militant communism with force of arms and educating our populations to the danger of socialism, moderate or not, we stop its growth and expansion. I don't propose the arrest and execution of every left winger in our nations, indeed the second largest political faction in Tahoe is the Labor Party, a social democrat party, but I do propose we do everything we can to win this war of ideas, and that involves combating ideologically all forms of Socialism, from social democracy to communism."
Sitting near the back of the room, Ranather listened intently to the Taoiseach, taking it with a grain of salt.
Silently thinking to himself, "I'll have to be very careful how I present myself, though maybe I simply won't be noticed." He hated communism as much as any other person there, he knew he needed time to wipe Socialism from Franzharia. Time. How much did he have? That was the question.
SEPTEMBER 15, 2008
President Silver of Cavaliere responds with enthuastic applause to Taoiseach's speech. He nods and shakes the hand of Taoiseach as he approaches the summit pulpit.
I concur with my fellow statemen's sentiments, we must prevent the corruption and loss of our greatest minds to the predator know as Communism. It stands in direct affront to proper nations' Meritocracy, in which a man shall be judged by his actions and his actions alone and not by the State!
My Nation stands ready to send whatever aid is needed in whatever form desired to prevent the spread and entrenchment of Communism and leftist thought in our respective countries. They have stolen the tenants of Liberalism for their own ends, twisting and perverting it beyond recognition!
We must not stand for this, my fellow leaders, we must not protect only protect ourselves, but our countrymen and allies! Thank you!
President Silver steps back from the stand after he finishes, a bit overwhelmed by the energy in his own words.
The Prince of the Wilson Empire listened closely. He agreed with everything so far. He has hated communists since they attempted to coup his family from power. He cell phone rang. It was his father. He informed him of the People of Freedom and asked him to do something. After President Silver finished, The Prince got up from his seat and he walked to the podium. All mouths fell silent and eyes on him. "I have just been informed by my father, the Emperor, that a certain nation called the People of Freedom has been terrorizing the globe. I hereby move to declare it a communist state and make war upon it." The room was silent. The Prince, left the podium and returned to his seat to await the responses of the other delegates.
Ranather of Franzharia heard the Prince's words, and decided to chime in.
"Franzharia highly dislikes this terrorist nation, but to deem it communist, even if it might not be, simply to make war, seems a bit rash to me."
Botha chuckled to himself when he heard about People of Freedom. He then leaned over to the Taoiseach sitting next to him and whispered: "But if we declare People of Freedom to be a communist nation, that'll be insulting all our real communist enemies!"
The prince heard this comment and laughed hard. "While this may be true, he must be whipped off the face of Bob. Also, we need a catchy name. Any idea's?"
The Taoiseach chuckled "Heh, I agree. In my opinion this People of Freedom group is nothing more than a few deranged kids with molotov cocktails and the media is blowing the rest out of proportion."
Stepping up, Ranather decides to make his true opinions known.
"For those of you who do not know me, I am Chancellor Ranather of Franzharia. Since opening our borders, our nation knew two things. That Transvaal was our eternal ally, and that the Socialist rot in Franzharia was deep. Not but a week ago, an attempt on my life was made by my Regent, Ocato von Smesnil, second in command of the Reform Party. The Socialist Party, only yesterday, sent out a message. That the only thing I was doing here was begging the Taoiseach not to invade and cementing Franzharia as a puppet of Transvaal and Tahoe. All socialist nonsense. We cannot let terms like Social Democrat, Democratic Socialist, Republical Social Golden Democracy, or however they choose to sugarcoat it, disguise the fact that this cancer cannot be let to fester. The Taoiseach's points about education as one of our greatest weapons, I can only fully support."
The Taoiseach smiled while listening to Mr. Silvers words. It is always refreshing to hear somebody so clear minded about the struggle the world is facing.
Upon hearing Chancellor Ranather's words though, he was troubled. "Mr. Chancellor, it is clear from your testimony that revolutionary forces in your nation are seeking to overthrow your lawful government. I am troubled that the socialists would so openly oppose your authority in such a violent manner. I pledge Tahoe support for your government. If you ever need help, we will be there in solidarity beside you."
Ranather immediately turned to the Taoiseach.
"First let me say it is quite the honor to meet you. Yes, the Socialists became quite brazen after I took office. They seemed to percieve a weakness in me. That was until I watched that traitorous Regent fall to my feet dead. Killed by a sniper as he held the pistol to my face. They fled in droves. Civilians and activists mostly. The politicians stayed for the elections, won 5 seats, and the Representative Body in one of our provinces. I could have eliminated the party then. But I needed some sort of legal precendent."
"The Anti Communist act I signed, and to some extent this meeting, gave me the teeth I needed to act more aggressively, and I did, right now my new Nationalist Senate is pushing through a bill to greatly restrict the Socialist Party's ability to act, especially after calling your country and Transvaal as my 'puppetmasters' and me the puppet. Then they became so bold as to call for other leftist nations to invade Franzharia."
"I'm stomping out Socialism, though it will take time to wipe such a firmly entrenched rot."
STAATSPRESIDENT BOTHA'S SPEECH
My fellow Nationalists!
First off, I welcome each and everyone of you to our beloved Transvaal.
Gathered here together are a diverse group of nations. Some of us are authoritarian - and some of us are democratic. Some of us profess divine godliness - while some do not. We have old established nations - as well as newly emergent ones.
However, despite all these diverse characteristics, one common characteristic binds us together: our inherent desire to see that social cancer called marxism removed from influencing and threatening our own desired ways of life.
Now people may look at some of our nations and say 'you are no more democratic than the socialist dictatorships' or 'you have just as much state control as the socialists.' They will call us hypocrites and philistines and ask the inevitable question: 'what make you nationalists think you are better than us?'
The difference between us and them, my friends, the essential focus that makes our systems superior to their hive-mentality is this answer - the answer is simple:
We believe citizenship is a privilege earned by one's own merit - and not some 'universal right'.
Let us study the words of one of our critics from the socialist bloc: "What laws are they disobeying by believing all human beings can and should be equal?"
The answer to this often-asked question lays in the words of truth spoken by Taoiseach O Deaghaidh of Tahoe: "The communist, seeing the rich man and his fine home, says: 'No man should have so much.' The capitalist, seeing the same thing, says: 'All men should have as much.'"
No greater wise words hath been spoken.
Many great leaders that have spoken at this conference have made momentous contributions to the cause of anti-communist resistance. We must take heed of their words.
Kielmog has shown us that "communism is the devoted attachment to an idea so radical that it must be quashed within our nations. Deluding the people with hallucinations of how things should be thereby resulting in a reduction of work productivity and thus weakening our nation is the crime these false orators commit."
President James taught us that communism "...stands in direct affront to proper nations' meritocracy, in which a man shall be judged by his actions and his actions alone and not by the state".
Communism aims to remove our diverse individualism and the drive of human incentive - instead replacing it with uniformity and the necessary mind-control required to force uninspired workers to produce as drones and slaves.
Marx [Botha laughes] once said that religion was the opiate of the masses. As we all know, Marx is wrong - because the real opiate of the masses is marxism. It dulls and drugs the individual into believing he does not need to contribute because he is 'equal' and therefore simply entitled to everything regardless his merit to society.
We do not believe in equal entitlement - we believe in the privelege of merit.
Gentlemen, we have discussed the proposed Condor Pact (Projek Kondor) where all willing signatories would contribute and share intelligence information on real and potential marxists as well as provide surveillance and assistance as requested in apprehending such suspects residing and operating within our borders.
To further the aims of Projek Kondor, the Federal Republic of Transvaal offers to host a permanent Nationalist Security Council in Pretoria where each signatory to the Condor Pact would send a delegate from their own national security bureaus.
This Council will then work together as a processing centre for all incoming intelligence which member nations choose to contribute. It will be our intelligence hub which unites and co-ordinates our resistance to international marxism. This is not a military pact in as much as it is a police and security intelligence pact.
Each nation would be their own judge to determine exactly what is defined as communism within their own borders. That way a nation that has a passive social-democratic party can turn a blind eye towards them and leave those off the database while a nation which crushes labour unions and tolerates no socialist opposition can enter those into the database.
However we would all assist in apprehending any of those individuals entered into the Council database should those individuals surface within our collective borders or means - regardless if the nature of their real or alleged Marxist actions contradicts with our own.
The Nationalist Axis Council would also co-ordinate any requests made by members for foreign intervention against Marxist rebellions and other forms of social disturbance which our internal security and police forces may be unable to contain.
The Nationalist Axis would not interfere nor dictate with whatever foreign diplomatic or trade arrangements your nation may have made with communist states. This is not a foreign policy pact.
My friends, each and every one of you, the forces of communism have struck many blows to the nationalists of the world in the past year, but now the tide is turning because united under the banner of the Nationalist Axis, we are that vanguard against the evil forces of communism! I ask you to join the Nationalist Axis.
We have continued to show that communism has no place in our nations and over our dead bodies we shall make sure it remains that way. Today, Tomorrow, ...and Forever!
RESPONSE FROM RANATHAR OF FRANZHARIA: Chancellor Ranather applauds the Staatspresident's speech.
SEPTEMBER 16, 2008
The loud applause from the Land of 1000 Swords' section of the conference hall is punctuated only by the boisterous applause coming from the newest arrival, Chieftain Kielmog himself. The Vice-Chieftain, disappointing Kielmog with his timid nature during the conference, has been sent home, and will no longer represent the Land of 1000 Swords at foreign conferences.
The Land of 1000 Swords' delegates, after such excellent speeches, are relieved to see the Chieftain himself arrive... his hatred of communism is the driving force for the aides and assistants.
The speech by the Staatspresident brought tears to the Prince's eye. He walked over to the Staatspresident and shook his hand. Beautiful words, sir! Absolutely beautiful!!!
STATEMENT FROM TAHOE: Due to hostilities engaged against Tahoe by Arizona, Taoiseach O Deaghaidh must withdraw from this conference. We ask all nations involved to offer support for Tahoe in our war against Arizona and Neo Japan.
STATEMENT FROM FRANZHARIA: While we certainly seek to strengthen ties to Tahoe, we cannot defer from our Neutrality Policy. We wish your people luck nonetheless.
REPLY BY TRANSVAAL TO TAHOE: The Government of Transvaal is sorry to hear this unfortunate news but understands the circumstances of your departure.
We have no relations with Arizona and our ties with Neo Japan are strained at the best of times. You have our full economic support.
STATEMENT FROM USTIO: Although an Ustio representative came to witness the conference, he couldn't help but applaud the Transvaal President, as he supports an end to the Marxist disease, Socialism. He made his way to the Staatspresident, shook his hand and said "I am inspired by the speech you've made, perhaps we can make an anti-communist alliance."
STATEMENT FROM NEW TRIYUNICA: Due to circumstances beyond this conference, we will be requesting to join the Nationalist Axis.
RESPONSE FROM THE WILSON EMPIRE TO NEW TRIYUNICA: Would those circumstances be the current war happening?
TRANSVAAL STATEMENT: Gentlemen... actually, re-read my speech carefully. It is not a military alliance, but rather a domestic internal security pact to share intellegence on domestic opposition. For the exact reason of the current war, we do not want to see this become a defensive military alliance as Transvaal in particular does not wish to see itself dragged into overseas conflicts thousands of miles away from home. Any military assistance rendered by menbers would be optional not obligatory.
REPLY FROM NEW TRIYUNICA TO THE WILSON EMPIRE:There appears to be a clear dividing line in the world. The Nationalists are clearly the true friends of Triyunica, those who wish ill on us are the ones who tend not to support this. This isn't true to the letter but the line seems to be quite clear. This is us recognizing who our real friends are.
STATEMENT FROM KYOKUJITSU TEIKOKU: With Neo Triyunica joining, we shall join as well.
SECURITY COUNCIL OF THE NATIONALIST AXIS - VEILIGHEIDSRAAD VAN DIE NASIONALISTE AS
I: The Federal Republic of Transvaal will host a permanent Nationalist Security Council in Pretoria where each signatory to the Condor Pact will send a delegate assigned from their own national security bureaus.
II: The Nationalist Axis is not a unilateral military defensive pact but rather a domestic policing agreement. A declaration of war does not trigger a chain response of military commitment from its members.
III: The Nationalist Axis does not restrict diplomatic and economic agreements; this includes whatever foreign diplomatic or trade arrangements a signatory nation may have made with declared communist states.
IV: All willing signatories pledge to contribute and share intelligence information on real and potential marxists as well as provide surveillance and assistance as requested in apprehending such suspects residing and operating within our borders.
V: Each nation will judge and apply their own definition of 'marxist threat' within their own borders. However all signatories will assist in apprehending any of those individuals entered into the Council database should those individuals surface within our collective borders or means - regardless if the nature of their real or alleged Marxist actions contradicts with our own definition.
VI: Any requests made by members for foreign intervention against domestic marxist rebellions and other forms of social disturbance may be made to the Council however commitment of military expeditionary forces is optional by its member nations.
VII: Security procedures carried out in accordance with the Condor Pact are not deemed prosecutable within the laws of our respective nations.
VIII: The terms Nationalist Axis, Nationalist Security Council, and the Condor Pact (Projek Kondor) are interchangeable terms and refer to the one and same organizational body and its related treaty.
Signed this day of Wednesday, September 17, 2008 in Pretoria, Transvaal
List of Member Signatory Nations covered by the Nationalist Axis (Representative)
SPEECH BY KIELMOG OF THE LAND OF 1000 SWORDS: As I look around the room today, at all the respected nations and leaders, at all the valiant crusaders against the scourge of communism, I find myself looking for some commonality, some characteristic that unites us and brings us here today. Is our desire to end this cult ideology motivated by ruthlessness, greed, a lust for power, or something else? Our critics often accuse us of these things and I began to wonder if it is indeed the truth. However, after much reflection, I began to realize that we are not ruthless, greedy, or power-hungry, for these characteristics are only useful in the short-term.
What we are doing contains so much foresight that others cannot comprehend our actions and view them only in the perspective of the short-term consequences. Our nations all have various degrees of communist infiltration, from the secret whisperings of demagogues in alleyways to full-out opposition movements and "parties" who seek to overthrow legitimate governments and take power themselves. They hope that we will remain complacent or unaware of this growing problem. However, we few are those who are able to stand up to the red tide and say, "NO! You will not infect my nation. You will not infect my people. I seek to ensure their safety and their prosperity. You seek to demolish their prosperity and take away all that makes them unique. I will not allow this."
Is this desire to save one's culture greedy or ruthless? If anything, it is the least self-serving goal to have. When change brings about the fall of culture and society, it is NOT good change. We seek to avoid destruction, disillusionment, and despair. Are we then to be branded as selfish?
NO! We few, we proud few, will join together and rally to the cause of preserving advancement based on merit, of preserving religion and culture, and of preserving moral values. I look out on this crowd of fine people, both young and old, famous and unknown, and realize that we all are no tyrants or villians, but bastions of tradition and culture.
When we sign this pact, we are not signing just a promise for intelligence information and cooperation but a notice to the world that we will not tolerate marxism, this cancer, from spreading to our nations, and we show to those who would try to infect us with this disease that they will not be tolerated in our nations and to head elsewhere to try to spread their lies and falsehoods.
As I put pen to paper tonight to show my commitment to our newborn organization, so, too, should all of you with the knowledge that what you do here you do for your people, your nation, and perhaps most importantly of all, for the knowledge that whatever may come in the future, we chose to fight this menace.
To the Nationalist Axis, may Fate guide us to a better tomorrow!
STATEMENT FROM TAHOE: The Taoiseach called Staatspresident Botha today from his secure bunker in Northern Tahoe to confirm that Tahoe signs the Nationalist Axis Accords. Daniel Conway, a senior member of the Ministry of State Security, who served in Transvaal as the leader of a delegation inspecting Transvaal's labor camps has been appointed Representative to the Nationalist Security Council in Pretoria.
SPEECH BY HIGHBUZZ OF THE REPUBLIC OF WAR
Highbuzz, wanting to leave to attend to his country in light of a looming threat, walks up to the podium. No one really noticed him until he reached the podium and tapped the microphone. Highbuzz then looked up, seeing if the microphone tap had gotten everyone's attention, it did. He cleared his throat, took a sip of water, and started to speak:
"My comrades... we have heard rousing speeches throughout this meeting of the Nationalist Axis, many of them great, in fact, all I would dare say. Some points I do not agree to or necessarily see the same way, but everyone is different. So be it. But I come to you as a messenger with a warning if you will." Highbuzz pauses, breathes and resumes. "Too many of men have I seen dead because of war. My family has been ripped from me because of it. War... is cold. War is... unforgiving. War is unrelenting in its fury. There are no rules, contrary to what you or anyone else wants to believe. If you pin someone in the corner with no way out, you'll be damn sure they'll use every... and I mean every means of getting out of that situation that they can. You can cry to the international community when that happens, I'm sure they will care. I am not being sarcastic, they probably will. But that fact does not help you one bit. You're men will have still lost their lives, whether it be by suicide bombers, chemical weapons, etc. Your fellow country mens' lives will not come again, something that will be imprinted on your soul forever! I say this in front of you all because you're all ambitious and full of hate of Communism, as am I. But there's a difference between you and I for most of you in the audience... I am an Isolationist. I try not to meddle in foreign affairs, even foreign Communistic affairs. I rule with an iron fist in my lands, but outside, I do not care as it does not affect me nor my people. The goal of a leader is to please, serve, and protect his people..."
Highbuzz pauses. He looks down at his paper for a second, and takes a sip of water. His stare goes outward into the crowd as he sips. He starts to speak again, "However, some of you think it counts as protecting your people by fighting Communism in foreign nations. I always want to cry when I hear of allied nation's troops dying for a senseless cause. Under our minds, Communism is doomed to fail anyways, what should we care that a Communist nation is out there in the world? I can hear it now, 'But we must protect our country from future aggressions!' and I always laugh when hearing that line... What causes aggressions to usually occur? Aggressions by you, foreign nations. Trying to suppress them, to oppose them, makes them suspicious and usually results in wars later on. By ignoring them or even acting friendly, you almost always prevent an enemy from forming. No one would hate you, or so I would hope, because you despise their government system. I hate Communism, I hate how it undermined my country at one point, I hate how it works, but I do not hate the people that use it in foreign nations. For that, I feel I do not have any enemies purely based on my hatred of their government system."
Highbuzz took a breathe and put his papers back in his coat. He smiled and proceeded to walk down. He passed Botha and whispered, "I have to go... trouble might be brewing on the North American continent, I have to be there. It was a lovely conference and glad we got stuff ironed out. It was a pleasure, truly."
BOTHA'S REPLY TO HIGHBUZZ: "By all means of course, it was a pleasure to have you visit us. On behalf of my government we wish you a safe journey and hope that you can solve your problems brewing at home."
Unless anyone else has anything to add or further signatories to the Condor Pact, I'm going to declare (by next update) this conference over. The Government of Transvaal thanks everyone who made the effort to attend this conference and made it a success. The discussions, dialogue, and documents from the conference shall be preserved in our historical archives and history books (see "History of Transvaal - Volume II" on CN Wiki) for future generations.
Expansion in the Indian Ocean
Edit
SEPTEMBER 23, 2008
STATEMENT BY RANATHAR OF FRANZHARIA: Upon requests by our Afrikaner minorities, control of the islands of Reunion, Rodrigues, Tromelin, and Coco have been transferred to the control of Transvaal. They had always felt distanced from the Empire and the ability to grant them partnership with their ancestral homeland is our final goodwill gesture to them. We wish them the best of luck.
RESPONSE BY FEDERAL GOVERNMENT: The Federal Republic of Transvaal hears and acknowledges this heartfelt desire by the residents of these islands.
Effective immediately the islands of Reunion, Rodrigues, Tromelin, and Coco are officially annexed into the Federal Republic and placed under the administration of new Indian Ocean Protectorate. The Comoros Islands have also been transferred into the Indian Ocean Protectorate.
Ad blocker interference detected!
Wikia is a free-to-use site that makes money from advertising. We have a modified experience for viewers using ad blockers

Wikia is not accessible if you've made further modifications. Remove the custom ad blocker rule(s) and the page will load as expected.