Ad blocker interference detected!
Wikia is a free-to-use site that makes money from advertising. We have a modified experience for viewers using ad blockers

Wikia is not accessible if you've made further modifications. Remove the custom ad blocker rule(s) and the page will load as expected.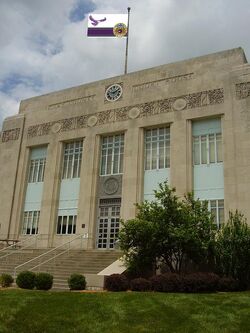 L-Town is located in the center of the Unified Principalities of Kansouri, and is its capital. This city is, more or less, analagous to the city of Liberty, Missouri in terms of location and objectives.
L-Town was founded in 1822. Following the continuing bickering between the various suburbs and communities comprising the Kansas City metro, L-Towners, namely Premier Atlashill took charge in forming the nation that quickly unified the area. Since then, L-Town has been a prosperous hub of commercial activity, and anchors one of Kansouri's 114 principalities.
Capitol Square
Edit
While L-Town continues to expand in all directions, it is anchored by the historic Capitol Square. Small businesses proliferate in the shops surrounding the capitol, including the world-famous Harvey's Barber Shop, Hardware Café, and Scoops Ice Cream.
The north side of the square, originally owned by the Order of Ryslam, has served as Embassy Row since Kansouri's days in The Legion. Major alliances who have embassies with Invicta can open consulates in this row. Embassy Row is also home to small temples operated by the followers of Ryslam, which has waned in popularity to the Arkansouri-based Church of St. Sam.
Alliance Offices
Edit
L-Town has often served as headquarters for several alliance operations offices, including:
Logistical Support (Invicta), August 2007–present
Capital of PAW, June–August 2007
Capital of Kaleidoscope, May–June 2007
Legion Ministry of Defense, Dec 2006-Feb 2007
Office of the Commodore (Legion Military second-in-command), Aug-Sept 2006
Team Headquarters, Harry S Truman Cohort (Legion Intel & Internal Affairs office), June-Dec 2006
In addition to the national Kansouri Star-Eagle, L-Town is served by the weekly L-Town Trib. Several broadcast stations also call L-Town and nearby cities home:
Virtual Channel
Callsign
Network
Owner
Actual Channel

4

KDF-TV
TPN (The Poseidon Network)
Daugherty-Fowler

24

6

KLPS
KPB (Kansouri Public Broadcasting)
L-Town Schools

9

KHB-TV
ITV (Invicta Television)
KHB Media, Inc.

29

13

KSE-TV
CNB (CyberNations Broadcasting)
Star-Eagle Press

42

Frequency
Callsign
Nickname
Owner
Format
City of License
610 kHz
KDF (AM)
DF Country
Daugherty-Fowler
Country
Kaysee-EmmOh
710 kHz
KHB (AM)
Kansouri's Happiest Broadcasters
KHB Media, Inc.
News/Talk
L-Town
810 kHz
KHBZ
SportsRadio 810
KHB Media, Inc.
Sports
Nashua
980 kHz
KSE (AM)
Newsradio
Star-Eagle Press
News/Talk
KaySee-Kay
1140 kHz
KHBB
Yours Truly 11-40
KHB Media, Inc.
Oldies/AC
L-Town
87.7 MHz
KLPS
Public TV-6
L-Town Schools
Channel 6 Audio
L-Town
88.7 MHz
KLXK (FM)
Music Fans United!
Kansouri-Plaza University
Alternative
KaySee-EmmOh
91.5 MHz
KUPR
Kansouri Public Radio
Kansouri University
Talk/CNPR
Lawrence
91.9 MHz
KWJ
The Top of L-Town
L-Town Schools
Top-40
L-Town
93.3 MHz
KHB-FM
Kansouri's Happiest Broadcasters
KHB Media, Inc.
Top-40
KaySee-EmmOh
94.9 MHz
KSEO
94-9 Greatest Hits
Star-Eagle Press
Oldies/AC
KaySee-EmmOh
97.3 MHz
KZAM
Faith and Family FM
The Church of St. Sam
Religious
Lee's Summit
98.1 MHz
KHBB-FM
Soft Rock
KHB Media, Inc.
AC/Jazz
Fairway
98.9 MHz
KHBZ-FM
99 Rock FM
KHB Media, Inc.
Rock/Alternative
Leavenworth
102.1 MHz
KSE-FM
Gemstone Radio
Star-Eagle Press
Hot AC
KaySee-EmmOh
103.3 MHz
KPP
Jamz 103
Carter Broadcasting
Urban
KaySee-EmmOh
105.5 MHz
KJO
105-5
Robideux Media
Hot AC
Saint Joe
106.5 MHz
KDF-FM
DF Country
Daugherty-Fowler
Country
L-Town