Le Grand Temple de la Réforme (English: The Great Church of the Protestant Reformation), is one of the religious wonders of Planet Bob. It is considered one of the world's Great Temples.
Le Grand Temple de la Réforme is the first National Wonder built by the Royal Republic of Displaced Calvinists, and serves as largest house of worship for Calvinists, Presbyterians, and members of the Reformed Church known to exist in Planet Bob. The edifice, built of marble, lumber, steel, and aluminum, rises above the plains of West Africa's Volta Region, and is located two miles northwest of the capital city of New Batavia Colony.
The central marble sanctuary towers over a sprawling complex of chapels, libraries, conference and retreat centers, and prayer gardens. A series of white, gray, and black marble walls meander through the greater church grounds. Most of these walls contain the words of the entire Bible etched in aluminum in multiple languages, including French, English, Gaelic, Korean, Dutch, and Ewe. Winding its way through the center of the property, a white marble wall contains the names of Huguenots through the ages who have been martyred for their faith, with their names etched in steel.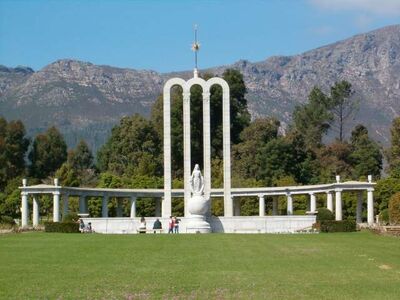 Le Grand Temple de la Réforme was designed as a house of worship and as a memorial to the sufferings of French Protestant Christians known as Huguenots, who for centuries have sought freedom of religion and a safe haven from persecution.
Activities at the Great Church of the Protestant Reformation include preaching, prayers, and singing. The Christian scriptures are recited in the various chapels in a variety of languages almost around the clock. The Seminary of the Great Church prepares the next generation of Reformed clergymen, and the retreat centers and prayer gardens are openly available for visitors to meditate, pray, and inspire their faith. The Great Church is perhaps best known for its internationally acclaimed Huguenot National Psalm-Singing Choir.
The Temple opened its doors for worship at twelve minutes after midnight, June 27th, 2007.
Ad blocker interference detected!
Wikia is a free-to-use site that makes money from advertising. We have a modified experience for viewers using ad blockers

Wikia is not accessible if you've made further modifications. Remove the custom ad blocker rule(s) and the page will load as expected.