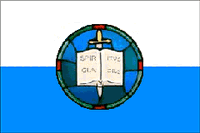 Port Saint-Paul (also known as Port St Paul) is the second largest city in the Royal Republic of Displaced Calvinists. It is the primary port city for the Royal Republic, and is the district capital for the Saint Paul Coastal District.
Port Saint-Paul was hard hit during Great War V, suffering considerable damage to the city's infrastructure as a result of air raids, cruise missile strikes, and a major infantry beachhead invasion landing that took place several miles outside the city center. While the city has been rebuilt in the months following the war, the economic sector is still recovering from the temporary loss of the Construction Industry. Displaced Calvinists' National War Memorial is located along the beaches where the attempted August Invasion took place.
Geography & Climate
Edit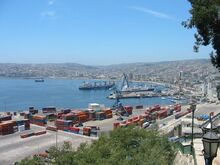 The city is located along the Atlantic Ocean near the mouth of the Volta River in West Africa. Geographically, it in the southernmost part of the Volta Region, just east of Cape Saint Paul. The climate is tropical, with frequent thunderstorms during the summer months.
Background and Industry
Edit
Founded as a city after the establishment of the Republic of Displaced Calvinists, Port St Paul has grown rapidly since the building of a Harbor facility known as the Saint Paul Port Authority. It serves as the focal point for most shipping, both imports and exports, for the nation of Displaced Calvinists. A network of railroads fan out across the nation from Port St Paul's harbor terminals. Port St Paul is also the nation's second largest producer of Beer, and most active center for the Construction and Asphalt industries.
Port St Paul is home to the Botswana International Friendship Arena Stadium (constructed as a gift from the people and government of Botswana), the St Paul School for Primary and Secondary Education, Displaced Calvinists' primary Harbor, the Saint Timotheus Medical Clinic, the Reformed Church of St Paul the Apostle, and the nation's largest industrial Factory complex. Several of the nation's Drydocks, Shipyards, and the St Paul Naval Academy are also located here.
Port St Paul is also the headquarters for the Naval arm of La Gendarmerie Nationale, La Marine Nationale, and it's First Atlantic Fleet.
The majority of the population is French, with sizable communities of Dutch, Korean, and Scottish minorities. Port St Paul is home to the largest population centers of Dutch and Korean immigrant communities within the Republic.
Notable citizens of Port St Paul include industrialist Francois Marchand, Marine Nationale Naval Commandant Admiral Édouard Sur le Mer, and French Reformed minister Mathieu Saint-Étienne.
Ad blocker interference detected!
Wikia is a free-to-use site that makes money from advertising. We have a modified experience for viewers using ad blockers

Wikia is not accessible if you've made further modifications. Remove the custom ad blocker rule(s) and the page will load as expected.