These are previous official flags of Kehjistan, or unofficial versions of the current official flag.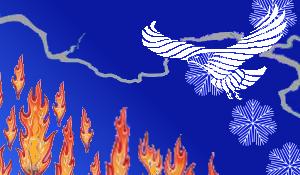 The first flag, aka the "Blue Storm" flag.
The darkened war/mourning version of the "Blue Storm" flag.
Steve Irwin died on September 4th. By the 6th, some creative and intrepid person had this version of the new "Tekkie" flag flying over the National Zoo. It has stayed there ever since. The wording below the crocodile reads "YA BLOODY LEGEND! Croc Hunter 1962-2006".
Ad blocker interference detected!
Wikia is a free-to-use site that makes money from advertising. We have a modified experience for viewers using ad blockers

Wikia is not accessible if you've made further modifications. Remove the custom ad blocker rule(s) and the page will load as expected.