Red City is the capital and largest city of Kierania.
It was founded by boaters searching for a place to stay. They liked the weather, so they asked their family and friends to move there. The settlement quickly grew into way is now known as Red City.When pirates tried to attack Red City sometime after it was created, the settlers fought them and killed most of them and the pirates gave up after 3 days. To prevent future attacks,the settlers made a fort which would eventually become Kierania's first and best military base,Ft. Green Military Base.
Neighborhoods
Edit
Little Japan-Japanese-Kieranians live here. Full of sushi shops and tea houses. Reputed weekend hangout of President bleedX.
Eastland Heights-A middle class neighborhood in East Red City.
Red Beach Point-A bunch of beach houses set on rocky hills.
Little Berlin-Mostly German immigrants live here.
Capitol Hill-All the Kieranian government buildings are here.
Old Kierania-the older part of the city.A major tourist spot.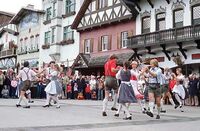 Ad blocker interference detected!
Wikia is a free-to-use site that makes money from advertising. We have a modified experience for viewers using ad blockers

Wikia is not accessible if you've made further modifications. Remove the custom ad blocker rule(s) and the page will load as expected.