Woodrow Kissinger



---

In office
January 1, 1982 – June 16, 1985
President
Josef Mercton
Succeeded by
Jack Bauer

---

Born
December 19, 1955


Worcester

Died
June 16, 1985
Endor Cuidad, J Andres
(aged 29)
Political party
Nationalist
Spouse
Mary Kissinger
Profession
Military commander
Religion
Toaism
Woodrow Kissinger was the first Minister of War and Defense for the nation of J Andres. Before Josef Mercton rose to power, Kissinger was a commander of the Rhode Island Maritime Colony. Kissinger was also a brilliant strategist and was an advisor during Mercton's early days, especially during the Initiation War. After the Commune was restored to power, more responsibility was given to Woodrow Kissinger, although he had to report to the Commune more.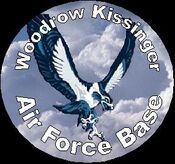 Kissinger died on June 16, 1985 in a terrorist bombing of a government building by the
National Liberation Army
.
Jack Bauer
was appointed as his replacement.
Woodrow Kissinger Air Force Base
was named in his honor, shortly after his death.